Login
Upcoming Events
Adult Events
01/07/22 - 03/07/22 (3 day event)
02/07/22 - 10/07/22 (9 day event)
15/07/22 - 17/07/22 (3 day event)
Junior Events
01/07/22 - 02/07/22 (2 day event)
18/07/22 - 21/07/22 (4 day event)
Cappelle la Grande 2012 – March 3-10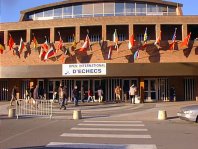 The northern French port of Dunkirk was destroyed in 1940 as the evacuation point for a 1/3rd of a million retreating British troops. An impressive set of new council buildings, a square named after 17th century naval hero Jean Bart and a riotous cross-dressing Carnival are the touristic highlights.
The Dunkirk suburb of Cappelle la Grande hosts one of the largest open events on the tournament circuit. The competition has grown from 68 players in 1985 to a record 702 in 2001 and 497 in the 28th edition underway this year.
Alan Tate and Martin Mitchell are the Scottish reps this year.
Post Information
Posted on: 07-03-2012
Categories: News