Login
Upcoming Events
Adult Events
01/06/22 - 05/06/22 (5 day event)
02/06/22 - 05/06/22 (4 day event)
03/06/22 - 05/06/22 (3 day event)
01/07/22 - 03/07/22 (3 day event)
Junior Events
02/06/22 - 05/06/22 (4 day event)
Batumi Reports
Olympiad reports by Andrew Burnett (Womens capt and head of delegation)
Round 11: 05/10/2018
Open:
Scotland 2.5 – 1.5 Myanmar
Last rounds of huge Swiss-system tournaments such as an Olympiad can make the visual difference between a poor performance and a decent one, so the pairing against a fairly highly-rated team such as Myanmar might have been seen as a 'bad draw'. Far from it in my opinion – the team really needing a tough match to gain back some of the pride which had been slipping due to a below-par performance so far.
Of course, that's what happened, and our boys finished the Olympiad in some style, Murad finding a beautiful way to finish off his opponent, after Andrew and Clement had put the 'draw as Black' team approach to good effect.
Alan's game was bizarre in some respects. Having played a beautiful positional game, upon reaching the time control he naturally wanted to go to the toilet. The problem is that it was his move, and here's one of the stupidest – or least well-thought out/implemented - rules in the game of chess; you can't leave the board when it's your move, unless the arbiter says you can.
If your opponent replies to your move instantly, you can't leave. The 'trick' is to make your move while half-turned away from the board, scribbling something resembling notation to cover yourself. Alan, of course, wanted to simply go to the toilet; the arbiter simply wouldn't let him.
I brought in the sector arbiter who rightly explained to the match arbiter, "He can go if you say he can go" - to which the match arbiter replied "No! He must play a move!"
Utterly ridiculous, and yet another example of arbiters who shouldn't be in charge of wiping their own rear ends getting Olympiad gigs. When I protested, the sector arbiter said he would allow Alan to go "next move" even if the match arbiter refused! That idiocy aside, Alan continued to play very well, but was ultimately unable to land another win, drawing in 102 moves but securing the match victory.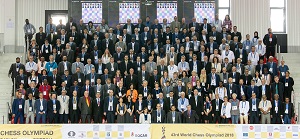 Batumi arbiters - including Scotland's Alex McFarlane
Women:
Scotland 3.5 – 0.5 Jamaica
The women were looking to finish off a good tournament in style, and that's exactly what they did – Keti completing an amazing 10.5/11, the highest score of anyone in the entire Olympiad.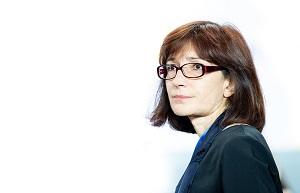 It was 'only' good enough for 5th spot on the top board, given that her opposition wasn't a rating match for some of the bigger teams' opponents, but Keti's play was very focused and controlled throughout, and she was deadly when the chances came her way!
Rosie fought hard once again in a difficult position, rewarded with a draw in the last game to finish after Monica had won nicely and Ali had come out on top in a topsy-turvy King's Indian melee.
A great result to finish with, and one that put us broadly in line with expectations. Tough opposition, mixed with a few missed chances and a few gems along the way, made it an excellent experience for the girls and as captain I can't speak highly-enough about the team spirit and their willingness to follow all my dubious opening prep advice!
The big news of the day was the Chinese double, winning both the Open and the Women's sections on tiebreaks in dramatic fashion.
A full report with annotated games and photos will appear in the October issue of Scottish Chess magazine (hopefully out in October!)
Big thanks to everyone in both Scottish squads for making it such an enjoyable Olympiad, especially Neil Berry for agreeing to take on a captain's role at late notice and share the hard work!
***
Round 10: 04/10/2018
Open:
Scotland 1.5 – 2.5 Barbados
Roddy made it 5/5 with a classic queenless middlegame win in a Dutch sideline, eventually penetrating down the e-file and creating havoc in White's camp. Elsewhere, however, things were looking a bit grim – or at least scarily unclear.
Alan tried for almost 6 hours but to most observers it never looked like his opponent would falter in a strictly passive defence. Clement sacced a pawn, but the attack proved to be somewhat illusory, despite a couple of pieces being chucked in for good measure. Stout defence brought Barbados level.
Andrew's game was very interesting, an exchange sac promising much but ultimately not quite delivering, and despite a long attempt to muddy the waters it was to end in defeat.
Despite the match loss, we have a chance to make amends in the final round tomorrow, a highly-rated Myanmar team waiting – the kick-off brought forward from 3pm to 11am Batumi time.
Women:
Scotland 1.5 – 2.5 Chile
The South Americans are out in force in the Olympiad, not a single country missing by my count, and Chile looked on paper to be a good challenge for our girls, and so it proved.
Cailtin proved she knows how to castle, and it worked wonders as she built up a probably winning position – only to chuck it in time trouble. Unperturbed, she then won back the piece she'd lost and it really ought to have ended in a draw, but for a horrible decision to enter a king and pawn ending. All in all though, Caitlin's best play and against a much-higher rated opponent.
Monica also performed well today, and may even have been better somewhere on the Black side of a Najdorf, but when the dust cleared the endgame was dead as a dodo, a fine draw on the scoreboard.
Ali once again seemed to have a perfectly decent position, but what to do with it was the main question, her opponent finding plans for her pieces more easily - and despite a long, hard defence it went Chile's way. This left Keti trying to eke out something from almost nothing, her energy and strength of character still there despite her 10th game in a row! And she made it 9.5/10 when she finally found a way through, and will be looking to add to that remarkable tally tomorrow against Jamaica!
***
Round 9: 03/10/2018
Open:
Scotland 2-2 Jamaica
Once upon a time, teams from outside of Europe, with few exceptions, would be considered easy fodder for experienced titled players. Not anymore, and Jamaica are among the best teams in the Caribbean – Cuba way out front, but other nations catching up steadily.
Scotland could still have expected to come out on top in this encounter, but when things aren't quite working then chess is a difficult game indeed – and what might have been 3 and a half or 4 points suddenly became a 2-all draw, Alan blundering horribly in a won position and neither Clement nor Murad finding enough for the win. Roddy, however, put his opponent away very nicely, but it wasn't the win we were looking for.
Women:
Scotland: 2-2 Portugal
Portugal dropped their top board for this clash, but they are a young and talented team, the Silva sisters extremely promising – although Rosie managed to save a tough position against the elder version, Caitlin falling to horrible oversight against the younger sister.
Ali played a lovely game, only to miss the win close to the time control, although she could at least never really lose. With Keti once again finding her way through against a decent opponent, a drawn match seemed fair on the balance of play.
Today was 'FIDE presidential election day', the politics surrounding chess still a murky and rather repugnant affair. Someone dodgy won with the backing of another dodgy character, while the long-time dodgy candidate lost. Nothing much is likely to change for Scottish chess as a result of this, so I won't waste any more words on what is mostly a cesspool of chess humanity.
***
Round 8: 02/10/2018
Open:
Scotland 4-0 South Sudan
Despite no-one playing badly so far, the team were a bit miffed to be languishing in the bottom half of the field, and have started to correct that  - round 7's 4-0 followed by another whitewash yesterday, everyone looking to secure some strong opponents and a respectable final placing.
Andrew played an interesting game, although at one point it appeared he may have taken a chance too many, but experience tends to prevail when things are very complex and tense.
Alan's Modern Defence worked wonders, and Murad's direct approach did the job very quickly and efficiently, although old-school players like myself were screaming out for 13.g6 a la Tal – just to prove the younger generation know his games!
Roddy won a pawn and a position for the early middlegame and played very well thereafter to finish it off. Jamaica next and the first rest day for top board Andrew.
Women:
Scotland 1-3 Norway
The women's team have faced a number of strong teams so far, and acquitted themselves very well. Yesterday, perhaps, was the first time that we were properly outplayed – the strong youngish Norwegians showing how well their training program is going, gradually pushing our bottom three boards back and being fairly clinical in the kill.
Keti, of course, is a law unto herself – a bit of a legend in her home country as evidenced by the number of players and officials who take the time to greet her and sneak a look at her games when passing by.
Her game was a complex Closed Sicilian which seemed to be heading for a draw, but Keti managed to find a way to keep things alive, and pounced when the opportunity arose - excellent stuff, showing a real desire to win. Overall, we are still doing very well – but the Swiss system requires a strong finish and Portugal will be a good test today.
***
Round 7: 01/10/2018
Open section
Scotland 4-0 Sao Tome and Principe
The boys, it seems, were in determined mood to put a big score in against their inexperienced though decent opposition – Murad in particular in no mood to mess about and promising '5 in a row'. He didn't take too long in bringing home the first of those, followed closely by Andrew on top board playing what looked to be a 'perfect positional' Classical French.
Clement and Roddy made much harder work of things, long ending that really ought to have been only drawn both turning out in our favour. A long-awaited return to big scores, but the team will need another one tomorrow against South Sudan to leapfrog up the pairings.
Women's section
Scotland 3-1 Zimbabwe
On paper (or screen, given that all the pairings, games, pics and stats are online nowadays) we looked to have a case for outing in a big score today – and we did, although Caitlin will be kicking herself for questioning her plan in the opening. Monica had a good position from early on, but had perhaps squandered much of it when her opponent lost on time.
Keti did her usual and picked apart a decent foe, landing the heavy artillery when it mattered, but Rosie's game had everyone a bit worried, going from winning to still winning but unclear to who knows what might happen. In the end, a checkmate – and a gasp as her opponent captured the mating queen with her knight, until it was pointed out the steed was indeed pinned!
So, 3-1 and a matchup with the strong Norwegians tomorrow to test the girl's mettle once again.
***
Round 6: 30/9/2018
Open
Scotland 1-3 El Salvador
Identical results but vastly differing fortunes for the Scottish teams today in round 6. In different halls again, I didn't see any of the Open section, but the lads were unimpressed in general with their play today – only Roddy troubling the scorers when his opponent trapped his own queen in the heart of White's position in a Benoni structure.
Alan blundered badly having survived a horrible opening, while Andrew and Clement came up with faulty plans in perfectly good positions. Not the best of days, but 5 rounds still to go and I have a feeling it will only take one stroke of genius to turn things around, tomorrow seeing Sao Tome and Principe sitting across the board.
Women
Scotland 1-3 Moldova
A wee pep talk and some chess rules and principles covered last night, the women came out today and played outstandingly – the result a bit of a travesty given the way the games went.
Keti played cleverly in what seemed to be a tricky position, then used her experience to pressure her opponent in the endgame, but she couldn't quite force a mistake. Monica saw a ghost after a fine opening, her passive alternative the cause of future problems, but she'll bunce back soon enough and is a delight to have in the squad, as is Caitlin who was on the bench again today but will likely reappear tomorrow.
Both Ali and Rosie played great chess today, and how they only waked away with half a point between them I'll never know, but with both pushing for wins things went awry ion the 5th hour, Ali devastated at losing what seemed to be an 'unloseable' position, while Rosie – I'm almost certain – missed several wins somewhere after a very nice positional fightback.
Still, it was a great effort and bodes well for the last 5 rounds, Zimbabwe on the cards for tomorrow.
In other Scottish-related news, Jacob Aagaard is here coaching the Indian women's team, the girls doing well and having a ding-dong 2-2, all wins and losses, match on top board against the USA today.
No sign at the hall of Andy and/or Karen Howie, doubtless both at one of the many seminars being held during the Olympiad, but International Arbiter Alex McFarlane is resplendent each day in a suit, which I have to assume Lara is responsible for!
***
Round 5: 28/9/2018
"While the youngsters – and even some of the oldsters – are off enjoying the delights of the traditional Bermuda party, here's a recap of round 5, the last round before the rest day…
Open
Scotland 0.5 – 3.5 Turkmenistan
With captain Neil Berry off gallivanting at the Hilton for the third day in a row (ok, he's doing his very useful – and mandatory – FIDE Trainer's course) and the teams playing in separate halls for the first time, the gentlemen in the Open section were left to their own devices for much of the round.
Unfortunately only Alan was able to take something from his game, the better side of a draw stopping the see-sawing run of 4-0 results, and a very compact 2200/2300 team of El Salvadorans are next up, a good result necessary to keep the spirits high.
Women
Scotland 2.5 – 1.5 Honduras
Although we might have been expected, on paper at least, to win this match reasonably comfortably, the margin for error was actually quite small – and with Rosie not feeling great on the bus to the playing venue the captain's worries started earlier than usual.
Fortunately for Rosie she pretty much crushed her opponent straight out of the opening, calculating accurately and putting us on the scoreboard early.
That fine win was balanced by Ali going wrong in the opening and finding herself up against an opponent who knew what she was doing – and although Ali fought hard there was to be no reprieve.
Somewhere around this point – while Keti was launching a devastating mating attack – Monica and her equally young adversary had agreed a draw.
The problem? They had only played 23 moves, and the Sofia rules of 'no draw offers before move 30' saw them both led back to the board to play on!
Playing on, in their minds, meant 'start repeating the position' – all well and good except that neither player knew how to properly claim a 3-fold repetition draw!
Hilarity and embarrassment for both captains in equal measure, complete confusion for the two players, and a bit of work for a pair of arbiters who spent ten minutes reconstructing the game and clarifying what they had to do!
In the end it was a good victory, the reward a pairing against Moldova, who should prove a stern test after tomorrow's rest day."
***
Round 4: 27/9/2018
Could you name all the male World Chess Champions starting with Steinitz?
That was the dinner chat after round 4 today, Murad apparently 'getting a few right', quizmaster Neil Berry pulling faces when I mentioned Tarrasch and forgot Kasparov, while Monica somehow believes it all started with Bobby Fischer (although, to be fair, she may have misheard the question).
So, the squad banter is excellent, but barring a few exceptions the chess was rather less so earlier in the day, a few too many mistakes which were punished by very strong opposition in both matches…
Open:
Scotland 0-4 Peru
Even after dropping their highest-rated player, Peru posed a formidable task. On other days we might have taken something, Alan playing a good game but erred in a critical position, while Andrew momentarily forgot about a threat he'd seen earlier.
It's tough near the top these days and punishment is swift, but the Open team have a chance at redemption with a good but 'doable' pairing tomorrow, Turkmenistan on the menu.
Women:
Scotland 1.5-2.5 Colombia
The plan of playing our top 4 against the strong-in-depth Colombians went awry early this morning when Rosie awoke feeling below par, Caitlin stepping in after her debut win yesterday and facing a mere 700-or-so elo points difference! When the prep went out the window, a rather hasty 'tactic' backfired and that was that, but playing opponents like this is what spurs improvement so it was a good learning day for Caitlin's chess. Monica was a bit angry with herself for not putting up a better fight, but again, it doesn't take much to find yourself in trouble against experienced 2200+ opposition.
Ali played very well, an excellent draw ensuring we took something from the match – always the first realistic thought against 'heftier' teams – and with Keti looking to be in great shape we added another point to the tally when she converted a great position.
Honduras tomorrow for the women, and a decent score would set us up nicely going into the rest day, but there are no easy matches in the Olympiad as everyone has already discovered.
***
Round 3: 26/9/2018
Open:
Scotland 4-0 US Virgin Islands
You can take the man out of Glasgow…as they say, and John Dempsey was revelling in the match up against Scotland for his US Virgin Islands team, coached – or captained at least – by the legendary Iosif Dorfman. The plucky islanders received another lesson today for free (sorry John, couldn't resist it ;) ) when our Open team boys played a quartet of 'professional' games to produce a 4-0 win, although the opposition fought very gamely indeed.
Women's:
Scotland 2.5 – 1.5 Dominican Republic
In the Women's section we were up against a fairly tough Dominican Republic – tough mainly because they were very evenly rated and experienced across all boards. Caitlin and Ali both picked my brains for opening preparation and are unlikely to do so ever again given the horrible positions they quickly reached! Tough middlegame battlers both, they recovered – Caitlin scoring a fine victory on her debut and Ali missing a win or two before acquiescing to a draw to secure the match 2.5-1.5 after Keti had outplayed her opponent, while Rosie somehow went from crushing to crushed in a few short moves.
Colombia for the girls tomorrow, a very tough pairing indeed, while the Open team have a tasty tie too, Peru in their sights. Pics to follow!
***
Round 2: 25/9/2018 'As expected after our two opening 4-0 results, we were thrust up among the big boys and girls. From Open team captain Neil Berry...
Scotland 0-4 Netherlands
Fantastic pairing…but a tough result.  Congratulations to Clement and Murad on making their Scotland debuts!  Both acquitted themselves very well.  Clement found Loek van Wely's position impossible to crack, and eventually had to jettison some material to stave off the Black attack.  Murad played really well in the middlegame against Tiviakov, but mistakenly traded into an ending in time pressure and couldn't hold the ending.
In Baku, Andrew played against World Championship finalist Fabiano Caruana.  This time, he faced Anish Giri, another of the world's elite.  Giri uncorked an attack from nowhere in a seemingly quite position with some incredible ideas…if you play through the game check out Black's 22nd move in particular.  Very original and instructive.  On board 2, Alan was fairly equal against Erwin L'Ami for much of the game, but a mistake near the end proved costly.  On another day someone might have taken something, but it was not to be on this occasion.
The women had the classic 'Auld enemy' encounter to look forward to and it turned out to be a great battle...
Giri discusses game against Andrew Greet
Van Wely concedes Clement missed chance  (1.16mins)
Scotland 1-3 England
We were outgraded on every board, but there is plenty of experience in our team, none more so than Keti on board 1. Up against long-time England number 1 Jovanka Houska, Keti played a masterful positional game and finished it off with some accurate calculation. On board 4 Monica had the England captain Lorin D'Costa worried as he admitted after the game, holding an advantage against Sue Maroroa for most of the opening and middlegame. Even after it slipped near the time control there were still chances to hold, but it wasn't to be.
Ali and Rosie played very strong opposition too, but both went wrong somewhere in the middlegames from decent-looking positions. Of course, the higher the level of opposition, the less you can get away with. Overall a very good performance and the team are looking forward to round 3 and the Dominican Republic, with the Open team facing US Virgin Islands, veteran Scot John Dempsey included in their line-up!
***
Round 1: 24/9/2018 It was a case of all dressed up and no-one to play when round 1 started today – typically late and typically missing quite a few teams who had flight problems, our Open team's opponents Togo a case in point, a 4-0 walkover the unfortunate outcome, though at least in our favour. A big match tomorrow up on board 6 awaits, with the highly-rated Netherlands sitting opposite.
The women's team fared better, only poor Monica having an early bath when Gabon's board 4 didn't appear (apparently left at home for reasons unknown). Keti, Ali and Rosie all did the business against the remaining youngsters – not the toughest of matches perhaps, but a very professional 4-0 to start the campaign…the reward in round 2 being…England!
Scotland in Batumi
The Black Sea delights of Batumi will be home for Scotland's Olympiad teams for the next 12 days or so, and all but one of our squad have arrived for the 43rd Chess Olympiad as I write this at 3am on the morning of the first round – debut boy Clement Sreeves on his way to join us, though likely sitting out the first round due to his late arrival.
Several of the squad managed to meet up 3 days early in Georgia, chess, fun and games on the schedule as we took over the top floor of a typical Batumi home, our hosts delightful, the mosquitoes less so.
The experienced members are balanced out somewhat by the newbies – current Scottish Champion Murad, along with Clement and Caitlin, providing some youthfulness to the teams, with Monica, the youngest, having played in Baku last time out.
Our two teams will be led from the front by IM Andrew Greet for the Open team and GM Keti Arakhamia Grant for the Women's team, but before the chess there was the small matter of the Opening Ceremony, held at the Black Sea Arena, Alan Tate describing it as "the best one I've seen" and others in agreement.
As the FIDE site reported: 'The ceremony started with a play re-enacting the legend of the invention of chess and the famous "wheat and chessboard problem" and then the Goodwill Ambassadors of the 43rd Chess Olympiad addressed the guests through video messages.
Speeches by Georgia's President Giorgi Margvelashvili and various officials were followed by the Georgian and FIDE anthems, and then ''the defile of flags, the trademark Georgian polyphonic songs, traditional dances, a DJ performance, a rock band, State Symphony Orchestra and Georgian National Ballet, all coupled with impressive choreography and visual effects'.
***
Myself and Neil Berry will be providing daily (or nightly) reports along the way, all the games will be broadcast live, and Douglas Bryson has provided more team info, Olympiad history and useful links than you can shake a stick at.
Everyone here is looking forward to the chess kicking off this afternoon. Feel free to follow us online and post comments and messages (supportive of course;) on the forum along the way. We'll all do our very best to make Scotland proud!
Post Information
Posted on: 04-10-2018
Categories: News