Login
Upcoming Events
Adult Events
01/07/22 - 03/07/22 (3 day event)
02/07/22 - 10/07/22 (9 day event)
15/07/22 - 17/07/22 (3 day event)
Junior Events
01/07/22 - 02/07/22 (2 day event)
18/07/22 - 21/07/22 (4 day event)
Basque Federation v Scotland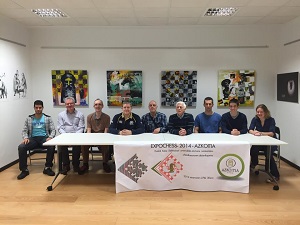 Scotland played a two round challenge match against the Basque Federation in Azkoitia, northern Spain on November 29, 2014 as part of the Expochess festival.
Scotland squad: 1) IM Andrew Greet, 2) GM Colin McNab, 3) IM Steve Mannion, 4) Clement Sreeves, 5) Jonathan Grant, 6) Elaine Bamber.
Scotland won the first round 5-1 and drew the second 3-3.
David Moyes invited the Scotland team to watch the Real Sociedad match against Elche at the club's Anoeta stadium in San Sebastian on Friday 28th.
Post Information
Posted on: 29-11-2014
Categories: News