Login
Upcoming Events
Adult Events
01/06/22 - 05/06/22 (5 day event)
02/06/22 - 05/06/22 (4 day event)
03/06/22 - 05/06/22 (3 day event)
01/07/22 - 03/07/22 (3 day event)
Junior Events
02/06/22 - 05/06/22 (4 day event)
Baku Olympiad Reports
Baku Rounds 10 & 11 reports
The last couple of rounds are very important in a Swiss-style team tournament and the Scots were up against some very strong opposition in both matches in the Women's section.
Women
Rd10: Scotland 1 – 3 Sweden
Keti faced her good friend Pia Cramling on top board and built up a winning position, but unfortunately couldn't quite find the key to winning it. With Monica drawing as well, it was a well-deserved game-point for the team who were now having to play the final 3 rounds without rest as Ali had returned home early for an unavoidable university commitment.
Rd 11: Scotland    0.5 – 3.5 Bosnia & Herzegovina
A really tough draw for the final, critical round – a fully-titled B&H team who simply proved too strong for us. Keti faced a brutal early attack while Joy and Monica struggle in the opening as well. Kathleen came to the rescue by settling for a quick theoretical repetition draw and a highly adventurous Women's Olympiad was at an end!
Seeded 69th, the tough last 2 rounds had pushed us down to 76th, but the good news was that both Ali and Kathleen had gained WCM titles for their performance while the others can be happy to have fought so hard and contributed to the pretty decent overall finish.
Open
Rd 10: Scotland 0 – 4 Philippines
Another tough game for the Scotland boys, who fought hard for a long time, but in the end a disappointing whitewash ensued. Andrew needed to win his final 2 games for a likely double- GM norm, but he allowed an early sacrifice which proved too strong. John lost a very long and difficult game, as did Neil after a wild though apparently theoretical opening. Iain had to face the sensation of the tournament – GM Eugenio Torre, who played every game scoring 9 wins and 2 draws with a 2836 TPR – but went wrong early and Torre's great form did the rest.
Rd 11: Scotland 4 -0 Lebanon
A final round whitewash, but this time in our favour! The men reacted excellently to the previous day's disappointment and came out swinging, determined to finish on a high note.
It was particularly good for both Iain and Neil to get final round wins under their belts having fought so hard all tournament against very tough opposition – and this helped the team to a 69th spot finish, roughly in line with expectations having started as 63rd seeds.
Overall
Both teams had rather up-and-down tournaments – partly due to the strange pairing system! Highlights of course were the match-ups against Russia and the USA, both of which were a great experience for all involved (including myself as part-time captain!) The intensity of these teams was scary during the matches, but the smiles afterwards showed that they really were human after all!
Andrew shone for them men in the Open section – getting close to a GM norm and playing some very good chess. His team-mates fought valiantly to support his leadership and with a little more luck at certain points they could well have exceeded their seeding.
The women faced a lot of higher-rated teams and proved that they have the arsenal to compete with them – again a little more experience and match-fitness might have swung things their way on a couple of occasions, but the WCM titles for Ali and Kathleen, though excellent, might only be a stepping stone for them towards WFM level if they continue their good play.
Keti as ever led from the front and she was ably supported by Joy and a strong set of younger players. Bouts of the cold getting in the way at the wrong time didn't help, nor did the dicky tummy syndrome which hit more than a few of our players over the week and a half they spent in Baku, but the overall performance was rather good in my opinion!
I have to mention just how well the squad got on and behaved! They put up with me for the first week without complaint and were perfectly happy to help each other out when needed. Hopefully they enjoyed and learned from the experience, as well as taking home some unforgettable memories from a strangely beautiful part of the world!
A full report will appear in next month's Scottish Chess magazine with games, notes and photos from the players.
*****
Baku Round 9 report
Open
Scotland 3.5 – 0.5 Pakistan
Today was the day the men decided to excel in the Open tournament, John Shaw leading the way with a quick demolition on board 2 when his opponent decided on an unsound sacrifice to justify his unsound positional play – never a good combination!
Colin, as ever with the White pieces, placed his opponent under sustained pressure, winning pawn after pawn with his finely-tuned tactical awareness.
With Andrew's game on top board still unclear, Neil –ever the team player - headed for the safety of the draw to secure the match when he might have tried for more.
This left Andrew to wrap things up with an excellent display of late-middlegame accuracy and the win keeps his GM norm hopes alive as well as boosting the team's position in the overall standings.
A big tie against the Philippines tomorrow is the reward – and a great opportunity to show everyone what they can do against higher-seeded opposition.
Women
Scotland 2 – 2 Egypt
A real ding-dong battle took place over the course of almost 5 hours against the all-titled Egyptian women – Joy's loss being cancelled out by Kathleen's long technical win a piece up, although mate 40 moves earlier would have saved me buckets of sweat!
Monica has been playing some great chess, but today fell prey to her own indecision, so it was up to Keti to balance the books.
Surprisingly Keti's opening play has failed to make dent in opponents this week, but her excellent middlegame play has proved too much for most of them to handle, and today saw more of the same.
Overall a pair of excellent results, with the women due to face Sweden tomorrow. Both of our teams will be looking to upset the form book – with only 2 rounds left a strong finish is needed to top off what has been a very good tournament so far!
*****
Baku Round 6 & 7 reports 
Having had to leave Baku after the rest day, I have been desperately trying to follow the games on a succession of airport, bus and train wifi hotspots along my route home.
Women
Rd6: Scotland 1.5 – 2.5 Costa Rica
Rd 7: Scotland    4 – 0 El Salvador
Round 6 for the women was heartbreaking, two huge blunders snatching defeat from the jaws of victory, but it's a sign of good form and a strong team ethic that the following day saw us bounce back with a tremendous whitewash of El Salvador.
For those who don't follow such events regularly the names of some teams might draw a 'so what' attitude when we face and defeat lesser-known teams. 
The truth is that teams such as El Salvador are decent in their own right, sometimes lacking in opportunities in their homelands but more than making up for it when they get to Olympiads. Winning 4-0 is a major achievement!
Open
Rd 6: Scotland 3 – 1 Jamaica
Rd 7: Scotland 3-1 Chinese Taipei
More so than with the women's pairings above, our boys in Baku might have been expected to win convincingly in both matches – and we did – but there are no walkovers at this stage of an Olympiad.
I would have preferred an extra half-point in each match, but breaking down tough and/or talented opposition is not easy, so the end results were good and have rewarded us with a good pairing against Lithuania for round 8 – a test of where we actually stand form-wise.
Hopefully I'll get a few tidbits of 'insider updates' to share with you all as we head into the  final few days, but so far things are looking promising for both teams.
*****
Round 5 report - September 6
Women
Scotland 2 - 2 Wales
On paper this looked like a good match-up for us – a chance to put in a big score perhaps – but the Welsh proved to be extremely resilient opponents today.
On top board Keti couldn't quite find the key to unlock her opponent's solid defence, while Ali bravely tried a completely new opening courtesy of Neil's preparation – but it was only a draw at the end of the day.
Kathleen followed my prep, a pawn sac for an initiative – but an imprecise move or 2 later on was enough for her talented young opponent to consolidate.
Monica saved the match with a very well-played game from start to finish (if we ignore a 'one-move blip'!)
The end result of 2-2 may not have been what we hoped for, but was more an indication that Wales had played out of their skins rather than anything negative about our own players.
Open
Scotland 1 - 3 Israel
I could tell the boys were disappointed that good positions yesterday weren't converted into points, and I was worried that facing an even stronger team today might prove too much.
The boys, of course, put these doubts to rest with an excellent fight which saw the Israeli captain and their head of delegation thoroughly delighted that they had actually scraped through the match.
Andrew on top board defended like a demon! He may even have been better at the end, but accepting a draw was probably a good idea after such a long and tough rear-guard action.
John on board 2 played very simply and strongly today – not giving his 2600+ opponent a sniff of an advantage and at points looking as though he might be able to push for more.
Colin was playing Black for his 3rd game in a row – never easy at this level – but he knows his systems extremely well. A complex game where he was never seriously worse may have hung on one move around the time-control, after which the Israeli sank into deep thought, eventually finding a winning plan in a race of passed pawns with rook v knight.
Iain's game followed a similar path, and again it was one small error late on which landed him in a bit of trouble – and with these '2600-club' players it is rare they let go when they have something to sink their teeth into.
-------------------------------
All-in-all I was extremely proud of our men today - both for their chess and for their fighting abilities - as I have been with both our teams all week long.
It's the Bermuda Party tonight (I won't list who is out on the razzle-dazzle and who has opted for cocoa and slippers – but if you ask I'll tell ;) )
Tomorrow is a rest day for everyone except me (FIDE Trainer's seminar day 3 and exam: day 2 today involved me watching all our games online and also those of my new Aruba, Netherlands Antilles and Zimbabwean friends, while we all occasionally glanced up at the lecturers and nodded earnestly!)
8 or 9 of the Scotland squad have opted for a half-day trip to the Gobustan cave paintings and mud volcanoes, kindly arranged and sponsored for us by Alex Clark, who many will remember from his time at Dundee Chess Club and many TAFCA matches. Alex is working out here in Baku and staying at our hotel and it's a lovely gesture from him – many, many thanks!
*****
Round 4 report - September 5  
Women
Scotland 4 – 0 Trinidad & Tobago
Let's start with the good news! The women did a proper job on T&T today, although Kathleen had to overcome a totally lost position after chucking a pawn then a piece! She didn't look the gift horse in the mouth when the opportunity for redemption presented itself, however, and finished off her opponent clinically.
Keti took over as team captain today while I attended day 1 of the FIDE Trainers Seminar and she took the quick route to her opponent's king in a Closed Sicilian. Ali played very well once again while Joy won her second K&P ending of the event when her opponent misfired at the very end.
Monica's free day involved wandering about the playing hall and being offered the trainers job for the Bermuda men's team. I haven't told her parents about her new job just yet though ;)
Open
Scotland 0 - 4 Turkey
A bad day at the office was the players' general description of an unfortunate whitewash by the extremely strong Turkish team. You don't get given too many chances at this level and although we had several promising/decent positions they slipped away bit-by-bit.
Despite the loss the guys were mostly upbeat about their actual play or the most part. Learning to move from 24/2500 level to 2600+ level involves some painful lessons in accuracy and they will all be stronger for the experience.
Hopefully the lessons will be learned overnight, as we have Israel tomorrow! A team even stronger than the Turkish, they average 2635 over their top 4 boards and are coming off 2 defeats –a 3rd would be nice and I'm sure the boys are dreaming of the same as I write!
*****
Round 3 report - September 4 
Women
Scotland 1-3 Norway
It was a case of what might have been for the girls today, with Ali and Monica both having great positions for much of their games. Ali in particular used her new opening weapon (the KIA, which I taught her a few days ago by mixing up move-orders, talking nonsense, etc and then sending her some Bobby Fischer games to make up for it!).
Joy unfortunately fell for some very deep preparation in a razor-sharp Benoni line, and although she gave it a good recovery shot, her opponent was on top form.
Keti meanwhile was involved in a somewhat murky position but used her experience and sharp calculation skills to good effect. The Norwegians – a pleasant and friendly bunch – knew they had pushed their luck and were mightily relieved at the final score.
Open
Scotland 3.5 – 0.5 Ivory Coast
On paper our boys seemed to have a fairly straightforward task ahead of them, but the Ivory Coast had different ideas! Coached by Maurice Ashley, the US GM and chess commentator, they played well above their ratings, and we were struggling a bit on at least 2 boards for a long, long time.
Again, though, experience played its part –John and Iain turning their games around while Neil headed for the safety of a draw. Colin continued his fine form with an accurately calculated central break which netted material shortly afterwards.
A good result, but we were all left wondering what level countries like Ivory Coast might attain if they had access to tournaments and training – a scary thought!
*****
Round 2 report - September 3
Open
Scotland 0.5 – 3.5 USA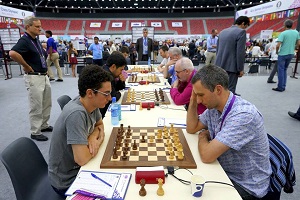 It was the men's turn to experience a bit of the star treatment today in the open section, taking on the mighty USA who fielded world number 3 Fabiano Caruana on top board and Hikaru Nakamura on board 2, along with a couple of not insignificant 2670+ players on 3 and 4! (Photo by Paul Truong)
It was a day of face-pulling, with world champion Magnus Carlsen dropping by to grimace uncontrollably at John's game with Nakamura, Russian board 3 Nepomniatchi almost permanently disfigured by his facial contortions when looking at Andrew's game and Nakamura himself looking thoroughly disgusted by his own board 3's decision to castle long against Colin! As a bystander, it was hilarious.
Colin, naturally, was the hero of the hour with his fine draw – and it might have been even better had he found a strong idea late on in the endgame – his opponent Sam Shankland very lucky indeed to survive.
For the others it was a great experience, although John was surprised at how quickly Nakamura both played, and found a crushing plan in a seemingly ok position. Andrew on top board had a tremendously interesting tussle with Caruana, while Iain was doing fine until he 'found an interesting plan'.
Women
Scotland 4-0 Zimbabwe
Keti rested up today as she has a bit of a cold, so it was always going to be interesting to see if we could put Zimbabwe away comfortably. The rest of the girls were up to the task!
Kathleen made her debut with a very nice positional win, and Ali's good position turned into a winning one when her opponent sacked a piece for no good reason.
Monica played an excellent attacking game (though she seemed very surprised when I told her this!) and so it was left to Joy to grind out a long win to reverse the result of the opening day.
A fantastic and interesting day all round really. Everyone is getting on great and so far any problems have been very minor (no coffee at the venue until the games start, so we all have to wait half an hour for our caffeine hit!)
*****
Round 1 report - September 2
"Quickly. The Scottish women's team must come now - they will meet the President!" said the stressed-looking official as we waited for the bus to take us to the playing venue.
Which president? Both Azerbaijan's and FIDE's as it turns out, Scotland vs Russia being the match chosen to open the Women's Olympiad, the symbolic first move being played out on Keti's board against Alexandra Kosteniuk! As if our lot weren't nervous enough at playing the 3rd seeds.
I invited myself along on the private, police-escorted drive to the venue along with the women (leaving our Open team to their own devices!) and was 'rewarded' by having a wee chat with Kirsan Iliumzhinov.
'How did you like Tromso last Olympiad?' asked Kirsan.
'I wasn't there,' replied I.
'Oh, that's good then,' says he.
Hmmmm. Keti's brief chat with him seemed to go much better though.
Women's
Russia 4-0 Scotland
Anyway, Keti and the girls - Ali, Joy and Monica, with Kathleen sitting out and supporting from the sidelines – were absolute stars today, fighting hard and causing serious heartburn for the Russian team coach Sergei Rublevsky! The look of relief on his face almost 5 hours later was a sight to behold. We may have lost the match 4-0, but the girls had proved they could fight with the world's best!
Open
Aruba 0-4 Scotland
Tomorrow will see our Open team faced with a similarly tough but exciting prospect, with the USA being our board 2 opponents! Nakamura played today and I would expect Caruana to take over as board 1 tomorrow. Nothing like a 2800-rated opponent or 2 to get the juices flowing, and they have Wesley So to throw in as well if they feel like it!
Today our boys (Colin, Iain and Neil led by Andrew on top board)  put in a superb display of how to beat weaker opposition without allowing any counterplay. Aruba were a very friendly team and a decent bunch of players, but the gulf in strength was just too much for them. John sat out today but is expected to enter the fray tomorrow in what will be a must-watch game for fans of Scottish chess!
A relaxed analysis session back in the hotel was a nice way to unwind, but the travel and then the nerve-wracking first round has left everyone in need of a good night's sleep…and with that I'll sign off!
Andrew Burnett
Post Information
Posted on: 14-09-2016
Categories: News