Login
Upcoming Events
Adult Events
01/06/22 - 05/06/22 (5 day event)
02/06/22 - 05/06/22 (4 day event)
03/06/22 - 05/06/22 (3 day event)
01/07/22 - 03/07/22 (3 day event)
Junior Events
02/06/22 - 05/06/22 (4 day event)
3rd London Chess Classic

The 3rd London Chess Classic took place at the Olympia Conference Centre 3-12 December. The world's top four players, all rated over 2800, took part.
Vladimir Kramnik won the 3rd London Chess Classic by beating all four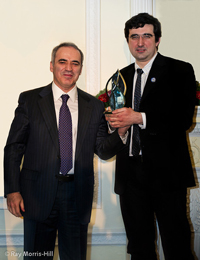 English players and drawing with the rest. Kramnik scored 16/9 on the 3 pts for a win football scoring system to finish ahead of Nakamura (USA) 15 and Carlsen (Norway) on 14.
Luke McShane was the only home player to hit form and was challenging for first place until losing to Kramnik in an unclear struggle. The online commentary and web reports were a model of how a tournament should be presented and the innovation of a daily guest player as co-commentator was a big success.
Photo Kasparov presenting London trophy to Kramnik by Ray Morris-Hill
*****
Preview: The world's top four players compete in the 3rd London Chess Classic. The 2800 club of Magnus Carlsen (2826, Norway), world champion Vishy Anand (2811, India), Lev Aronian (2802, Armenia) and Vladimir Kramnik (2800, Russia) head the nine player field with Michael Adams of Cornwall the best hope for a home winner. The odd numbered player will assist with commentary on their day off.
Two countries smaller than Scotland have a player in the world top 4!
Festival Entries - Several Scots feature in the ancillary events 
Post Information
Posted on: 12-12-2011
Categories: News