Login
Upcoming Events
Adult Events
01/06/22 - 05/06/22 (5 day event)
02/06/22 - 05/06/22 (4 day event)
03/06/22 - 05/06/22 (3 day event)
01/07/22 - 03/07/22 (3 day event)
Junior Events
02/06/22 - 05/06/22 (4 day event)
3 GMs Visit to Aberdeen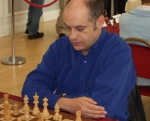 GM Keith Arkell got the full brunt of the North East Chess wave on Sunday 17th June, when he took on 30 players in a simultaneous display, hosted and sponsored by Albyn School Chess Club. An additional unofficial sponsor was Harry Praeger from Newmachar Club, who somehow managed to persuade the GM's to come up from Edinburgh, after their Blitz event. It is rumoured that the beer fridge in Harry's flat is completely bare now.
The end result was 25.5 to Keith, with Ian McDonald, Hamish Olson, David Neil, and Roland Kensdale taking 4 points for the North East, with the half point coming from Nihad Abdulla. There were a lot of other games which were very close, including Murad Abdulla, Anna Milton, Maryann McDonald, and Duncan Harwood, who sadly blundered in a clearly winning position. Both Anna and Maryann were nominated by Keith for prizes for impressive play. Roland Kensdale, estimated grade 1650, has not played over the board chess for at least 10 years and we're hoping this win will inspire his return! The lower boards also produced some outstanding performances, with both Matthew MacFarlane and Marcus Oubendrauf, both of Albyn School, receiving 'well played' prizes. Matthew was easily winning with 2 pawns up for no compensation but just didn't find the technique to convert. All these close games made exciting spectating indeed. All in all, I'm sure Keith wouldn't deny that he had a very hard day at the office, but took it all on the chin, leaving everyone impressed by his effort, attitude and professionalism. Undertaking the job of blitzing out moves while on the move for over 4 hours must take some amount of physical and mental stamina.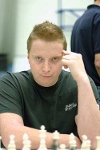 Albyn School club, which has been going from strength to strength over the last few years, thanks to the hard work and dedication of Paula and Keith Eagles, had 7 children playing, all of whom put up a good fight. Neither Alexandra Eagles nor Chelsea Wong (remember these names!) are as sweet as they look when they get behind a chess board! We had originally considered giving the under 500 graded players a rook up but Keith Arkell said afterwards that he would have struggled at this, and was glad we had changed it at the last minute to 2 'take back' moves instead.

GM's Simon Williams and Daniel Gormally are also to be commended for generously giving up their time to help alongside Angus McDonald and Keith Eagles with junior coaching. All were very impressed at their manner with the kids, who huddled around the boards, hanging on their every word. Great inspiration for many.
Massive thanks to all involved in making it happen: Albyn School, Harry Praeger, Team Eagles, Eric Davidson, Gerald Lobley, Angus McDonald, and of course the 3 GMs.
Two images from training.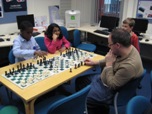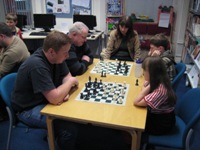 Post Information
Posted on: 18-06-2012
Categories: News