Login
Upcoming Events
Adult Events
01/06/22 - 05/06/22 (5 day event)
02/06/22 - 05/06/22 (4 day event)
03/06/22 - 05/06/22 (3 day event)
01/07/22 - 03/07/22 (3 day event)
Junior Events
02/06/22 - 05/06/22 (4 day event)
2018 Batumi Olympiad update
(July 24, 2018) GM Colin McNab has unfortunately had to withdraw from the Open team for personal reasons.  His replacement will be IM Roddy McKay, in line with the selection committee's decisions and availability of the reserves chosen back in April.
FIDE also recently announced several extra countries who will benefit from their Olympiad travel subsidy fund, and Scotland were among them. The squad, including FIDE rep, should benefit to the tune of 4000 euros, which will help to offset costs.
Andy Burnett
(CS International Director)
***
IM Andrew Muir points out that when Roddy McKay takes his place in the squad for Batumi he will become both the oldest AND youngest Olympiad player for Scotland. Would this be a world record for duration of Olympiad participation? Other candidates: Kortschnoi (1960-2008), Torre (1970-2014), Portisch (1956-2000).
Youngest Scotland Olympiad players
McKay  16 years 8m (Lugano 1968)
Condie  17 years 8m (Lucerne 1982)
Fallone  17 years 9m  (Moscow 1956)
Pritchett 17 years 9m (Havana 1966)
Abdulla 17 years 10m (Batumi 2018)
McNab 19 years 9m (Malta 1980)
Upton 19 years 10m (Buenos Aires 1978)
Combe 20 years 9m (Folkestone 1933)
Oldest Scotland Olympiad players
McKay 66 years 7m (Batumi 2018)
Fairhurst 65 years 2m (Lugano 1968)
Aitken 63 years 10m (Skopje 1972)
Mackenzie 62 years 4m (Folkestone 1933)
***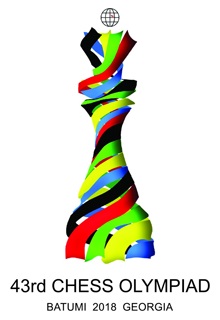 (26/4/2018) The 43rd Chess Olympiad is due to take place in Batumi, Georgia from the 23rd September until the 6th October 2018.
https://en-gb.facebook.com/batumi2018/
The Scotland teams have been selected for this year's Olympiad to be held in Batumi, Georgia. The names are listed here in current April FIDE rating order. Final board orders will be decided closer to the event.
Open team:
IM Andrew Greet (2442)
GM Colin McNab (2418)
FM Clement Sreeves (2389)
FM Alan Tate (2352)
FM Murad Abdulla (2277)
IM Roddy McKay has been named as non-travelling reserve in the event of a withdrawal
*****
Women's team:
GM Keti Arakhamia-Grant (2347)
Ali Roy (1924)
Rosie Giulian (1880)
Monica Espinosa (1778)
Caitlin Reid (1488)
*****
I would like to express my thanks to the selectors for their time and effort, and also congratulate all those chosen to represent Scotland in Batumi.
Andrew Burnett (14/04/2018 - and updated 26/4/2018)
Post Information
Posted on: 22-07-2018
Categories: News