Login
Upcoming Events
Adult Events
01/06/22 - 05/06/22 (5 day event)
02/06/22 - 05/06/22 (4 day event)
03/06/22 - 05/06/22 (3 day event)
01/07/22 - 03/07/22 (3 day event)
Junior Events
02/06/22 - 05/06/22 (4 day event)
1st East Dunbartonshire Congress
The 1st East Dunbartonshire Congress took place in Lennoxtown Saturday 6th and Sunday 7th August 2011.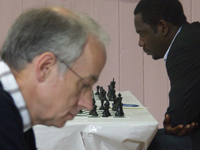 The event had a relaxed atmosphere while simultaneously providing players with a platform for competitive chess. The Kings section had the added bonus of giving players the opportunity to play FIDE-rated games.
Special thanks to Chief Arbiter Donald Wilson for ensuring the chess ran very smoothly. Also to Douglas Chappelle, Mel Burt & John Lee who were of great help in the organisation process.
Thanks to Peter Woods of Chess Suppliers for providing some great photos of the event.
East Dunbartonshire Congress - Prizewinners
Kings
1= Chukwuka Allor (Shettleston) 4½/5
1= Alan Jelfs (East Kilbride) 4½/5
U1800 Grading Prize - Daniel Thomas (East Kilbride) 3/5
Queens
1= Murad Abdulla (Bon Accord) 4/5
1= Bernard Cassidy (Hamilton) 4/5
U1300 Grading Prize =
Robert Kelso (Cumbernauld), David Brodie (Stirling) and William Walker (Bishopbriggs) 2½/5
Click the event headers for grading data
Hope to see you all again in 2012!
Daniel Rocks
Post Information
Posted on: 09-08-2011
Categories: News