Login
Upcoming Events
Adult Events
01/06/22 - 05/06/22 (5 day event)
02/06/22 - 05/06/22 (4 day event)
03/06/22 - 05/06/22 (3 day event)
01/07/22 - 03/07/22 (3 day event)
Junior Events
02/06/22 - 05/06/22 (4 day event)
Reviews
Page 1 of 1
13th May 2022
New in Chess
Everyman Chess
Chessable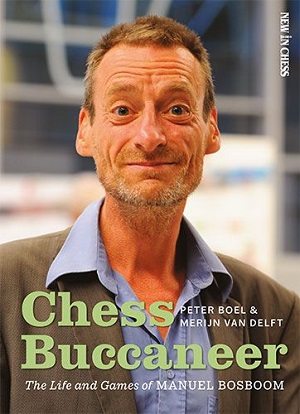 CHESS BUCCANEER The Life and Games of Manuel Bosboom by Peter Boel & Merijn van Delft, New in Chess, 283 pp., publ. 2021.
Chess biographies are rare, biographies of players still alive even rarer and biographies of lesser-known players virtually non-existent, so this offering from NiC is both intriguing and welcome.
Bosboom might not be a big name, but his uncompromising, creative chess and romantic, bohemian lifestyle have made him something of a cult figure in his native Netherlands.
He is a strong player, an IM with three GM norms – amongst his victims in classical chess we find Bronstein, Smyslov, Leko and Sofia Polgar – but it is as a blitz specialist that he is better known; not even Garry could keep up with him at 3+2.
The chapters are arranged in chronological order, from Bosboom's early steps in chess to the present day. Sixty-six games illustrate his development (if that's the right word!) as a player, showcasing the wealth of often crazy ideas to be found inside this singular chess mind. The openings cover everything from wild and woolly King's Gambits to more restrained Rétis and Slavs. Bosboom is attracted by interesting ideas, wherever they might be found, and his creative mind is always on the look-out for them, e.g. his games were featuring lots of early g- and h-pawn pushes long before AlphaZero came along, as evinced by one of his blitz games from 2008 which began 1 Nf3 Nf6 2 Rg1 d5 3 h3 c5 4 g4 and all bets were off.
In short, many of the games display ideas unlikely to be found in any 'normal' (is it OK to use that word?) player's practice, and it is often hard to tell who is doing what to whom. As Bosboom puts it: " My games became wilder...was this move a blunder or a sacrifice?! I didn't mind!...I learned that you just had to keep going, regardless of the situation". If creative, no-holds-barred chess is your cup of tea, you'll find plenty of it in here.
The chess fare is leavened with lots of anecdotes and 'human interest' stories, some of which reflect the more 'experimental' side of the human experience, e.g.
'On the night prior to the crucial league match...Manuel took a pill, and on the playing day he told Rudy Douven in bright colours how wonderful the experience had been. "He must have played his game with Dennis de Vreugt in a state of dreaming," Douven wrote in Schaaknieuws.' (MB won.)
Other players are also presented in amusing pen portraits. The Russian GM Dvoirys (another of Bosboom's victims) '...was not exactly an ordinary guy. He seemed to know nothing but chess in his life and would only mumble an unintelligible reply every time you asked him something'. Having seen Dvoirys in action on the senior circuit I can confirm that this sums him up to a T. He really does give the impression of someone going through life in what we Scots would instantly recognise as a dwam.
I could go on, but hopefully you get the idea. This is not your usual chess book, in fact it's hardly your usual biography. Bosboom most certainly qualifies as a 'colourful character' whose play shows many aspects of the game that you rarely see in more mainstream works. If nothing else (or, arguably, more importantly) he shows that it is possible to do things differently and still be successful (and probably enjoy yourself more while doing so). As he himself puts it, "Follow your Heart and use your Mind. Play without Dogma!". The world – even the chess world! – would be a very boring place indeed without 'characters'.
The book is well structured. The well-annotated, entertaining games and often LOL anecdotes are sprinkled with photos which allow us to put faces to the names. There are also chapters on combinations and one called 'Curiouser' which, by Bosboom's standards, is quite something else. It is the perfect antidote to claims that the game is played out. It is certainly something different, and I cannot imagine anyone not enjoying it.
Recommended!
Ian Marks
May 2022
***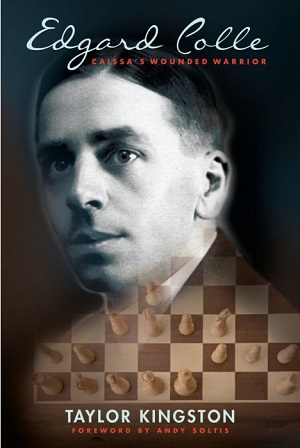 EDGARD COLLE: Caissa's Wounded Warrior by Taylor Kingston, Russell Enterprises Inc., 272 pp., publ. 2021.
Colle? The guy who invented that wimpy club player's opening? Don't know much about him. He couldn't have been that good. And how do you pronounce his name? Call? Collie? Coll-ay?
If that's the sum total of your knowledge of the subject of this book, then I suggest you get your hands on a copy and learn more about a fascinating chess personality and thinker, and one of the outstanding attacking players of the 1920s.
Let's nail a couple of things first of all.
His 'wimpy opening' lives on, featuring in the games (as Andy Soltis points out in his foreword) of the likes of Carlsen, Aronian and Giri. These guys are a bit above club level.
Colle was good. Arguably Belgium's strongest-ever player, he was one of the top twenty players in the world in the 1920s, and had the scalps of the likes of Rubinstein, Euwe, Spielmann and Marshall to his name. Chessmetrics places him at no. fourteen in the world in 1930. As I type this, that spot is occupied by Anand. No-one in their right mind would suggest that Anand wasn't very good. (OK, I'd back Anand against Colle, but that's irrelevant. Players are products of their times.)
So how come so little is known about Colle? Why does he seem to have vanished into the mists of chess history?
Answer: like Pillsbury, Stein and Gashimov, he died young. Colle succumbed in 1932, aged only thirty-four,  to the gastric issues which bedevilled his short life. Modern antibiotics would have saved him. His peers, Réti and Nimzowitsch, also died relatively young, but they are remembered, their openings apart, for their writings. Like them, Colle invented an opening, but left no written legacy.
The present work seeks to bring Colle's oeuvre to the chess public and is divided into two parts. Part I features a biography, historical background, reminiscences and tributes; part II is a selection of games spanning the whole of Colle's career. The games are divided into chapters on, e.g., miniatures, brilliancies, positional games and endings (and flukes!), and have been annotated with the support of present-day engines, providing a more accurate picture of how they played out than previously. In general they stand up well to modern silicon scrutiny. There are plenty of words to explain the moves and, in addition, they are set within the context of the players and times, which, along with the generous helping of photographs, brings them as much to life as one could possibly hope for. In fact the game intros feature a great deal of interesting info about players and tournaments in their own right. The text is presented in easy-on-the-eye double column format, and the book is rounded off with extensive details of Colle's tournaments and matches (and he was one active player!).
Edgard Colle: Caissa's Wounded Warrior is a little gem, an excellent yet unassuming piece of work showcasing the life, times and creative legacy of a very fine player. A lot of work – and love – has gone into it, and it shows. It would not have been amiss as a £40 hardback; instead you get a more modest and nicely produced softback at a fraction of the price. The author deserves huge credit for the time and commitment invested, as do the publishers for bringing it to the chess public. If you're looking for something a bit different, or a little less mainstream, or to drag you away from your computer, look no further. Highly recommended.
Ian Marks
May 2022
*****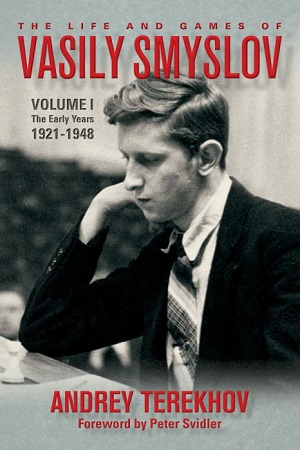 THE LIFE AND GAMES OF VASILY SMYSLOV Volume 1 The Early Years: 1921-1948 by Andrey Terekhov, Russell Enterprises, Inc., 536 pp., publ. 2020.
A book like this should need neither review nor recommendation: a lavish 500+ page illustrated hardback on one of the greatest players of all time which was years in the making. What are you waiting for?
Surprisingly, relatively little has been written about Smyslov. He was known to be a private person, and in his own writings, e.g. his two-volume best games collection, he revealed very little about himself. The current book is part games collection, part biography and part chronicle of the times. Forty-nine deeply annotated games from the first part of Smyslov's career are embedded in a rich narrative which would have made a gripping (yes, gripping) biography on its own. Two appendices cover Smyslov's line in the Grünfeld and a selection of his endgames analysed by Karsten Müller.
A word about the games. Deeply annotated? Fear not. They are not bogged down in a morass of variations; they also feature lots of prose which puts the game into the context of the times, conveys the tension of the play and brings the protagonists to life. We learn a lot about many of Smyslov's contemporaries such as Kotov, Makogonov and Ragozin, to name but three. The notes and comments come from a wide range of players, so the reader gets a good overall, balanced picture of what was going on.
Smyslov had a reputation as a technical maestro, but there are plenty of fighting games in here, perhaps not surprisingly as young(er) players tend to gravitate towards tactics. Having said that there are lots of smooth positional efforts of the kind for which he was later to become famous, the sort of games where he made it look easy.
The author has cast his net far and wide (including Smyslov's personal archives) in his research and the text is replete with fascinating nuggets of information and detail which increase the interest level and enhance the work in general. There are photographs galore from an era now long gone, allowing the reader to put names to faces and places.
A number of things in particular caught my eye. First, in his introduction the author quotes some well-known players on Smyslov:
Kramnik: "I like his style very much. I would recommend studying Smyslov's games to children who want to learn chess. Because he was playing as it must be done."
Nakamura (talking about the world champions): "…some of them I don't think have had that much of an impact on the game…like Smyslov for example. His endgames are good, but basically…they seem kind of boring."
Sometimes an interview reveals much more than the interviewee ever intended.
Second, Smyslov and Tal were both world champion for only a year, yet even today Tal enjoys folk-hero status, whereas Smyslov's popularity faded after he lost the title. Why? (The author offers a reason.)
Third, the account of the 1946 radio match between the USSR and… well, judge for yourself.
The heading of this banana skin chapter refers to 'Great Britain', the second paragraph to 'the United Kingdom' and paragraph three to 'Great Britain' again, but cites Winter's book of the match, 'The Anglo-Soviet Radio Chess Match'. B.H.Wood's contemporary report refers to the 'British' team and 'British' players on three occasions, before concluding with the sort of lament – 'Forever England!' – liable to stick in Caledonian throats. The presence of two Scottish representatives in the team renders two of those references wrong. Am I being harsh on the author or editor (none credited) for not commenting on the terminology? I can certainly be harsh on Winter's and Wood's nationalist arrogation.
There is so much in this wonderful tome to enjoy. Its depth and quality are remarkable. If you're a Smyslov fan, it's a must. If you're not familiar with Smyslov, you really want to have a look at it.
That Kramnik quote should tell you something. This book covers the period when Smyslov went from newcomer to grandmaster. OK, he was a bit special, and you might not make grandmaster, but think about it. If it shows how he made progress, might a study of his games not help you make progress? Give the online stuff a break, put away your openings books, and settle down with this one. You never know what you might learn.
And this is only volume one. The author's introduction suggests that at least another two are planned.
I can't wait.
Ian Marks
April 2022
***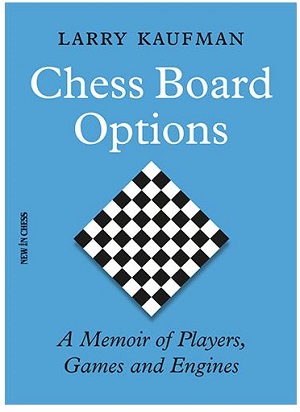 CHESS BOARD OPTIONS by Larry Kaufman, New in Chess, 223 pp., publ. 2021.
Kaufman is probably best known for his work in computer chess and as the author of a number of highly-acclaimed repertoire books (also largely based on his work with computers); here he presents us with a memoir of his life in chess.
It is divided into five large, self-explanatory, parts:
20th century champions I have known
My non-chess career: options, shogi and other games
My chess career and my students
Computer chess
Various chess-related topics
Part one features luminaries such as Larsen, Korchnoi and Spassky, about whom Kaufman writes with respect and disarming honesty ('Larsen made me look like a novice'). He also writes about a number of less well-known US masters, such as Steve Brandwein, a player of great promise who retired early from competitive play, but of whom the author speaks very highly ('the best-liked chess master I've ever known'). To illustrate what a strange place the chess world can be, Kaufman relates that the Jewish, openly Communist Brandwein was a friend and one-time room-mate of the virulently anti-Semitic, anti-Communist Bobby Fischer. This part is a thoroughly enjoyable read, full of the kind of anecdotes and insights which only personal acquaintance and encounter can provide.
Part three is a trip through the author's career at the board, including his World Seniors Championships (where victory brought him his GM title), young players he has coached and a selection of his games which are all the more interesting for being relatively unknown.
Talking of games, there are a very appropriate sixty-four in all, including odds games and human v machine games, some quite unlike what you're used to seeing!
Part four's contents should be obvious – a very detailed look at his half century in computer chess – and part five covers the likes of ratings, openings and reforms to the game. Two areas to which Kaufman devotes a lot of attention are ways of making Armageddon games fairer and draws. His background is in maths, and he works in a fair amount of basic maths in these sections to back up his ideas, but I couldn't help thinking that some of the suggested cures were worse than the disease, e.g. I'm certainly not a fan of awarding a ¼ point for some types of draw (but I'm with him 100% when he calls the 3-1-0 scoring system 'a terrible solution').
The problem with the 'draw problem', assuming you think it's a problem, is that it's nothing new. There was the 'draw death' in Capablanca's heyday, draws were seen as a problem when the cautious Petrosian was on the throne, and now they're allegedly a problem because of the use of increasingly sophisticated computers, in fact the 'draw problem' seems to rear its head about every fifty years. At least he concedes it's not a problem in amateur chess. Anyway, whatever your views, it's thought-provoking stuff and healthy debate never does any harm.
Part two is the one I have my doubts about. Sure, the clue is in 'my non-chess career', but I wasn't expecting twenty-odd pages on the financial markets, shogi and other games in a chess book, and I'm not sure that its inclusion is apposite.
The reasons for its presence are obvious. Kaufman made most of his money (enough to devote himself to chess and shogi) on the financial markets and is the top US shogi player, one of the strongest non-Asian players in the world. Plus it's his memoir, so he can include whatever he likes! But it struck me like a book on French cuisine including a chapter on pakora – vaguely relevant, but a bit out of place. I can imagine some readers might skim this and get back to the chess.
A couple of other issues. The title is a bit misleading. I initially thought it referred to different versions of the game, but in fact it's a nod to Kaufman's 'other' profession as an options trader (which you won't know until you read the book).
The index is names only, and human names at that. There are some surprising omissions. Computers are conspicuous by their absence. Much of Kaufman's chess life has been bound up with the machines, but there is no mention of Komodo, Stockfish, Rybka or any other mechanical monster, or any way of cross-referencing his considerable work with them. Likewise he is a big Chess960 fan, and mentions it a lot throughout the text, but there's no way of finding place or context.
Even the names which appear are often treated superficially. The fictitious Beth Harmon gets two references, one of which refers the reader to the whole of chapter seven, called... Finding Beth Harmon! There is no at-a-glance cross-referencing to, say, Harry Beltik, drugs or personality changes. You have to go back to the chapter and dig them out for yourself.
There are no games or openings indexes. If you want to track down, say, a specific human v machine odds game (and the type of odds) you're gonna have to do some thumbing.
Those reservations apart, Chess Board Options is an insightful and enjoyable look at the author's life-long involvement in chess, highly readable and informative throughout, and written in an easy, chatty style. It's just the sort of thing if you enjoy chess lore and want a change from the usual run of chess publications. Kudos to New in Chess for making books like this available to the chess public.
One final thing. The binding on my review copy started to disintegrate halfway through reading, in fact by the time I'd finished pages were starting to fall out. Unusual nowadays, especially for NiC who are noted for their high production standards, so maybe it was just a fluke.
Ian Marks
April 2022
*****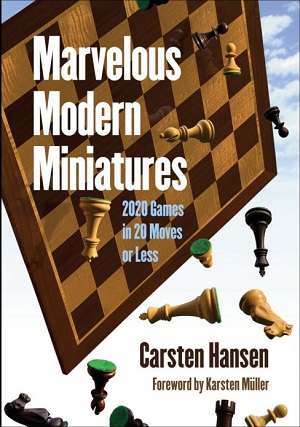 MARVELOUS MODERN MINIATURES by Carsten Hansen, Russell Enterprises Inc., 520 pp., publ. 2020.
The sub-title of this hefty tome tells you what to expect: 2020 Games in 20 (sic) Moves or Less (sic). I loved this kind of book when I was a kid – the games were always great fun and helped plant ideas in your head – although in those days they usually featured a more modest hundred miniatures. The idea is not to show you how to bash the other guy flat before s/he's got warmed up, but to illustrate typical tactical motifs and shots, and how to be prepared for them when the opportunity arises. The flip side of the coin is to illustrate that positions often contain overlooked defensive resources. The guiding premise is that a game begins on move one, something which players seem to forget.
The players featured are all >2100 – so disabuse yourself of the notion that it's full of patzer stuff – and go all the way up to top GMs and world champions. Amongst the losers we find some of the most tactically-savvy players of recent times. If they can play the sort of game that makes them want to sneak out without being noticed, so can we all.
The material is divvied up by opening: flank openings, lesser QP openings, lesser e4 openings, tons of Sicilians, French, 1 e4 e5 sidelines, Ruy Lopez, QG, Nimzo, KID etc., so there is something for everyone.
The index is players' names. It might have been an idea to provide an index of the most common tactical themes, or maybe that would have been too big an undertaking!? It would certainly have been helpful.
How to approach the book is a matter of taste. I'd be inclined to go by theme (which would involve a lot of hunting), others might prefer to look at their favourite lines. You could use it as a manual of attacking ideas or as a tactical exercise book – the diagrams are of the White/Black to play and win variety. It's up to you. I doubt if many readers would tackle it in linear fashion. It would take months.
In many ways this is still the sort of fun book I enjoyed as a junior, but one with a serious purpose. It would be daunting for beginners, but more experienced players looking for material to keep their tactical eye sharp and be ready for banana skins would not be short of material. Nor would coaches! The games are all recent, from the last thirtyish years or so, so no hackneyed stuff.
Ian Marks
March 2022
***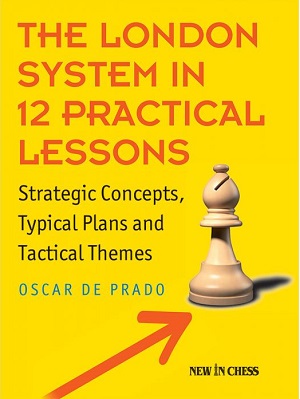 THE LONDON SYSTEM IN 12 PRACTICAL LESSONS by Oscar de Prado, New in Chess, 272 pp., publ. 2021.
Several years ago I heard an IM – who shall remain nameless – taking an unwittingly humorous pop at the London System. "This is very bad!", she frothed, referring to the position after 1 d4 Nf6 2 Bf4. "Now there will be no advantage!" One of her peers who played 2 Bf4 against me explained that she did so because it gave good chances of an advantage! Presumably Carlsen and other open-minded GMs who have investigated the opening and incorporated it into their practice agree with the latter lady.
In many ways this is the sort of book that doesn't need a review; it really is one of those what-it-says-on-the-cover works. The author published a previous work on the subject in 2016, but stresses that it is not merely an update, but a new book covering specific themes, plans and ideas. 'The aim is to help the amateur player to understand the London System and play it correctly and easily.' The twelve lessons of the title into which he divides his material give a good idea of what to expect:
Lesson 1 General ideas and move-orders
Lesson 2 The attack on the b2-pawn
Lesson 3 The early exchange of the f4-bishop
Lesson 4 An interesting scheme with f2-f4
Lesson 5 Typical Attacks in the London System
Lesson 6 Ideas with a quick h2-h4
Lesson 7 Play on the queenside
Lesson 8 Good knight v bad bishop
Lesson 9 Typical queen manoeuvres in the London System
Lesson 10 Typical London System endgames
Lesson 11 Latest theoretical developments in the London System
Lesson 12 Exercises: tactics, theory and strategy
While the focus is on White's side, it is anything but a 'winning with'-type offering. The coverage is objective; if Black has good options, or if White could have done better, the author says so. The material is presented via forty-five games, often with GMs on both sides, annotated in great detail, but with plenty of clear, explanatory prose and diagrams at key moments to light the way. (And it's always nice to see games from Scottish events!) Not surprisingly, the bulk of the games and references are from the last few years, although Rubinstein-Treybal, Breslau 1912, proves that there's nothing new under the sun. The most referenced players are Kamsky and Carlsen, and much can be learnt from their games. The former has been playing the London all his life, while the current world champion's more freestyle approach shows that there is still much waiting to be discovered. The Russian GM Boris Grachev's contribution also deserves close attention. The styles of these three players show just how widely the London can be interpreted and handled. The range of unresearched positions and the variety of play which can arise make you wonder why Chess 960 is needed to escape opening theory!
The book has a labour-of-love feel about it; the author's writing has a lightness of touch which conveys his passion and enthusiasm to the reader. Overall it is a very readable and worthy addition to the literature on the London System, and one which devotees of the opening will no doubt add to their libraries. I hope our IM friend above picks up a copy. J
Ian Marks
March 2022
*****
https://www.chessable.com/mastering-chess-strategy/course/74643/

Another one of those excellent books that I didn't finish reading 10 years ago!
Questions posed in the blurb include:
"Should I launch the attack, or do I need more preparation?"
"Should I trade this bishop for that knight?"
"Should I change the pawn structure, or keep it?"
The publishers tell us "Such questions dominate the making of chess strategy, but general rules of thumb you learn here and there are difficult to apply in every circumstance. Chess strategy can only be mastered by knowing when to apply which concept in a given scenario - and to do that, you need a rich understanding of many types of positions. That's where Swedish Chess Champion and Grandmaster Johan Hellsten comes in. This renowned pro is one of the leading names when it comes to chess strategy books, and he has the experience to back it up: he's not only won the top spot in his own country, he's represented the Swedes on their national team in the Chess Olympiads and European Chess Championships".
So what does Chessable bring to the table? Rather a lot, I would have to say!!
I am not convinced we retain ideas from an opening survey just by repetition. But by playing through middlegame strategic structures, then seeing the same "Chess Chunk" (abstract combination of the pieces) later, it appears to work. I seem to remember first hearing that phrase in a documentary where Susan Polgar described the cognitive learning process. This is one of the very few training methods where I have really experienced it working.
The practical examples are clear and well selected. Johan Hellsten's comments are limited to the essentials and deeper analyses are the exception only when required to illustrate a point. I think this is intended so as not to tire the student and to sharpen the eye towards the more essential positional aspects.
There are an incredible 67 Chapters to this course – focussing on each individual piece in turn
e.g. from the section on Rooks: The following diagram speaks for itself: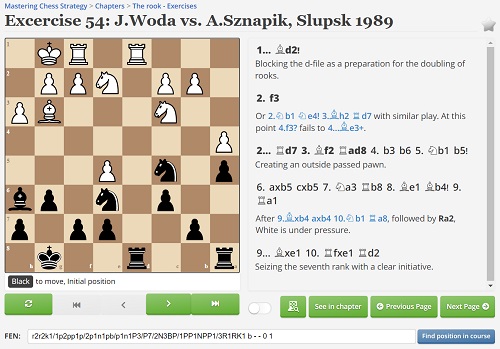 I doubt I would have even thought about that idea to double my rooks! What an instructive example and when the idea presented itself in one of my online games a few days later, I found it instantly and soon built up a crushing position.
Here is another strategy example. White has just played Rc1 -> a1 with the idea of opening the a-file. How many players would have considered this plan: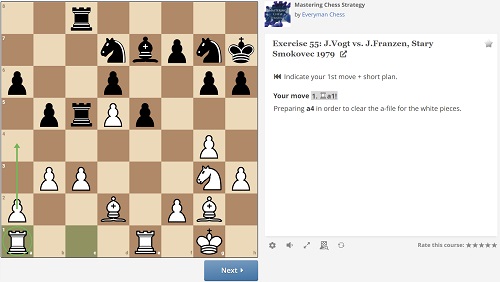 When a few moves later, we can see the effects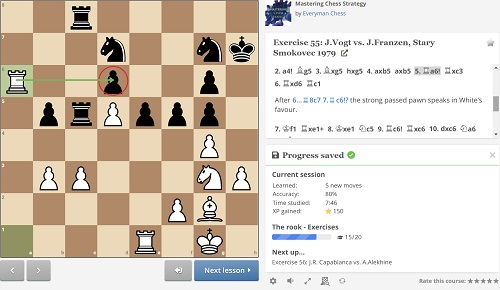 After examining how to maximise each piece, we turn our attention to numerous selected examples illustrating common chess themes like:
Realising a positional advantage
Eliminating Key Pieces
Facilitating an attack
Facilitating the defence
Reducing enemy activity
Series of exchanges
Dynamic Exchanges
Pawn Play
Gaining Space
Creating weaknesses
Pawn Chains
Prophylaxis
Provocation
Weak Squares
Doubled Pawns
Blockade
The initiative
This course really makes learning such topics a lot of fun! They have been covered in many, many books but the sheer power of Chessable system shines through when you are able to play the moves out!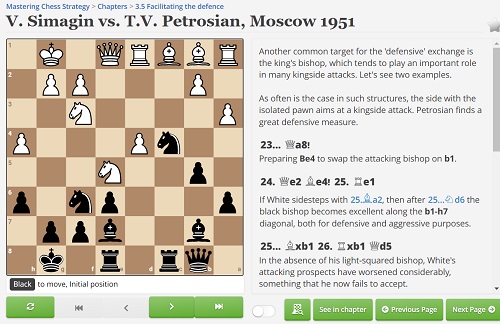 Any negatives? It would be unfair to say this is a negative, but I would strongly suggest that you run through the course using the Chessable Trainer before looking at any of the videos!
I feel that the videos say too much of "What would you do here? Yes, absolutely that's correct" when I've barely had time to hit the pause button. As you may know from my previous Chessable reviews, I am very usually very complimentary of the videos which do come at an additional and sometimes hefty cost. However, this particular Chessable course is so good I have not needed to spend time watching them. If you struggle with some of the concepts, however, the videos would be an excellent way of illustrating them. Johan Hellsten doesn't come across like a robot reading from a script. Instead, he is adept with arrows and highlights on the board to hammer home the important ideas.
This course is exceptional and I would have no hesitation recommending it to anyone.
William Hulme
February 2022
*****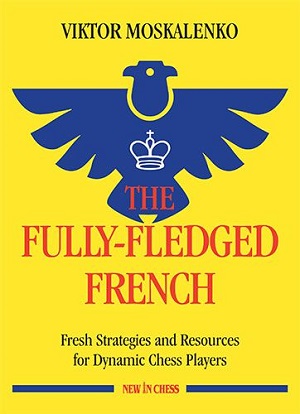 THE FULLY-FLEDGED FRENCH by Viktor Moskalenko, New in Chess, 368 pp., publ. 2021.
The author has already written extensively on his favourite opening (The Flexible French, The Even More Flexible French, The Wonderful Winawer) so if you're familiar with those you'll have an idea of what to expect from this one. Some of the material appeared in the earlier works, but the new games, updates and improvements galore have resulted in what is essentially a new book. As it happens, a lot of the developments which have taken place are attributable to its predecessors!
Like them, its aim is "to offer a combative repertoire to black players", and the author's approach is "more of a strategic nature, with lots of practical pieces of advice that reveal the key resources of the opening". 'Strategic', however, does not preclude violence, and there is plenty of sharp, tactical stuff to whet the bloodthirstiest of appetites.
While Moskalenko provides lots of analysis – you can't write an opening book without it – the book is not theory-heavy; as the sub-title Fresh Strategies and Resources for Dynamic Chess Players suggests, the focus is on handling the French in an active, dynamic way. With the help of seventy-two illustrative games (the most recent from 2020 and eighteen the author's own) he covers a selection of his favourite lines in each of the main French variations – Advance, Tarrasch, Classical and Winawer – presenting all sorts of new ideas showing where and how Black can create interesting play and enjoy his share of the fun without getting bogged down in a theoretical swamp. To give a specific example: he indicates that Qg4 systems are White's best bet for an advantage v. the Winawer, yet shows that there is far more to them than deeply theoretical Qxg7 mayhem and that Black has no reason to be afraid.
Each part of the book is split into a historical introduction to the variation, a presentation of the main ideas, analysis of the most interesting lines, illustrative games and conclusions. As in his previous books, his trademark 'tricks', 'puzzles', 'weapons' etc. pointers both reinforce what he is saying and encourage you to think. His style of writing is light and fluent and his enthusiasm infectious, but he never descends into flippancy or wastes words – his analysis and comments are spot-on. The text is sprinkled with lots of recent references, including 2021, but the author does not neglect older games by French 'greats' such as Petrosian and Uhlmann. As he stresses, "Focus your attention on the games played by the experts!".
Like its forerunners, this well-thought-out and well-produced book brings the French alive. Openings books can sometimes be a tad heavy or dry, but The Fully-Fledged French is quite simply entertaining.
When a writer puts his heart and soul into his work, as Moskalenko does here, you know you're on to a winner. The Fully-Fledged French is worthy of a place on the shelf of all French fans – anyone who owns the author's previous works will probably buy it without any prompting from me! In addition it would be of interest to newcomers to the opening, and for anyone who has never given the French a thought there is more than enough to inspire you to give it a try. With Moskalenko as your guide you could easily become addicted.
Ian Marks
January 2022
***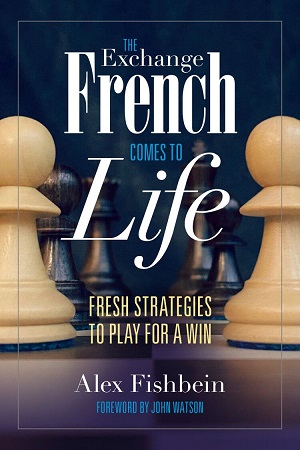 THE EXCHANGE FRENCH COMES TO LIFE by Alex Fishbein, Russell Enterprises Inc., 240 pp., publ. 2021.
You might have raised your eyebrows at the title. You might raise them further if I tell you that the sub-title is Fresh Strategies to Play for a Win. Play for a win!? The Exchange has never been considered a variation to strike terror into the hearts of French defenders. It's boring, equal, leads to a draw etc. etc.
Well, that depends.
In this book the American GM looks at 1 e4 e6 2 d4 d5 3 exd5 exd5 4 Nf3, a line he has been analysing and playing for over thirty years. What he offers here is a distillation of his work. The positions arising are far removed from 'traditional' Exchange lines and in general the play is much richer.
On the white side we find the likes of Carlsen, Kasparov, Grischuk and Anand, not players renowned for their boring play. Sometimes they reached the positions from a different move order, e.g. via the Petroff, Queen's Gambit or English, but that's irrelevant. What's important is that they were prepared to play them, and play them for a win. If any of those openings are in your toolbox, it would be worth looking at Fishbein's work. As he says, 'the reason to learn different openings is that some ideas are ubiquitous'.
The variety of possible move orders suggests that, up to a point, the cliché that understanding the positions and ideas is more important than knowing a load of variations is true. With this in mind, two key chapters (the longest in the book) cover 'IQP-lite' and symmetrical structures. They contain a lot of chess wisdom, and players who understand them better than their opponents will score points.
Which leads to the practical consideration of playing the Exchange Variation: because of its 'harmless' reputation, players of Black are less likely to have prepared a response to it (they might not even think it's necessary). Denied the chance to play a beefy Winawer, or whatever they had up their sleeve, they can get lulled into a false sense of security and wonder where their easy equality went when their position starts to head south after fifteen moves. As French guru John Watson says in his foreword, '…any player of the Black side of the French will benefit by reading it'.
This is a refreshing book on what is almost a sideline in the French and the author clearly shows that there is more to it than meets the eye. One feature I particularly liked was chapter eleven, Your Repertoire File, a sort of vade mecum providing all you need to know in easily accessible form.
I also liked the list of frequently occurring strategic themes, but was surprised at the lack of an index of players. Strange.
All in all, something different and worth considering if you're looking for another string to your white bow.
Ian Marks
January 2022
*****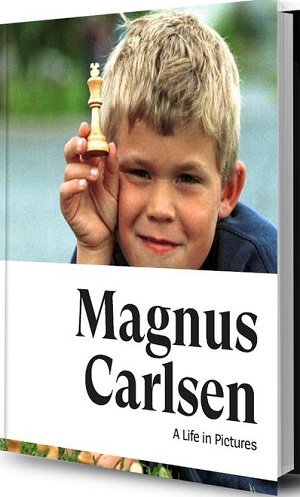 MAGNUS CARLSEN A Life in Pictures, New in Chess, 160 pp., publ. 2021.
Just as Magnus retains his crown against Nepo comes this timely offering from New in Chess, a pictorial compilation covering Carlsen's life from pre-toddler to grinning world champ on a tropical beach.
The sources range from the Carlsen family archives to the work of many of the prominent chess photo-journalists of today, including Dirk Jan ten Geuzendam, Lennart Ootes, David Llada and Alina l'Ami. They capture a whole range of moods and situations, from carefree youngster taking his first steps in bigtime chess to the intensity of a world championship match. We see Magnus not only at the board, but also in relaxed mode, e.g. at the poker table, shooting the breeze with Bill Gates and kicking off at the Bernabeu. They permit us a glimpse of the champ in his down time and illustrate the changing ways in which the world chess champion is viewed. It is hard to imagine Botvinnik modelling a range of leisurewear or hanging out with movie stars. If there is one thing which strikes the reader, it is the sheer concentration and focus which Carlsen brings to every competitive activity, be it the world championship, elite tournament or bounce game of basketball. He has winner written all over him.
Photo accounts or retrospectives of a player's career are few and far between; all the more interesting when one on such a prominent practitioner of the game comes along. The photos really do speak for themselves; the minimal text is illuminatory and does not intrude. Production is excellent – high quality glossy paper in a sumptuous hardback do the contents justice. If I have one teeny reservation it's that it would have been nice to see more of the people and places attributed.
Not only is this a super production, but with Christmas just around the corner it would make the ideal stocking-filler for chess buffs everywhere. Show this review to your s.o., parents or chums and drop a hint.
Ian Marks
December 2021
*****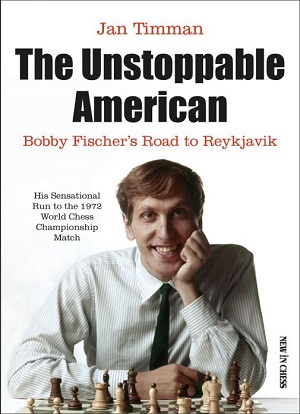 THE UNSTOPPABLE AMERICAN by Jan Timman, New in Chess, 254 pp., publ. 2021.
During lockdown I spent a lot of quality hours reacquainting myself with Fischer's games from the 1970 Palma Interzonal and 1971 Candidates matches, savouring some of the most remarkable chess ever played by a remarkable player. When I had finished I thought, "It would be great if there was a book on this".
Lo and behold!
The sub-title, Bobby Fischer's Road to Reykjavik, sums up the contents, Timman's chronicle of that unique period in chess history. It might be worth reflecting on the time frame here. For players of my generation (that includes Timman), Fischer's rampage remains clear and vivid. I could tell you what I was doing when I heard about the 6-0s v. Taimanov and Larsen in the same way that I could tell you what I was doing when JFK was shot.
But it's fifty years ago now. For today's juniors, or any other newcomers, it is ancient chess history in the same way that the tournaments and matches that the likes of Capablanca and Alekhine played in back in the 1920s are ancient chess history to me.
I mention this to put Timman's work into some sort of context. It is not just a simple historical treatise or a mere collection of games, but more a reconsideration of the period which the comfort and objectivity of half a century allow.
The story really starts – as Timman discusses in his prologue – with Fischer's withdrawal from the 1967 Sousse Interzonal when he was on 8/9 (8/10 if you toss in a disputed default) and clearly heading for victory. Had he won that event and qualified for the 1969 world championship match, would he have beaten Petrosian? His 1970 and 1971 results against him suggest that he would; the real hurdle would have been overcoming the formidable force which was the late '60s Boris Spassky in the Candidates. What a match that would have been. Had he done so, and beaten Petrosian, chess history might have turned out differently. Had he lost to Spassky, and qualified again from Palma three years later, it would probably have been the same. Or would he have packed chess in? Such are the fascinating ifs and maybes of life.
After dropping out of Sousse, Fischer hardly played for three years, and it is upon his return in 1970 that Timman begins his coverage. In chapter one he looks at RJF's participation in the USSR v. Rest of the World match, the Herceg Novi blitz tournament, the powerful GM tournaments at Rovinj/Zagreb and Buenos Aires and the Siegen Olympiad. This punishing schedule was Fischer's warm-up for Palma which began at the end of the year.
Chapter two is an in-depth look at Palma and chapters three, four and five deal with the matches against Taimanov, Larsen and Petrosian respectively. Timman's notes are a model of good annotation. Where some writers provide screeds of computer-generated analysis, he offers the relevant stuff to show what is going on, but, more importantly, provides plenty of accompanying text to explain what is going on, and references the researches of other players such as Kasparov, Hübner, Korchnoi and Averbakh. He is particularly good at drawing out the tension of the three matches, and is not afraid to criticise Fischer if he erred or could have done better, unlike some authors who treat writing about a famous player as an act of hagiography.
A case in point is Fischer's famous 22 Nxd7+ in the seventh game of the Petrosian match. (Old lags like me will know the position I'm referring to; others will have to consult the book.) This exchange, giving up a fantastic knight for a so-so bishop, has appeared in countless books to the point of being hackneyed as a brilliant, unprejudiced example of trading one advantage for another. Timman is having none of it: 'The praise with which this move has been showered is unbelievable...I am almost certain I would have opted for Najdorf's move...22 a4 would have given White a winning advantage'. He provides analysis both to back up his claim and show that Petrosian would have had chances to hold after 22 Nxd7+ if he had played correctly. There are lots of similar instances throughout the book.
What comes across in virtually every game is the remorseless power of Fischer's play. Draws were not on his agenda; he played every game to win, often taking risks to the point of flirting with defeat (Timman illustrates that he was in fact lost in some games), confident that he could handle the psychological pressure better than his opponents. Ally that to virtually perfect technique and you truly have an unstoppable winning machine.
There are nine pages of photographs and Timman brightens his narrative with plenty of anecdotes, often from a horse's mouth. The story of Rona Petrosian taking her hand across Alexey Suetin's face has passed into chess mythology, but my favourite illustrates how the availability of chess information has changed in the last fifty years. When Fischer was in Denver for the Larsen match, he borrowed some books off a local player! Can you imagine a top player of today having to borrow books off a random hacker!?
The translation gets high marks and reads well overall; the odd little hiccups, e.g. with prepositions and word order, don't detract too much.
Overall this is a super piece of work on several levels. It vividly brings the period and personalities – not just the main protagonists – to life, will reawaken memories for older players and introduce juniors and newcomers to this remarkable period in chess history. There is also much to be learnt from the games and Timman's lucid annotations. One wonders how many of them Fischer would have included had there ever been a sequel to My 60 Memorable Games. Alas, we will never know; Timman's work is as close as we will get. Definitely one to add to your library. With Christmas not far off, put it on your letter to Santa.
Ian Marks
November 2021
*****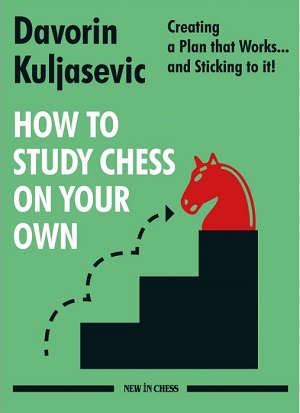 HOW TO STUDY CHESS ON YOUR OWN by Davorin Kuljasevic, New in Chess, 380 pp., publ. 2021
The author's first book, Beyond Material, was a bit different and one that I enjoyed, so I was keen to see what lay between the covers of this one. I was not disappointed.
His basic premise is that things go better if you have some sort of structure to guide you. Everybody knows this, but not everyone sticks to it, for reasons real or imaginary. If you find yourself in that category, his book may be for you. How he outlines and develops the topic can probably be best illustrated by a look at the chapter titles:
Do you study with the right mindset?
Fifteen study methods
Identify your study priorities
Choose the right resources for your study plan
Study your openings deeply
'Dynamize' your tactical training + tactics test
Make your endgame study more enjoyable
Systemize your middlegame knowledge + Test on exchanges
Get organized – create a study plan
Plus a final chapter containing solutions to the exercises.
The author cannot be accused of leaving stones unturned; this is a very wide range of topics, designed, he says, "…so that anyone from a casual club player to a chess professional could… take away a reasonable number of original learning methods".
That is a very laudable aim, but there is a vast gulf between club player and pro. For one thing, club players tend to have a non-chess job, and the waking hours not devoted to it are probably devoted to the myriad family matters that we all have to deal with.
For example, the author talks about how he studied two books carefully for several months, analysing every single example for himself on a board and going over relevant passages again. Desirable, yes, but the sort of thing that Joe Average might find hard to factor into his schedule as he tries to juggle home and work commitments. Likewise when he talks about one of his own study plans involving four to five hours a day during the week and six to seven a day at the weekend, you wonder how applicable this sort of thing can be to someone struggling to find even an hour a week.
Time allocations clearly have to be tailored to meet individual situations, and, to be fair, it is something of which the author is well aware:
"You should design your own study plans with a format and to the extent that is appropriate to your own taste, level of commitment, and resources"
and
"It is highly unlikely that you will actually be able to execute your chess activities exactly as you had originally planned in your schedule because the circumstances in life inevitably change and cannot be predicted. Thus, you want to always leave some room for adjustments in case of contingencies, in other words, plan dynamically."
That said, the book is full of good advice. Here is an example from chapter five, 'Study your openings deeply':
"Keeping up with ever-increasing amounts of opening theory can be too time-consuming and ineffective for many chess players. Instead, a more practical approach is to focus on middlegame and endgame competence and learn only as much opening theory as you need to get a position you like, even if it is not the most critical by the highest opening theory standards. This, however, does not mean that you should go out of your way to avoid mainstream opening theory. In fact, I would recommend playing as principled lines as possible." He then gives a nod of agreement with Sam Shankland: "…playing the middlegames that arise from mainline openings is an incredible learning experience for which there is no substitute."
This simple, yet profound, advice is only one part of one paragraph in one chapter. The book is oozing with such stuff. Here's another example from chapter seven, 'Make your endgame study more enjoyable'. He's talking about players who don't bother to look at endgames:
"The logic goes something like this: 'I don't get endgames much in my games, anyway. Why should I bother studying some theoretical endgame that I will maybe never get in a game?'... This kind of thinking is wrong on several levels. Firstly, it testifies to the study mindset of not being objective enough… Secondly, lack of endgame study will definitely affect your results adversely… weak endgame fundamentals decrease your overall potential as a chess player."
If you liked these, you'll like the book.
The main thing which strikes you is the amount of text. It is a heavy book, both in weight and content, but is highly readable. The author illustrates his points with lots of examples which, even if he recommends blindfold reading as one of his study methods, should definitely be pondered and gone over on a board.
Throughout, the author's philosophy is very much that of teaching you to fish rather than giving you a fish, and, even if your study time is limited, there will be something between the covers that will be of benefit.
It is written in the same easy, conversational style as his previous book and, like that one, is different from the general run of chess books. It is well worth a look by players looking for a guide to how to structure their chess study and what to include in it.
Does it do what it sets out to do? With a bit of individual tailoring, certainly. Even if it gets you to draw up and work with a study plan of your own, whatever your time constraints, it will have achieved its objective. And it'll make you think.
A final note. I've had a pop at NiC in the past for their indexes. I shall have to stop. I've just finished a 600+pp. non-fiction book the subject of which is not important to this review. When I'd finished I wanted to go back and re-read a couple of passages about one of the characters. I turned to the back of the book. There was no index. You heard. No index in a non-fiction work from a long-established, reputable publisher. I won't repeat my reaction – there might be children reading – but what should have taken me a few seconds took over ten minutes' flicking and skimming.
So I shall henceforth be kinder to our friends at NiC. Yes, there's an index, names only.
Ian Marks
November 2021
*****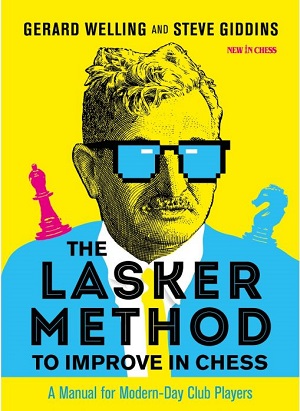 THE LASKER METHOD TO IMPROVE IN CHESS by Gerard Welling and Steve Giddins, New in Chess, 240 pp., publ. 2021
The idea behind this book can be summed up in one phrase: to make the average player's life a lot simpler. The authors' inspiration comes from Lasker's classic Common Sense in Chess (the 'method'), based on a series of lectures the great man gave away back in 1895 (and, as a classic work, essential reading). In it, the World Champion outlined an approach to the game for ordinary players based on playing sensibly and adhering to general principles, in the words of the authors "…an efficient and independent approach to chess, with nothing superfluous, which is diametrically opposed to what many players do in practice, by storing as much information in their brains as they can". Chess is perhaps too concrete a game to allow for such an approach exclusively, but the underlying philosophy of keeping things simple is certainly nothing new. As the American philosopher Thoreau put it: "Simplify, simplify, simplify!* I say, let your affairs be as two or three, and not a hundred or a thousand; instead of a million count half a dozen, and keep your accounts on your thumb-nail."
(*You could argue he could have simplified that by using only one 'simplify'.)
It's easy for ordinary players to become overwhelmed by the sheer volume and range of books, DVDs, courses, downloads, software, online resources etc. etc. available nowadays. The authors seek to redress this information tsunami by indicating how players can try to declutter their chess minds and reappraise their approach to the game. Maybe not quite back to basics, but along those lines.
They do so via chapters on general chess philosophy and common sense, strategy and positional play, the endgame, attack, defence, Ns v Bs, amorphous positions, the opening, then games for study and tactics. Their watchwords are 'simple' and 'sound', an echo of Portisch's "I can recommend the following: simplicity and economy". Good advice is timeless.
In each chapter they illustrate how each aspect of the game can, certainly to an extent, be handled in a no-frills manner. Ask me for my favourite and I think I'd plump for chapter seven which deals with amorphous positions, basically keeping your position flexible, not committing yourself, and waiting to see what your opponent's up to, which, as the authors point out, can be an excellent way to play for a win.
The authors provide seventy-three games and fragments, many of them by Lasker himself, but featuring an impressive collection of other big (and not so big) names, from Alekhine and Capablanca up to Kasparov and Carlsen. In keeping with the nature of the text, words (sensibly!) take precedence over moves: "Our approach has been to annotate games largely with verbal explanations, adding concrete detail only when this is essential to understand what is going on".
Chapter eight, An approach to the openings (sic), is a useful overview of how openings-obsessed ordinary players could trim back their workload. You don't necessarily have to agree with the authors' every word or suggestion, but it should at least set you thinking. Curiously, though, the openings index omits references to those which appear in this chapter! The index would have you believe there's nothing on, say, the Evans Gambit or Vienna, yet they're covered on pp. 98-9 and 103-5 respectively. In similar vein, the King's Gambit reference is to a game on p.65, not the coverage on pp. 105-7. Talking of the Evans, the authors 'get it out of the way' with the unusual 4…d5!?, rather strangely, since  Lasker's no-nonsense suggestion of declining it with 4…Bb6 transposes directly into their line in the Giuoco Pianissimo on p.101, where they even cite a game by… Lasker! Anomaly aside, this is a good illustration of the 'common sense' philosophy at work: spending ages mugging up on the sharp stuff after 4…Bxb4 v. just playing 4…Bb6 and getting on with your G/75 league game in peace.
The authors have done a good job of setting Lasker's common sense approach in a contemporary context and bringing it to a new readership. I suspect it will find greater resonance amongst players who learnt their chess with books and a board, rather than the computer generation. The beauty of books like this is that they require you to think about chess and hopefully understand the game better. Those whose chess consists of robo-clicking through reams of trainable variations will find much food for thought and no small amount of wisdom between its covers. The target readership – 'average amateurs' – is probably around 1500-2200. At the lower end a certain amount of knowledge is assumed (as the authors write in the endgame chapter, "…we will assume the reader has mastered these 'essential positions' for himself"), at the higher end, stronger players will most likely be savvy to this sort of stuff already.
The authors write smoothly and with a lightness of touch which reads easily without ever drifting off-message, and the book is presented in crystal-clear double column format. The psychedelic cover featuring a funkily beshaded Lasker appealed to me, but I'm a fan of quirky stuff like this. I can imagine it might have others reaching for the paracetamol. Overall, a thoroughly enjoyable, highly readable and highly recommended piece of work.
Ian Marks
November 2021
*****
https://www.chessable.com/the-road-to-chess-improvement/course/51794/#positions

Now for something completely different - a classic Gambit Publications book from 1999: 'The Road To Chess Improvement' has been given the Chessable makeover and a 43 hour video extravaganza by author GM Alex Yermolinsky himself.
Reviews for the book included:
- GM Paul Motwani, THE SCOTSMAN:
"Yermolinsky's masterpiece also really gets to grips with numerous crucial elements such as decision-making, emotions, tactical mastery, strategic skills, deep knowledge and understanding of all phases of the Royal Game...so vital for the practical player wanting to progress far along the road of improvement."
- IM John Watson, TWIC: "For anyone looking to improve and to understand the modern game in a fresh way, I believe that this is one of the most exciting and provocative works to appear in years".
So how does the electronic version square up against the printed book and are there any advantages of buying this Chessable course if you already have the book – please read on!
My first impressions were not great and I wondered what this course was trying to achieve after I had watched some of the first chapter entitled "A sneak preview into what this book is really about". I watched and listened carefully when Yermo refers to graphs of trends then runs through moves from several games referring to critical moments but the chessboard remains setup in the initial position throughout. Later I discovered that you needed to play through the movie trainer first to see what he was on about.
About 10 mins in, Yermo tells us to stop studying classics like the principles of Nimzovitch once you are around 1700 strength because they stop being helpful then – and that opening books are not so useful for learning to play better chess. This didn't really inspire me even if what he is trying to say has some truth in it.
However, I continued to watch but there was still the initial position after 34 mins of chat. While I do respect the insights of such a great player and teacher, I didn't feel it was particularly suited to the video abilities of Chessable. The chat on how emotions (emotional shifts) can affect your play was relevant perhaps more for 2200-2400+ players looking to improve, but I was left feeling I needed more explanations.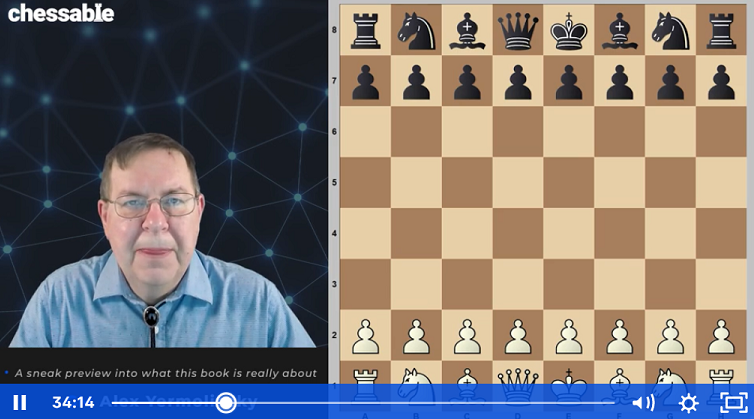 However, soon after 34 mins, a game position appeared on the board (at last) and we were off! To be completely honest, I found Yermo's presentation a little dry and I couldn't really get into it like I have been able to with other Chessable courses.
After forcing myself to complete "a sneak preview…" section of 2Hrs 30, I found myself skipping onto something which looked a bit more interesting – "Openings and early Middlegame structures". In the first video, the author states "Before we get to this you are going to have to tolerate another 30mins of talking" (really?!). What followed was a fairly interesting review of IM John Watson's book "Secrets of Modern Chess Strategy". I noticed that Yermo tends to ramble off topic quite frequently e.g. "I'm delving into an area where I have no business giving anybody advice in / learning a language which is not you're native one / Ok, we'll go to chess now".
Just when I was just about to give up, he turned his attention to the Exchange QGD and the Carlsbad structure – examining it from  both sides – but explaining how he needed it to fit into his 3.Nf3 move order back in the 80s/90s. This was really interesting and I began to enjoy the discussion! Once Yermo gets into the swing of it, the quality of his genius really does kick in.
Carlsbad, the Exchange QGD structure
I've had it explained to me many times before (from various videos and in several books) but there was something in the way that Yermo explained it here which really hit home.
He places a huge emphasis on true understanding:
the purpose of 9.h3
White's four main plans
what works – and why!
what doesn't work - and why!
all in great detail.
The author says "learn it, don't try and memorise it" and it will stay in your head forever. I certainly hope it does but the beauty of this type of training is that we can re-watch it over and over again!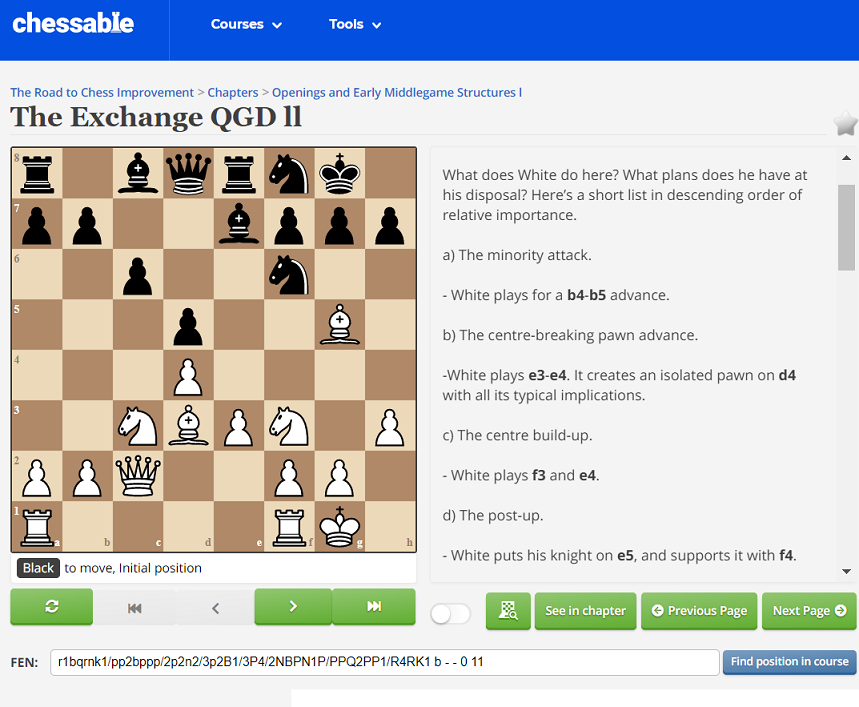 Chessable offers a unique way to dive straight into the relevant part of the video lecture by clicking a button here: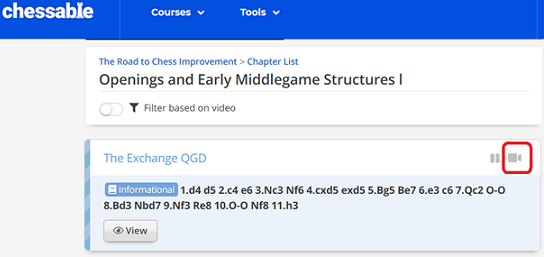 This takes you straight to the relevant part which discusses that position and cuts out all the other chat(!) – very clever use of the interface and technology.
Alternatively, you can choose an option called filter based on video which takes you straight to the training notes/book section that you have paused the video on here: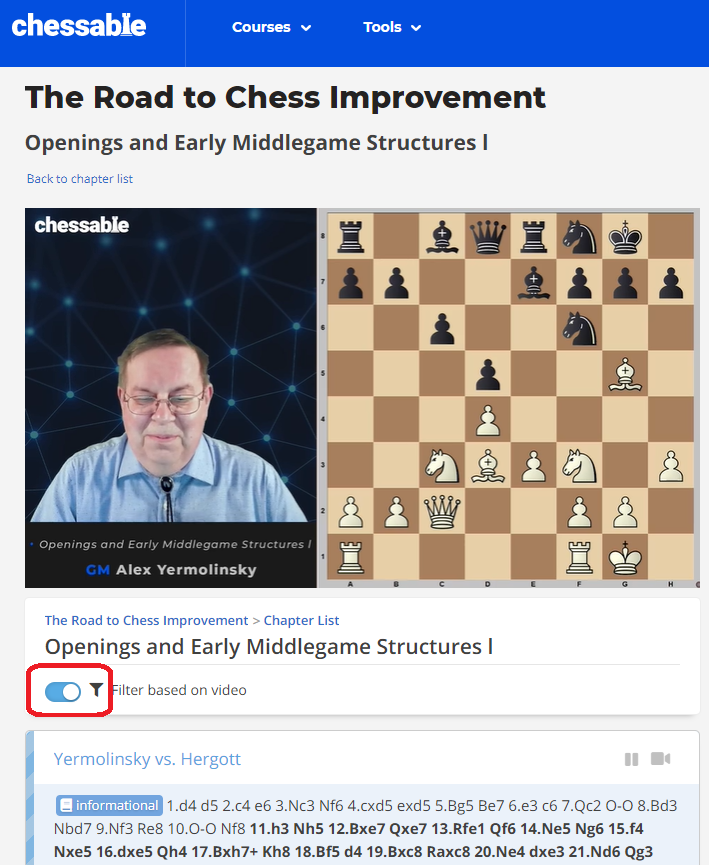 This makes is simple to play through the moves on the Chessable board while reading the text (like a book only with moving pieces!). The author's highlighted colours hammering home the points he is making.
At any point, you can switch on a strong (Stockfish) engine and check any analysis in that way!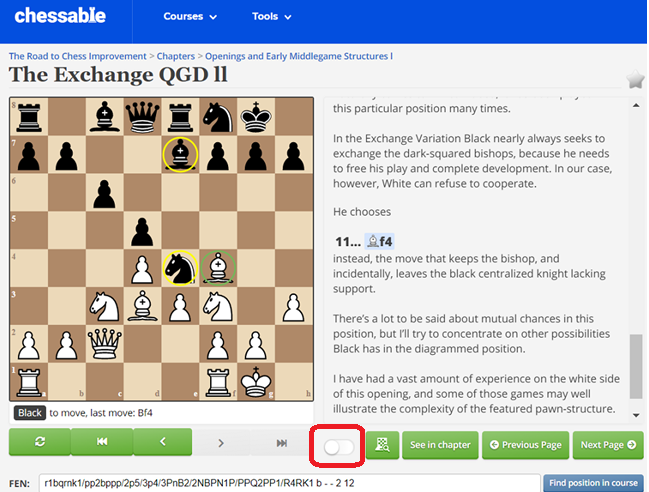 The full list of Openings covered in these three chapters (Openings and early middlegame structures) are as follows:
Queens Gambit Exchange (Carlsbad)
Central pawns against Grunfeld
Side stepping the 'real' Benko with 6.Qc2
Modern Defence. It's just a Benoni
How to face the Sicilian Grand Prix attack
Sicilian counterattack with ...d6 then e6
Pros and Cons of the White double fianchetto
What sets this course apart is the volume of work - almost 43 hours worth of video. It's slow in places (both the first and last chapters have 40 mins of talking before a move is shown on the board!) but the discussions are very deep and detailed when it gets going – especially the three middle chapters on openings which I have to say are exceptional chess training.
The rest of the course may not be everyone's cup of tea.
Here are all the chapter names and video times:
A sneak preview into what this book is really about (2Hrs 30) 4 game positions
Trends, Turning points and Emotional shifts  (5Hrs 30) 8 game positions
Trends, Turning points and Emotional shifts II (5Hrs 20) 7 game positions + 6 other games
Openings and early Middlegame structures I (5Hrs 50)
Openings and early Middlegame structures II (5Hrs 24 mins)
Openings and early Middlegame structures III (6Hrs 4 mins)
Tactical Mastery and strategic skills (4Hrs 37)
Tactical Mastery and strategic skills II (6Hrs)
Let's talk computer Chess (1Hr 22)
Conclusion: without the videos, I wasn't particularly impressed with the course. However, by adding the videos in those three sections (highlighted above) and make it much more desirable.
If you are interested, then do keep an eye on Chessable offers, where you can pick up the video course for £99.98 and the basic one for £19.99 with nearly 4 Hrs free video included.
William Hulme, September 2021
*****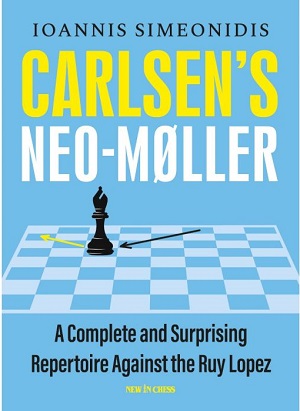 CARLSEN'S NEO-MØLLER by Ioannis Simeonidis, New in Chess, 158 pp., publ. 2020.
Lest the names might not be household, let me start by introducing the author and the opening. The former is a Greek FM and FIDE trainer, and the latter refers to the line of the Ruy arising after 1 e4 e5 2 Nf3 Nc6 3 Bb5 a6 4 Ba4 Nf6 5 0-0 Bc5.
Prefixing 'Neo-Møller' with 'Carlsen's' is a sales pitch, but a perfectly legitimate one, explained by the fact that the author's motivation to start looking at …Bc5 systems in the Ruy again was rekindled by the big game Karjakin-Carlsen, Stavanger 2018.
His aim with what he calls "Black's most uncompromising system against the Ruy Lopez" is "to achieve…an ideal position with black (sic) in the Ruy Lopez, where my pawns occupy a sufficient part of the centre and my pieces are active or at least potentially so", and his intention is "to provide a repertoire for Black after 1.e4 e5 2.Nf3 Nc6 3.Bb5 a6 4.Ba4 Nf6, with the general idea to place the black bishop on c5 on the next move, refraining from …b7-b5 unless it is necessary".  The positions arising are complex, sharp and open, with lots of tactical play, so if that sounds like your Ruy Lopez worldview, this could be the book you've been waiting for.
The author is certainly thorough. He devotes seven chapters to the main line arising after 3…a6 4.Ba4 Nf6 5.0-0 Bc5 6.c3 0-0 7.d4 Ba7, seven to sidelines, one to the Exchange Variation and two to exercises. There is no dedicated illustrative games section, but there are lots of detailed game references in the notes, featuring most of the big names, with the majority from recent years, including some from 2020. Can't get much more up to date than that!
He also digs deep: analysis in the main line chapters begins on move eight, and often runs well into the twenties, and his research is extensive, with classical, correspondence and online references, even a titbit with Fischer on the black (!) side of an Exchange Ruy. This being largely terra incognita until now, he has not worked alone, and has called on Houdini 6.03, Komodo Dragon, Stockfish and Chessbase Cloud for assistance. It is no surprise that the text is move- and variation-heavy, and although there are enough words at critical junctures to light the way, a fair level of chess understanding will still be required to figure out what is going on in places. It is impressive, not just from a potential practical point of view, but given how effectively the author has synthesised his material into a structured whole.
Clearly it is not play-in-a-day coverage; it is going to require serious time investment. The range and depth of the coverage pretty much defines who the book is best suited for. As the back cover blurb says, you are more likely to get the Neo-Møller, an early deviation, on the board compared to other Ruy lines, but that is not a given in the gambit/Scotch/Bishop's etc.-infested waters of club and weekend chess (whenever it starts again!). Ordinary club players might thus want to think about the likely practical return on their time investment.
The book is well produced in clear, easy-to-follow double column format, with around three diagrams per page. One niggly thing, though, which grates on the eye (at least this reviewer's eye) is the use of round brackets within round brackets. We were taught at school that this was an absolute no-no (and you'd have been pounced upon for it). Why not use square brackets? Has something changed?
Having said that, Simeonidis's trail-blazing research is undoubtedly the go-to work for serious and ambitious players looking for coverage of this interesting and hitherto neglected line of the Ruy.
Ian Marks
August 2021
***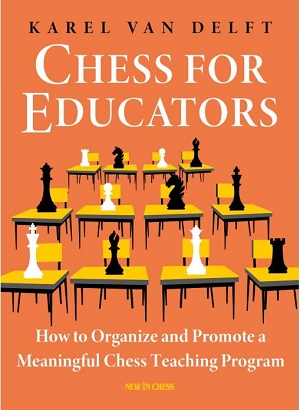 CHESS FOR EDUCATORS by Karel van Delft, New in Chess, 270 pp., publ. 2021.
There has been increasing interest in the educational benefits of chess in recent years, and in this book the Dutch author presents a thorough overview of the present state of affairs, a task for which his background as a chess teacher, organiser and holder of a Master's in Psychology eminently qualifies him. He casts his net far and wide, and covers just about every aspect of the subject. A few chapter headings at random:
Didactics in school chess
Pre-school chess
Organization of a school chess club
The role of parents
Chess for the blind and partially sighted/deaf and hard of hearing
Chess and autism/dyslexia
Girls' and women's chess
Class management
Research into the benefits of chess instruction
He also discusses, inter alia, chess and high IQ children, gifted children, those with Down's Syndrome, ADHD and so on. Remember, though, that chess in the Netherlands enjoys greater prestige and a higher public and media profile than it does here, so the author's Dutch angle might not necessarily be directly applicable to Scotland.
The general tenor of the text suggests that the author is writing with younger children in mind, although by no means exclusively. This throws up the issue of how young (chapter three even discusses two-year-olds) and what methods to use. The author addresses both of these, but I can imagine differences of opinion over whether toddlers should have formal instruction (however informal, if you see what I mean), and, in a text which naturally advocates the use of chess engines and videos, whether in front of a computer screen is the best place to plonk them.
While some sort of formal chess provision in schools might arguably be desirable, it should be borne in mind that time on a school timetable is finite: something comes in, something drops out. Existing expressive arts subjects such as music (which, like chess, has many spin-off benefits) are already under pressure. In these days when subjects have to 'sell themselves' (pupils are now evidently consumers), anyone wanting to embed chess in the school curriculum is going to have to make a pretty hard pitch. And everything costs money.
Could after-school clubs, which the author covers, be the answer? In an ideal world, quite possibly, but this is a hot potato with ramifications beyond the scope of a review which I am going to leave well alone.
Chess for Educators is not a chess book as we know it (only ten diagrams!), and could not have been an easy text to translate, and Peter Boel has produced a generally smooth translation. However translating from one's own language into a foreign language is much more demanding than the other way round, and the text is dotted with odd we-know-what-you-mean misspellings (e.g. 'trainings', 'arithmetics'), awkwardness (e.g. 'pleads for', which occurs several times, as in '"He pleads for a holistic approach" – why not 'advocates a holistic approach'?) and, on occasion, non-English (e.g. 'mind sporters', which I surmise is a literal translation of the Dutch 'denksportler', practitioners of a mind sport).
Nor do prepositions always get the careful handling they require, e.g. 'He grew out to become the strongest player of his time', and I lost count of the number of times I read 'on school', another literal translation from Dutch.
A much bigger issue, though, is the use of educational terminology in English, a minefield for the unwary, the most egregious example (the author is talking about autism) being "This handicap may be combined with retardedness". Leaving aside the issue of whether autism is a 'handicap' or not, the use of 'retarded' or its relatives in an educational context has been a no-no for decades. It is offensive in the same way that certain words in other fields are now regarded as offensive. In similar fashion (and leaving aside the semantics of 'handicap'/'disability') I would call Down 's Syndrome a chromosomal disorder, not an 'intellectual disability'.
There are a few possible reasons for this. Perhaps the original Dutch words have different shades of meaning and are acceptable in Dutch; it might be wrong vocabulary choice; it could be inconsistency between UK and US usage (in America autism is still referred to as a 'handicap', and they refer to Down's Syndrome as 'Down Syndrome'; 'practice', the verb, is spelt the American way, but other words, e.g. 'behaviour', are spelt ours).
But I suspect the most likely reason is lack of a proofreader, at least none is credited. The text would have benefited from being vetted by a native English speaker, preferably one familiar with current educational thinking.
Who is the intended readership? As the title hints, it's more an educational text than chess book, but any potential reader would have to have some knowledge of the game. Another point is that anyone who has spent any time reading educational texts/reports/papers soon realises that they are not the most gripping of genres, and so it is with Chess for Educators. While the breadth and depth of the author's research are impressive, and his work is undoubtedly the go-to book on the current state of the art, it is not a white-knuckle read. I can more readily imagine it on the shelf in a college library than on a chess player's bedside cabinet, and I say that with no hint of criticism. It is insightful and anyone interested in the subject will find it full of ideas, suggestions and inspiration. Agree or disagree with the author, you will never be short of food for thought.
It is well produced and there is an extensive bibliography, but the names-only index does not cite the likes of topics, reports or studies. Unless you know the names of the people involved, then it's going to take you ages to find, say, 2005's Chess Development in Aberdeen's Primary Schools: a Study of Literacy and Social Capital. Strange.
In short, Chess for Educators is a comprehensive survey which would interest anyone wanting to know where chess and education stand at the present time. Credit to NiC for commissioning it and putting it in the public domain.
Ian Marks
August 2021
*****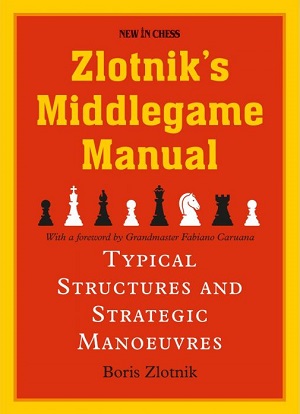 ZLOTNIK'S MIDDLEGAME MANUAL by Boris Zlotnik, New in Chess, 400 pp., publ. 2020.
I was wondering how to describe this one by the well-known trainer when I realised that a better player than I had done so for me. To quote Fabiano Caruana (whose early coach the author was) in his foreword: "Zlotnik's Middlegame Manual is a book with a highly didactic, explanatory character, in which all evaluations and conclusions are supported by deep computer analysis. The book is a thorough study of three important types of pawn structures and three main motifs that return in many openings. Together, these are six essential themes that form an integral part of modern chess, and they have been very thoroughly investigated by Boris. The result is an interesting and productive study for chess players of all levels, including coaches."
I could stop there, but I'll add some flesh to Caruana's words. The three types of pawn structures he mentions are the IQP, Carlsbad and symmetrical structures. Each gets a lengthy chapter of 50+ pages, split into a number of smaller sections. To give you an idea of the thoroughness Caruana mentions, consider the six main sections on the IQP:
Plan A: kingside attack
Plan B: opening the game by advancing the isolated pawn
Plan C: advancing the isolated pawn in order to fix an enemy pawn on an adjacent file
Plan D: developing activity on the queenside
Plan A for the defending side: simplification of the position
Plan B for the defending side: transformation from an IQP structure to a structure with hanging pawns
Not lightweight fare! The author uses complete games, fully annotated, to exemplify his material, not the sort of stuff you can skim through and think, yeah, I got it. The games are a pleasing mixture of classic and modern, featuring all the great players from the likes of Alekhine and Capablanca through Botvinnik, Fischer and Kasparov to current greats like Carlsen, Anand and So. As Caruana mentioned, the contents have been thoroughly computer checked, so the notes are certainly not short on variations. However Zlotnik uses lots of lucid prose to explain the thinking behind the moves. Here is a simple example, describing an h2-h3 move in one of Carlsen's games, the sort of thing that can easily go unremarked: "With this modest pawn advance, Carlsen begins a plan of kingside expansion, aimed at opening the position and giving his pair of bishops more scope". There you have it, a succinct outline of a middlegame plan in one sentence.
Moving on to the three opening motifs, we find chapters on restricted mobility in the King's Indian Defence, whether to exchange the fianchettoed bishop and the d5-square in the Sicilian. These are also sub-divided into sections of around forty pages, and are treated in depth. For example, in the King's Indian chapter we find
The manoeuvre Nf3-h4
Pinning the Nf6 with Bc1-g5
Playing an early g2-g4
Exchanging pawns with exf5 gxf5, followed by f2-f4/f3
The exchange …Bg7xNc3
Again, this is hardly bedtime reading. I've reviewed books before which require serious time investment, and given the depth and nature – even philosophy – of this one, it certainly will. Having said that, the benefits to be gained are commensurately greater.
One caveat, and it applies to lots of other chess books too. Publishers like to pitch their books as suitable for 'a wide range of players', or 'players from 1600-2400' or some such. This, of course, is just sales patter. Chess books are no different from any other text books; you wouldn't put a university text into the hands of an S1 high school pupil, and I wouldn't let inexperienced or low-rated players near this one. Caruana calls it "an interesting and productive study for chess players of all levels", and, while I wouldn't dispute his first claim, I would certainly ca' canny with the second. The content, presentation and level of authorial discussion make this a work for experienced players who already have a decent handle on the positional and opening ideas under discussion. If that's you, there is much to learn from Zlotnik's wisdom; it is serious instruction for serious players. If not, I would urge you to read some lighter middlegame texts and only then consider this one.
In conclusion, this sturdy tome is well worth the attention of ambitious or experienced players looking for high-level material intelligently discussed and presented. The subject areas listed above are only part of the story; there is a lot to be learnt about the game in general here. Despite its size, it is not an overly daunting book, and the examples chosen are generally striking or memorable enough to plant their lesson in the reader's head. It crosses my mind, as the covid situation mercifully now seems to be improving, that Zlotnik's Middlegame Manual would have been an ideal lockdown companion. But don't let your new-found freedom stop you reading it now!
Ian Marks
July 2021
*****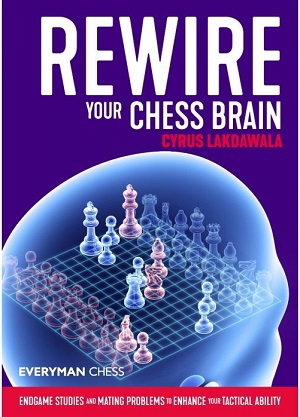 REWIRE YOUR CHESS BRAIN by Cyrus Lakdawala, Everyman Chess, 528 pp., publ. 2020
This is Lakdawala's fiftieth book in the last decade, roughly one every ten weeks. That's how long you get to research, collate, check, draft, edit and write a 2,000-word essay at uni. Lakdawala manages a book in that time. Factor in the production process and he must actually be writing a book about every six weeks.
With his latest offering he enters the world of endgame studies, to which he turned in 2019 after retiring from active play for health reasons.
By way of intro, he lists three of the complaints levelled against chess compositions: stipulation to solve in X moves, artificiality and difficulty. I've heard of others, e.g. the jargon involved, but it strikes me that the issue of why players are put off might have been worth greater consideration if you're trying to sell problems as a learning tool.
He devotes the rest of the intro to the benefits of solving and how best to use the book before launching into the real meat, ten chapters in which he discusses 326 studies, plus twenty positions from real games. The studies are not arranged in order of difficulty, but by type. The chapter headings should be self-explanatory:
Old School
The Containment Field Holds: Drawing Studies
Realism
Mates in One Move
Mates in Two Moves
Mates in Three Moves
Mates in Four or More Moves
Unchess
Life Simulates Art
The Wunderkind
The composers featured range from greats such as Troitzky, Kubbel and Loyd to contemporary composers. Lakdawala's selection showcases many outstanding works, and he deserves credit for putting it all together. However he seems to have ignored endgame study databases and foreign language sources; the bibliography contains only English-language books. Strange.
I confess that, for purposes of this review, I did not tackle all 300+ problems, but enough to confirm that the selection covers everything from the straightforward to the fiendishly perplexing to the bizarre, with enough variety to interest solvers of all levels. You might be wondering how strong you have to be to work on them. I don't see why there need be a 'lowest' rating level. If you have some experience of the game, you should be able to make a go of at least the more straightforward examples. As Lakdawala explains, it's not the solving that's important, but making the effort to do so.
The layout is study-solution-study-solution, so you'll need a couple of pieces of paper to hide the answers. A case could have been made for grouping the solutions at the end of each chapter; you'd still have needed the paper, but it would have facilitated browsing the studies. I guess the layout chosen allows the text to flow more smoothly.
Lakdawala discusses each problem and its solution in a generally concise, instructive and, to his credit, jargon-free manner. "1…b6 2 a6! now wins for White, despite the wrong-coloured bishop, since Black's king is denied entry to the corner…" and "If 1…Bc4 2 e7 Bb5 then 3 Nc3 gains time on the bishop, allowing the knight to come to the support of the pawns…" are succinct, effective commentaries, but there's no escaping his inability to self-edit. It's hard to believe that those came from the same keyboard as
"'Chess compositions are just too difficult for me to solve. I will stick with normal, solvable chess puzzles.'
This complaint is like the story of the isolated tribe visited by an explorer who doesn't look or speak like them. The tribe takes him for a god, treating him with fear and holy deference, and makes him their king. Then one day the explorer cuts himself shaving. The tribe suddenly realizes his mortality and kills him.
I used to view chess compositions the same way. Now I know they can be killed. It was a 16th Century philosopher, Michel de Montaigne, who wrote: 'My life has been full of terrible misfortunes, most of which never happened.' Stop thinking that you will fail when solving. You can and will be able to solve, no matter how low your rating. It only requires determined practice."
His encouragement is in the last three sentences; everything from 'This' to 'happened' is padding. By the time we get there we've forgotten what the complaint was. (Amusingly, he says much the same thing in three sentences [!!] in bullet point six in the next section!) In terms of content and relevance it could easily have been omitted.
If that could have been omitted, this should have: "All I got for my efforts were – I apologize for this indelicate imagery! – analytical turds floating all over the board."
To the absence of self-editing, we can add poor judgement. Lakdawala obviously thinks that stuff like this is appropriate for a chess text, for he used the same term on p.255 of In the Zone, where he also informed us (p.146) that "Capa kicked the crap out of Marshall". It beats me how an author can think that locker room chat like this improves his work or enhances his reputation.
Lakdawala comments that "…there cannot be even an atom of redundancy or extraneous matter" in a solution. If only the same could be said of his writing.
Overall Rewire Your Chess Brain is one of Lakdawala's better books. There is more of himself in it than in some of his others, and he has juggled his material well. It would serve as a good introduction for newcomers to studies and problems, and as a source of head-scratchers for experienced solvers, providing both entertainment and a tough cerebral work-out.
Ian Marks
June 2021
***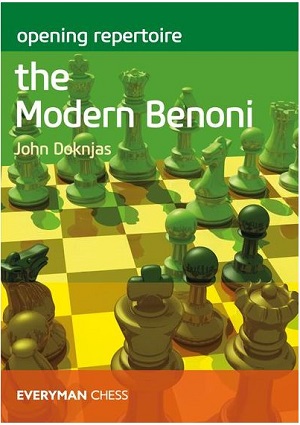 THE MODERN BENONI by John Doknjas, Everyman Chess, 448 pp., publ. 2020
Standard format Everyman opening monograph providing detailed coverage of the opening on the cover. The Modern Benoni has never quite attained long-term respectable status, despite the patronage of some high-level practitioners, and rumours of its demise tend to crop up every so often, but with the help of thirty-two illustrative games, and many more references in the notes, the Canadian FM demonstrates that it is still a viable defence "which can serve as a way to truly enjoy the game".
In his introduction he outlines some of the basic ideas and piece placements before turning to the individual variations, the most critical of which have traditionally been regarded as those involving an early f4, followed by either Bb5+ or e5, and the more recently popular Bd3/h3. The author devotes the first three of the nine chapters, around 40% of the book, to these, and shows that Black is still very much alive and kicking. Each chapter is prefaced with a helpful overview of the concepts and ideas involved, the summaries at the end gather together the salient points, and there are plenty of questions and exercises to keep the reader involved.
The material is heavy-duty, and is definitely aimed at more experienced or stronger players. Text is largely explanatory in terms of the variations presented, and although It would be easy to get bogged down, Doknjas does a good job of explaining the key moments, ideas, developments etc. clearly and succinctly.
The problem with a book of this kind and size lies in making it visually attractive. While the text and diagrams are crystal clear, the single-column format, with large chunks of text/moves, creates a dense effect and is not particularly appealing. The only 'white' is at the side of the diagrams. Perhaps double columns, or the inclusion of analysis diagrams, might have helped? It certainly looks daunting and, to be honest, not particularly inviting, at least not to this reviewer.
The most recent illustrative games – four of them – are from 2019, with a further thirteen from the latter half of the decade, so although they are pretty recent, a degree of updating is going to be necessary, especially given the dynamic nature of the opening.
If you're a Benoni fan, or want to check out developments in your pet line as White, then it will certainly be of interest. As I said earlier though, it's aimed at stronger players, so if you're new to the Benoni it might be advisable to look around for something more basic to get up and running.
Ian Marks
June 2021
*****
Lifetime Repertoires: Sam Shankland's 1.d4 (in three parts) by Chessable.
It was a pleasure to review this epic three volume 1.d4 opening course from world Top 50 player, Sam Shankland (peak rating 2731). In a nutshell, this is a very strategic 1.d4 repertoire focussing on e3 lines and a strong centre with carefully chosen lines explained in the American's original, sometimes witty but serious, style.
Taking the complete set as a whole (you can purchase them individually) along with the optional training videos, Sam Shankland makes his work very listenable by throwing in lots of human-style assessments.
In the videos, Sam uses the phrase "approximately no counterplay" a lot, and that sounded strange to me at first as we are more used to hearing there is counterplay or there is no counterplay. I have assumed he means "very little counterplay" or maybe he does just mean "no counterplay" with a touch of humour?
Another phrase which Sam uses a lot is, "In practice, I think humans are gonna struggle playing the Black side of this position". This is very welcoming as there is nothing worse than a repertoire backed by fancy computer analysis that is incomprehensible to us. Sam gives numerous lines which the engine can hold without too many problems but a human player would find difficult. He explains why this is the case and what the plans are for the White player.
Unlike many other authors, Sam does not cut corners to avoid the theoretical route, if it promises even just a small edge. However, a lot of his comments are sweeping like "I just could not imagine any player of the Black pieces going in for this" which may be true at elite GM level but for us amateur club players – you are going to reach these positions a lot!
One example from my own games is the following position which I have reached a several times over the years: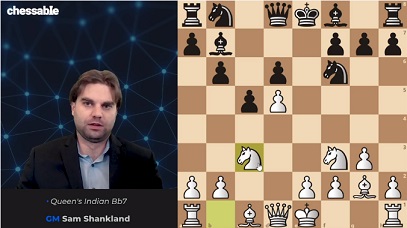 When play usually continues with 8…Be7  9.O-O O-O  10.e4 Nbd7 reaching this position: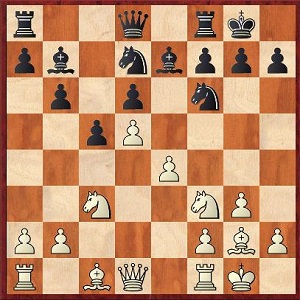 I was particularly interested to hear Sam's assessment when this turned up in the recommended Queen's Indian line as White. Sam gives it as 'clear advantage to White and says "Black has an awful Benoni. That plan with b6 and Bb7 was not great, as the bishop will be biting on granite on d5".
Switch on a strong engine like Houdini and it tells me that white is only 'slightly better' by about 0.3 of a pawn!
Although I have always considered this particular position to be a clear edge for White, I have struggled to put away the full point against opponents of similar strength on more than one occasion! This might just be more indicative of my playing strength than the given position, but the point I am making is that these positions require some additional chess playing (strength) to reap the benefits from them. If you are looking for an opening repertoire to provide some quick tactics which you can memorise for fast wins then you are looking at the wrong course!. This repertoire should certainly improve the reader's understanding of chess in general, but don't expect a quick return. These positions will leave the White player with a sound foundation to play for an advantage.
There are also several lines which the author analyses deeply into an endgame and conclusions like this are commonplace: "I wouldn't be surprised if a thoroughly exhaustive analysis of machine vs machine games concluded that Black can hold, but for a human, it looks like a very difficult defence to me and that is after making it to move 30 of your preparation in the first place".
***
Moving on from the quotes, here are the lines Sam recommends from each volume:
https://www.chessable.com/lifetime-repertoires-sam-shanklands-1-d4-part-1-sidelines/course/47519/
Part 1
Introduction
Quickstarter Guide
Owen's Defence (1.d4 b6)
Wade Defence (1.d4 d6)
English Defence (1.d4 e6  2.c4 Bb4+ or b6)
Modern Defence (1.d4 g6 2.e4 g6 3.c4)
Earliest Benoni (1.d4 c5)
Holy Wholly (1.d4 Na6)
Saint George Defence (1.d4 a6 2.e4 b5)
Dutch Leningrad
Dutch Stonewall
Dutch Classical
1..Nf6 Sidelines
Budapest
Accelerated Queen's Indian (1.d4 Nf6 2.c4 b6 3.Nc3)
Benoni Sidelines
Modern Benoni (1.d4 Nf6 2.c4 c5 3.d5 e6 4.Nc3 exd5 5.cxd5 d6 6.Nf3 g6)
Benko Gambit (1.d4 Nf6 2.c4 c5 3.d5 b5 4.cxb5 a6 5.bxa6 e6 6.Nc3)
1…d5
Albin Counter Gambit (1.d4 d5 2.c4 e5)
Chigorin (1.d4 d5 2.c4 Nc6 3.Nf3)
Englund Gambit (1.d4 e5 2.dxe5)
Annotated games
So, lots of interesting names, some of which may be new to a lot of readers. I had never heard of the Holy Wholly either! I have listed what they are briefly after the name.
An experienced played wont find many surprises with Sam's way of meeting these mainly offbeat lines but the explanations are very clear and often to the point.
We follow classical lines against the Benoni and the Benko accepted – so no surprises there.
Against the Dutch, the lines given are straight forward and seem very logical and strong.
e.g. for the Stonewall, Sam recommends 1.d4 f5 2.c4 Nf6 3.g3 e6 4.Bg2 c6 5.Nf3 d5 6.O-O Bd6 7.b3  with main idea of exchanging off the dark squared bishop.
Facing the Leningrad we head for 1.d4 f5 2.c4 Nf6 3.g3 g6 4.Bg2 Bg7 5.Nf3 d6 6.Nc3 O-O 7.O-O c6 8.d5 e5 9.dxe6 Bxe6 10.b3 when Sam is arguing that "Black is unable to make any trouble on the long diagonal".
Finally, the classical Dutch, where Sam follows well trodden paths with 1.d4 f5 2.c4 Nf6 3.g3 e6 4.Bg2 Be7 5.Nf3 O-O 6.O-O d6 7.Nc3 – all very well explained
Likewise, the Chigorin line follows mainstream theory 1.d4 d5 2.c4 Nc6 3.Nf3 Bg4 4.Nc3 e6 5.cxd5 exd5 6.Bg5 Be7 7.Bxe7 Ngxe7 8.e3 O-O 9.Bd3 and as Sam says he prefers a line that "leads to a nice edge without a ton of effort as opposed to remembering a lot of concrete lines to win right out of the opening".
***

https://www.chessable.com/lifetime-repertoires-sam-shanklands-1-d4-part-2/course/53465/
Part 2
Introduction
Quickstarter Guide
Blumenfeld Gambit
Bogo Indian
Queen's Indian Sidelines
Queens' Indian 4…Bb7
Queens' Indian 4…Ba6
King's Indian Gligoric 7.Be3 sidelines
King's Indian Gligoric 7.Be3 Ng4
King's Indian Gligoric 7.Be3 exd4
Grunfeld Russian System Sidelines
Grunfeld Russian System7…Na6
Grunfeld Russian System 7…Nc6
Grunfeld Russian System 7…a6
Annotated games
 I enjoyed this one the most from the three volumes, so if you are only going to buy just one of these courses, this is the one to go for!
The analysis of the Grunfeld Russian Qb3 system is totally outstanding. I have always struggled to settle on a good line against the Grunfeld but the way Sam dismantles the suggestions of some very strong GMs (Avrukh, Zerebukh, etc) is shocking. I also liked Sam's explanation of what makes the Russian system so difficult to meet for Black. In short, you don't trade the knights and still keep a strong centre while black struggles to get in their c5 break. Also, Sam explains the optimal piece setup and middlegame plans and gives us an idea of what to do and what not to do. I think this came across particularly well here and pulls together the deep strategic nature of this work.
Against the King's Indian, Sam recommends Be3 (Gligoric's system) which is quite interesting although won't be to everyone's taste. Sam does not try to pretend it is the best way to play as White, or that it leads to any massive advantage, but instead emphasises the practical advantage of preventing Black's standard kingside aggression. Fair point – as anyone who has played the Bayonet attack (1.d4 Nf6  2.c4 g6  3.Nc3 Bg7  4.e4 d6  5.Nf3 O-O  6.Be2 e5  7.O-O Nc6  8.d5 Ne7  9.b4) will be familiar with building up a huge advantage on the queenside (engines can even confirm the position is technically 'winning' for white) only to get mated on the king side five moves later! It's all to do with how difficult it is for us club players to find an accurate defence. The Gligoric system, on the other hand, proposes a small but stable edge, resulting in positions the average KID player may not be accustomed to. None of the Mar Del Plata races, just simple, strategic chess. Another thing I quite liked was that in pretty much all cases when our e3 bishop is threatened we retreat to Bc1 (or Bg5 and then Bc1). This makes memorising ideas from within the repertoire a bit easier.
Against the Blumenfeld & Bogo, his suggestions seem to be quite strong.
There has been some criticism elsewhere of the Queen's Indian coverage and it's not without justification. However, I found Sam's coverage of 4…Bb7 to be really good and as he mentions that as Black he has lost almost every Queen's Indian game which he's played, so I would have expected his analysis here to be top notch!  The Ba6 Queen's Indian defence does appear to be more patchy. The explanations and examples are less detailed and some serious lines recommended elsewhere (for Black ) have not been covered.
e.g. one line not covered is: 1.d4 Nf6 2.c4 e6 3.Nf3 b6 4.g3 Ba6 5.b3 b5 as played by Karpov and Carlsen and recommended by Andrew Greet in Play the QID.
Another popular line not mentioned is: 1.d4 Nf6 2.c4 e6 3.Nf3 b6 4.g3 Ba6 5.b3 Bb7 and now 6.Bg2 Bb4+ 7.Bd2 a5 (played by Karpov, Anand etc) and recommended in QID: Move by Move by Lorin d'Costa.
I'm sure these can be addressed in a future update but it looks like updates are not going to happen as fast as with other Chessable courses and Sam released the following statement a few weeks ago:
"I don't foresee myself being able to keep up with course updates nearly as well as I could in the past. Classical chess is just starting to return, and this is my life's calling. After 15 months and counting of inactivity, I can't begin to express how happy I am to get to play the Prague Masters and World Cup in the next couple months. As the tournament schedule picks up again, that will obviously be my top priority. Still, I thought I would leave this message on all 3 of my 1.d4 courses as a forum where people can post any requests for updates and new lines that may not have been covered in the original course. I can't promise I will cover everything requested, or that it will come quickly, but if there are serious lines that are missing and should be covered, I will do my best to make sure they are included."
***

https://www.chessable.com/lifetime-repertoires-sam-shanklands-1d4-part-3/course/58696/
Part 3
Introduction
Quickstarter
Slav
Vienna
Queen's Gambit Accepted
QGD Sidelines Part 1
QGD Sidelines Part 2
QGD 4.Be7
Ragozin
Semi-Tarrasch
Semi-Slav Meran Part 1
Semi-Slav Meran Part 2
Annotated Games
Sam is recommending a 1.d5 d5  2.c4 e6  3.Nf3 Nf6  4.Nc3 Be7  5.Bf4 Be7  6.e3 Nbd7  7.Be2 move order to fit in with the rest of the repertoire.
He advocates Bf4 against the Queen's Gambit Declined (instead of the more popular Bg5 reaching these type of positions: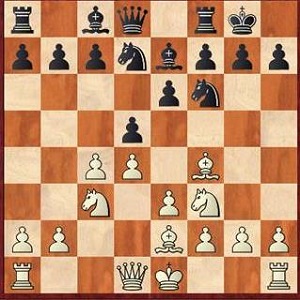 These lines are relatively new (therefore less analysed) compared to the classical Bg5 lines exhausted elsewhere.
The QGA is also well done but I can't help feeling the variations shown tend to end up so close to 'level' that you may need to play like Karpov to realise anything from the resulting positions.
Slav and Semi-Slav are presented with an honest assessment. It is well know Sam Shankland is a world renowned expert on the Black side of these openings, so there is not going to be any startling revelations here.
Sam manages to explain the reasons why moves should be made in a certain way which makes it easier to remember. To have a world-class 2700 player convey his understanding is amazing.
***
I found the courses very fast in places – especially in the video sections. I really did need to rewind and play through things several times. Often Sam throws in something important at the end of his explanations. e.g. Queen's Indian Bb7 3:31 he sums up with "I don't think there is much discussion to whether these knights are worse than these Bishops. I think White's minor pieces are better despite black having the bishop pair. The Bishops are so bad and Ne5 is on the way. So this seems easy enough…". I had to take some time to digest all that although Sam brushed through it in about 5 seconds!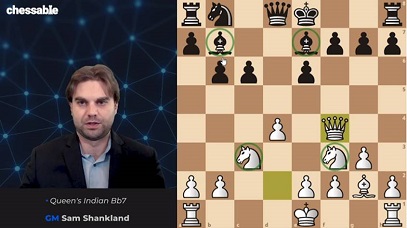 If you are a positional player anywhere in the region of 1800-2200+ and willing to do the work – this course would be absolutely perfect for you.
I'm sure a keen improving player at lower rating levels would also gain a lot from this excellent piece of work.
William Hulme
June 2021
*****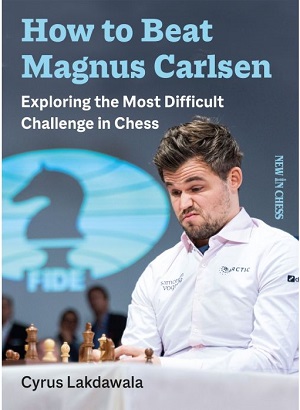 HOW TO BEAT MAGNUS CARLSEN by Cyrus Lakdawala, New in Chess, 304 pp., publ. 2020
In this one Lakdawala takes a look at an esoteric subject – the current World Champion's losses. Hardly a best games collection, but, as Lakdawala points out, if Carlsen can benefit from examining his losses, so can we.
The obvious question about a work like this is how a markedly weaker player ('weaker' being relative, of course – Lakdawala is a retired IM) can meaningfully comment on the losses of the strongest player in the world. To be fair to the author, he addresses it in his introduction. Lakdawala clearly understands chess well enough to elucidate the games of a better player in much the same way that Busby, Shankly, Stein and Ferguson enjoyed no more than average playing careers, but understood football, could handle players better than they, and went on to become the most successful managers of their time.
Our guide turns his spotlight on eighty-five games and fragments in most of which Carlsen came a cropper for one reason or another. These are the same reasons for which you and I come a cropper, albeit at a rather different level, such as being outplayed, overpressing, bad planning, lousy openings and plain blunders. Lakdawala has put plenty of thought into his potentially tricky subject matter and does an insightful job of peeling away the layers of the Champ's defeats, pointing out where the seeds were sown, where a principle was violated and so on. His comments are pertinent and elucidatory without being over-long ("Even stronger than taking the e5-pawn. This way White wins the h6-pawn."; "1. Open the game when you own the bishop pair; 2. Create confrontation on your strong wing."), and he includes annotations by other players and writers as well. Overall, he does a very decent job.
However every Lakdawala text falls into two parts: the chess and the 'writing'. Like others of his books, HtBMC is full of verbose passages which serve only to stifle the flow of a game's narrative and confirm the author's inability to self-edit, e.g.
"What? Your writer is normally a fierce defender of the tactically short-sighted, the easily cheapoed and the downtrodden of the chess world. This book is about a god-like .00000000001 percenter, who plays virtually perfect chess. Yet even he proves that he is human after all and, on incredibly rare occasions, is subject to boneheaded mistakes a club player may make while short on the clock."
His next paragraph explains what happened. The above adds nothing to it.
His trademark sledgehammer metaphors are also on display, e.g.:
"The white rooks are the clichéd military commandos, crawling stealthily toward their target, with guns in each hand and a knife between teeth, just itching to plug holes into soft flesh and slit throats."
Lakdawala seems to have a thing about guns ("Nothing lubricates compliance more than a gun pointed at the opponent's head.") and killing people. Back in 1 d4 with 2 c4 he told us
"When I unearth a theoretical novelty, I imagine myself as the Indian Jason Bourne, as he infiltrates CIA headquarters, makes a digital copy of top secret classified information, and then escapes, leaving ten or twelve unconscious or dead bodies behind."
He certainly doesn't caress his keyboard with a velvet glove.
He also has a thing about prostitutes. On p.283 we find
"A shady, semi-sound attack is like a low-cost prostitute who hopes to compete financially with high-end prostitutes, via high volume.",
an echo of Winning Ugly in Chess's
"Our dying attack is like an aging prostitute who experiences difficulty picking up customers, due to her declining looks.".
Not only does he have a bizarre view of what's appropriate for a chess text, he's rehashing disturbing analogies.
That paragraph on p.283 is not untypical of his flimflam. It starts with the aforementioned ladies of negotiable affection, segues through Magnus and the abode of sinners and finishes with what Lakdawala calls the War Crimes Commission (sic – I assume he means the International Criminal Court) in The Hague. It begs questions of structure, relevance, appropriateness, effect and accuracy. I doubt if it would survive a high school English class, and, as we have seen, it is not alone. As Orwell reminds us, if a word can be cut, cut it.
He's also big on nicknames. Caruana, mercifully, is no longer 'Caru', but here we meet 'Woj'. Who is Wodge, I hear you ask. Radosław Wojtaszek, so not Wodge at all, but Voy. In his books on Botvinnik and Korchnoi I don't recall Lakka talking about Botty or Korch, so it's strange that other random players are given this treatment. Maybe it's something best awojded.
Talking of names, our hero is generally referred to as Magnus, but the possessive Magnus', rather than Magnus's, is a bit niggly. The rule of thumb is to let natural pronunciation decide. In this case your brain wants to say Magnus's, so why not go with that?
How to Beat Magnus Carlsen is an interesting topic handled, from the chess point of view, enthusiastically and with no small degree of insight, and contains much good chess. (If you're going to beat Carlsen you're going to have to play good chess.) It is well produced in line with NiC's high standards, viz. good quality paper, clear printing and diagrams and easy-on-the-eye double column text. Lakdawala has many fine points as a writer, e.g. enthusiasm and ability to cut to the nub of a position and impart information, but he is a victim of his own verbosity. More rigorous editing would result in leaner, more focused and all-round better books.
If HtBMC piques your interest because of the subject matter, my advice would be to concentrate on the chess and skip the large chunks of text. You're not missing anything, and you'll enjoy the book more.
Ian Marks
May 2021
***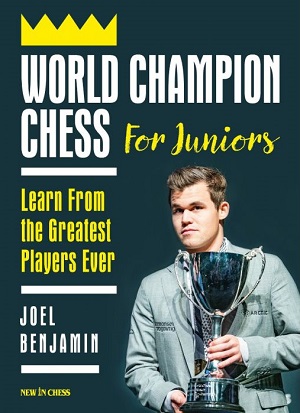 WORLD CHAMPION CHESS FOR JUNIORS by Joel Benjamin, New in Chess, 256 pp., publ. 2020
In many ways, Joel Benjamin is the antithesis of Cyrus Lakdawala. His output is far smaller and the gap between his books is measured in years, not weeks. (In the five years since I reviewed his Liquidation on the Chessboard I've reviewed ten by Lakdawala.) You get the impression he wants to write his books, rather than feels he has to.
This one is what it says on the cover. Benjamin devotes a chapter of roughly ten pages to each of the world champions, examining their play from a gently didactic point of view, specifically what it might teach young players who, as the author laments, are not always as up on their chess heritage as they ought to be.
Each features a pen portrait of the player and his times, then a selection of key games illustrative of his style and what made/makes him great. Each one is highly readable; if I had to pick a favourite I'd plump for the one on Topalov which reminds us just how formidable he was at his peak, and how much a young player can learn about the initiative from a study of his games, indeed Benjamin generously compares his attacking play to that of the all-time greats and remarks that during the first decade of this century, he was "playing as well as any player in history".
Benjamin (a 'Bobby boomer') also gives Fischer, despite his flaws, very sympathetic treatment. Not quite the polar opposite of Topalov, but Benjamin illustrates how 'correct' chess and formidable technique on the one hand and an insatiable thirst for the initiative on the other can both get you to the top.
Most of the games will be familiar to those of us who have been around for a while, e.g. Fischer's brace against the Byrne brothers in 1956 and 1963, but so? Introducing youngsters to these great players means exposing them to the classics!
With his readership in mind Benjamin's notes are mainly explanatory; the variations tend to support the words. Only on a few occasions does he dive deep, e.g. Capablanca-Marshall, New York 1918 and Spassky-Tal, Montreal 1979. He also dispenses little pearls of wisdom along the way, e.g.
True material values depend on the phase of the game.
Patient, proper play can lead to tactical rewards. Attacks do not have to be forced from wild play.
Benjamin writes fluently and I noticed, en passant, that he got the date of FIDE's foundation correct, in contrast to his more prolific compatriot's why-bother-to-check approach in In the Zone. He is adept at painting a striking image with a few verbal brush strokes, as in this touching passage which, in essence, sums up the tragedy of Tal:
"He looked like a very old and withered man, though he was younger than I am now…I had looked forward to our game, but when he proposed a draw, I didn't have the heart to make him fight. He died the next year."
Not a heavy or demanding book, but a very pleasant read which does exactly what it sets out to do, and in which the nice balance of background, anecdote and reminiscence does a good job of introducing youngsters to players they might not know much about. In many ways it reminded me of Réti's Masters of the Chessboard, in which the author looked at the games and styles of the leading players of his past and present. I can easily see this one firing a youngster's imagination in the same way that Réti's classic fired mine.
Ian Marks
May 2021
***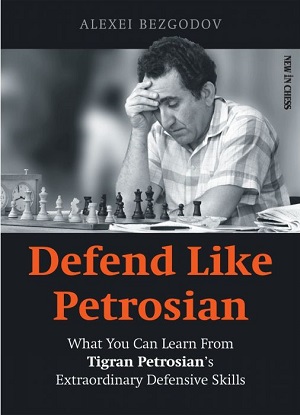 DEFEND LIKE PETROSIAN by Alexey Bezgodov, New in Chess, 269 pp., publ. 2020.
Both title and subtitle What You Can Learn From (sic) Tigran Petrosian's Extraordinary Defensive Skills might suggest a manual with chapters on, say, defending against sacrificial attacks, defending cramped positions, exchange sacs, counterattacking and so on. It's not. It's a collection of 176 annotated games, split into two large sections, part one tracing Petrosian's evolution as a defender and part two presenting a selection of his games against the elite of his career such as Botvinnik, Tal, Spassky, Larsen… This one is divided into chapters, but by player, not theme.
The author's overall idea is to present a picture of Petrosian the defender, and while Tigran is regarded as one of the finest defensive players ever, he was not immune to the dreaded bad day at the office, as not a few of the games indicate.
Looking through the games, I was struck by the similarity to another player who was the subject of a recent review, Sultan Khan. Both were formidable positional players whose creative juices often only started to flow in dubious or difficult positions, i.e. when they had to dig themselves out of a hole or if their survival depended on it.
This, of course, is 'active defence', and Petrosian was a master of it, producing some of his finest creative achievements when he was under the cosh. As Bezgodov points out, Petrosian was blessed with a sharp tactical mind and keen eye for counterplay, and many of the games in here belie the charge of boredom so often levelled against him. The 'boredom' arose when he was comfortable with his position; when provoked, he knew how to show his claws.
There is thus a lot of fighting spirit in these games, indeed that is the main lesson of the book, to appreciate the role of creativity and resilience in defence.
Bezgodov's writing is trim, engaging and always interesting. He does not waste his words, and says what he has to say succinctly and lucidly. No translator is credited, so if he did write in English, that's all the more impressive.
He annotates the games smoothly and tends to concentrate on the later stages once they have heated up. It is not openings-heavy! This makes for a very pleasant read; you could work your way through the book, dip into it at leisure, or just see how Petrosian coped against particular opponents.
There are indexes of openings and players, but the bibliography, while extensive, is completely haphazard. It is hard to understand why. The bibliography in, for example, Danny King's book on Sultan Khan which I alluded to earlier, also published by NiC, is in perfect 'alphabetically by surname' format, but the entries here are all over the place. Strange.
To sum up, a different type of book on one of the great players of chess history, always interesting and frequently eye-opening, and certainly worth considering for the Petrosian shelf in your library.
Ian Marks
May 2021
*****
The Elk and Ruby Publishing House is a relative newcomer to chess publishing. Let's take a look at a couple of their 2020 titles.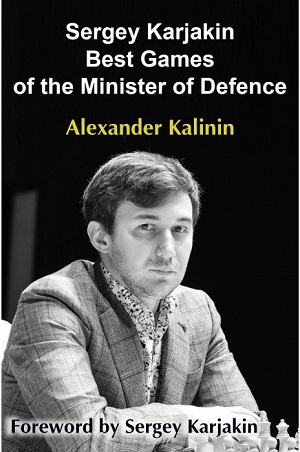 SERGEY KARJAKIN: BEST GAMES OF THE MINISTER OF DEFENCE by Alexander Kalinin, 230 pp., is a retrospective of Karjakin's career so far, from prodigy in 2000 to top pro in 2019, via 75 games and fragments. The games are not ordered chronologically, but by theme or content, e.g. attack, positional sacs, defence and counterattack and endgames, and showcase some of his finest achievements in those fields.
Given the level at which Karjakin operates, the opposition includes most of the contemporary elite, thus the play is of a very high order, but the author's notes do a tremendous job of explaining what's going on, being an ideal blend of variations and explanatory prose. As Karjakin says in his foreword, "…the author provides practical explanations so that the reader can use this games collection to study all three stages of the chess game". The inclusion of Karjakin's own comments in several of the games makes it all the more interesting.
Karjakin is essentially a classical player, and his best games here show a healthy respect for classical precepts, the centre and clarity of calculation, but "Anyone who wants to achieve serious success should be a universal player, able to do it all". Thus his style has become more positional; he has evolved into one of the game's top defenders, and one thing which comes through in many of the games is his composure and resourcefulness when under pressure. If some of that rubs off on the reader, that alone would make the book worthwhile!
Needless to say, the author devotes a chapter to the pinnacle of Karjakin's career so far, the 2016 World Championship match, analysing what went right – and wrong. Even only a few years after the event it seems to have slipped the collective mind just how close he came to dethroning Carlsen.
The book also provides numerous insights into the life of a prodigy and top professional, for example when Karjakin was ten his family upped sticks and relocated to enhance his chess development: "The decision to move to Kramatorsk was a tough one…I had to leave my childhood home, my parents had to leave their jobs…", however "our family was given a government apartment, I received a scholarship…I studied a lot with professional coaches". A scholarship at the age of ten to study chess! What were you doing with chess when you were ten!?
The pay-off wasn't long in coming – Karjakin still holds the record as the youngest-ever grandmaster at 12 years and 7 months.
Overall an enjoyable, well-produced book, well written and smoothly translated. The format is easy-on-the-eye double column, and there is a selection of photos. The only thing missing is page numbers to locate the games. Games numbers are all very well, but involve a lot of thumbing to find what you're looking for.
***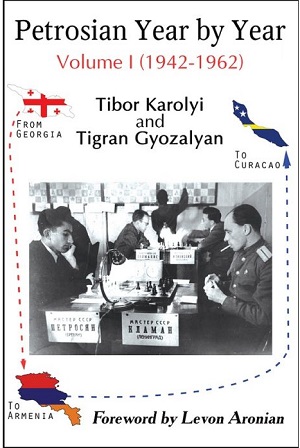 PETROSIAN YEAR BY YEAR Volume 1 (1942-1962) by Tibor Karolyi and Tigran Gyozalyan, 484 pp.
One of the first chess books I bought was Peter Clarke's Petrosian's Best Games of Chess 1946-1963, one of those lovely Bell hardbacks that were a joy to hold and just made you want to play chess. I bought it in the incomparable Grant's book shop in Union Street in Glasgow, a favourite haunt, now sadly long gone, which always boasted a well-stocked chess section. As a kid you have little idea of style; to me, Petrosian was world champion, so must have been pretty good, and the classy wins in Clarke's book confirmed this.
This latest work on the man covers Petrosian's life and career from his days as a junior to his triumph at the Curaçao Candidates in 1962, the last step on the road to the world championship match with Botvinnik. The IM and FM authors present 111 games and fragments, plus another 37 on Petrosian's handling of exchanges and test positions. Most of the years are illustrated by around half a dozen games, some more, some fewer, depending on how active Petrosian was at the time. The authors do an excellent job of dissecting the games, which are annotated with lots of words and not overburdened with variations, although they do not hesitate to dive deep if necessary, e.g. the well-known R+P ending of Petrosian-Fischer, Portoroz Interzonal 1958, gets twelve and a half pages, and the similar ending of Petrosian-Tal, Curaçao Candidates, gets six. Many of the games are new and those which are better known are given a modern once-over. They illustrate everything from Petrosian's trademark solid positional style to fighting games and sacrificial attacks. A lovely quote from Averbakh sums up Petrosian's approach as well as any: "He conducts the fight in a manner that guarantees him total safety, even though playing for complications might have been the quickest way to the goal." Many of the games are of historical interest, e.g. no. 17 is the very first Petrosian-Korchnoi encounter, played in the Soviet U-18 Ch. in 1946, a rout in which Petrosian made the Stonewall look like a forced loss.
The games are interwoven with a biographical narrative and lots of background on the likes of tournaments and the influence of other players such as Ebralidze, Petrosian's early trainer, Lilienthal and Boleslavsky. The background material conveys the image of an amiable, good-humoured family man, an exceptional player ready to advise and support lesser colleagues, whose drive to the top was not that of, for example, Fischer or Kasparov, but more an inner resolve deriving perhaps from his difficult childhood. The overall impression is of someone for whom not sweating the small stuff paid off.
(The contrast between Petrosian's and Karjakin's upbringings could hardly be starker. While the latter enjoyed the encouragement of a stable family background and generous state sponsorship, Petrosian was orphaned at the age of thirteen, taken in by an aunt who was a cleaner, and eked out an existence in a Soviet Union ravaged by the effects of war. Clearly there is more than one way to reach the top.)
Book production is a team effort; a huge amount of work has gone into this sumptuous hardback and a wide range of people have been involved, e.g. Levon Aronian wrote a very generous foreword, Petrosian's son Vartan provided photos and background, and amongst the Georgians acknowledged (Petrosian was born in Tbilisi) is someone weel-kent to us in Scotland.  The text is highly readable and sprinkled with insights and trivia (did you know that Keres kept all his scoresheets?), and, while it generally reads smoothly, the occasional niggly mistake has slipped through, e.g. "his talent shined through".
The format is double column, with pages of pure text in single. There are sixteen pages of photos, an afterword and an index of themes, but no bibliography or page numbers for the games.
The most annoying omission, however, given the nature of the text, is that of a biographical index. It is impossible to track down anything concerning either Petrosian himself or any of the other major characters, of whom there are plenty. Ditto tournaments, matches and key occasions, the more so since the contents are based on years. Thus if you want to look up, say, the Soviet Union's matches against other countries, you're stymied unless you know the relevant years.
That apart, this is the sort of book you could lose yourself in for hours, a great games collection, fascinating text and real page-turner. If you're a Petrosian fan, find a space for it on your bookshelf. If you're a junior, get your hands on a copy; you'll learn a thing or two. Roll on vol. 2.
(These reviews appeared previously in the February SCM)
Ian Marks
May 2021
*****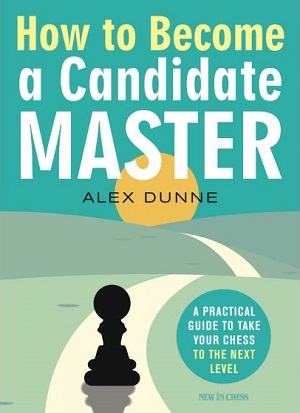 HOW TO BECOME A CANDIDATE MASTER by Alex Dunne, New in Chess, 269 pp., publ. 2020.
This is a new and updated version of the work first published in 1985 in which the American FM and Correspondence Master set himself the task of helping players reach CM level. Not every player, of course. No-one's going to go from 1200 to >2000 just by reading a book. Dunne's target readership is players around 1800 ("ambitious club players") who might benefit from a gentle shove in the right direction.
His book consists of fifty-two games played between players rated mainly in the 1800s v. players of CM level. These are not GM games, so they are far from error-free (by both sides!), but that is the author's point: being games played at a lower level, it is much easier for the reader to identify with them and with the issues they throw up, and they make excellent teaching material in that their flaws show the difference in understanding within even a small rating range. Dunne's philosophy is very much along the lines of give a person a fish/teach a person to fish; he gives the reader the tools with which to improve. It is up to the reader to decide what to do with them.
Dunne's main vehicle of instruction is – quite rightly – the written word. Variations are minimal. He uses them to illustrate only that which absolutely needs to be demonstrated. He dispenses, and repeats, lots of good, solid advice; amongst the topics he draws the reader's attention to are the two bishops, keeping your position sound, activity, self-belief, nerves, 'digging in' etc. etc. – in other words the everyday things which crop up during a game of chess. All of this is presented in clear and effective prose. Here's an example which caught my eye, about draws and draw offers, a topic to which the author returns several times throughout the book. An 1800 has just accepted a CM's bail-out draw offer in a position in which he had good winning chances:"…the 1800 player who expects to make progress must learn to beat – or at least try to beat – his CM opponent…Taking a draw in such positions is a good way to remain an 1800 player."  Telt!
However, the author doesn't spoon-feed his readers. Each game has points where the reader is invited to pause and analyse a position, with the answers at the end of the game. It all adds up to a nice blend of explanation and the good ol' Socratic method.
In recent reviews I've taken a pop at NiC for their indexes. This book doesn't have one (!) – but it hardly needs it. It's neither an openings nor an endgame book, so no particular need to index those areas. It's a middlegame book, and, while you could argue that an index of, say, themes might have been useful, the games and the lessons to be absorbed from them are the thing. The absence of an index hardly hurts.
There might be players outside the target readership wondering if the book's for them. Hard to say. Sure, improving players in the 1600-1700s would find it of interest, as would rapidly-rising juniors, but I wouldn't recommend it to players around 1300-1400 or so. For them it would be much more beneficial to get a firmer grasp of the positional and tactical nuts and bolts which the author discusses in the present work. But once they've got their rating up a bit, sure, go for it. Alternatively, a lower-rated player could consider going through it with a higher-rated friend who could go over any unclear points.
By way of summary, this is a thoughtful and well written book which would surely benefit anyone taking the time and trouble to absorb its contents, the sort of book you could profitably spend some quality time with during this covid-enforced hiatus from OTB play. One reading won't turn you into a 2000+ player, but it will set you on the right path. The rest is up to you.
Ian Marks
April 2021
*****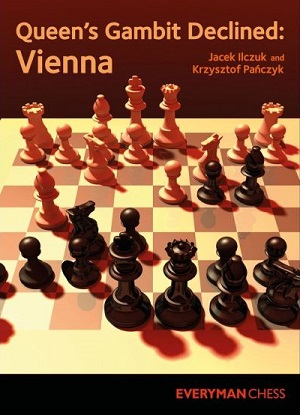 QUEEN'S GAMBIT DECLINED: VIENNA by Jacek Ilczuk and Krzysztof Pańczyk, Everyman Chess, 336 pp., publ. 2018
When I first saw this one, my initial thought was, "Who's gonna buy it?". A monograph on a specific line which can only arise from a specific move order and which rarely appears in the London-infested waters of club chess doesn't seem destined for the bestseller lists.
For dinosaurs like me who associate 'Vienna' with 1 e4 e5 2 Nc3, I'd better point out that this one deals with 1 d4 d5 2 c4 e6 3 Nc3 Nf6 4 Nf3 dxc4 5 Bg5 Bb4, a sort of QG/Nimzo/Ragozin mongrel. The in-depth coverage (chapter one begins at move fifteen) is based on seventy-one illustrative games divided into eleven chapters, with countless other game references in the notes. Moves dominate; there is little explanatory text, and such that there is is along the lines of "looks interesting", "a complicated ending with mutual chances", "with an excellent position", "seems more logical" etc. Nor is there much evidence of analytical creativity, bar the odd unattributed brief line. Although the Polish theoretician authors hope the reader will enjoy "a fascinating journey through the rich and sometimes fairly* theoretical lines of the Vienna variation", he/she will have to do a lot of figuring out for him/herself.
(*For 'fairly' read 'massively'.)
Although the book was published in 2018, the vintage of the most recent illustrative games – 2012 (four) and 2013 (two) – indicates that the cut-off point for collation of material was five years prior to publication, with only a smattering of references up to 2017 inserted later in the notes. It's clear that any potential reader will have a fair bit of updating on his/her hands before venturing such a sharp and complicated line.
The presentation is more or less one diagram per page amongst dollops of moves and game references. It is not particularly appealing. As I mentioned above, moves and analysis are the order of the day; there is very little prose to lighten the fare. There is a seven-page index of variations and an index of games, but no bibliography, so the reader has no way of knowing which works the authors consulted or which engines they used, a huge omission for a complex line like this. An example which caught my eye was illustrative game six, an exhibition game played in Warsaw in 1941 between Alekhine and Frank on the white side and Bogoljubow and Pfaffenroth on the other. It's a fairly well-known game, rumours that it was concocted or just an analysis session notwithstanding. I mention it because although the authors comment in the theoretical section that "12…Bd7!? was condemned by Alekhine", they fail to cite the source, either here or later. (It could have been his annotations in the Deutsche Schachblätter, December 1941, or his 107 Great Chess Battles, amongst others.) Simply put, knowing a source provides the reader with a starting point for further research.
Another thing the authors don't mention in their bland introduction to the game on p.13 (maybe they didn't think it was relevant, but some historical background is always nice) is that Alekhine's partner was Hans Frank, Hitler's Governor-General of Poland during the war, who, besides being a nasty piece of work, was a serious chess buff. As overseer of the Holocaust and other atrocities in that country, he was tried for war crimes and crimes against humanity and sentenced to death at Nürnberg in 1946. Bogoljubow's mucker was SS Major Helmuth Pfaffenroth, Frank's adjutant, who later served time in prison for his wartime activities. I found myself wondering if it's the only game by a leading Nazi to appear in a theoretical work.
To answer the question I posed at the start, the book will likely be of interest to strong players involved in the line with either colour, or hard-core correspondence players looking for in-depth, albeit dated, coverage. I can't see the chess public at large storming the bookstalls to panic buy a copy.
Ian Marks
April 2021
*****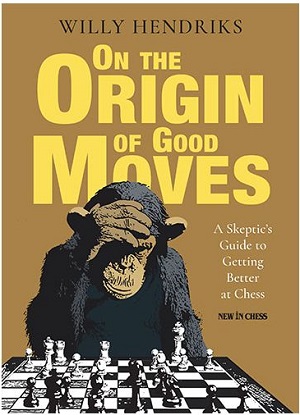 ON THE ORIGIN OF GOOD MOVES by Willy Hendriks, New in Chess, 429 pp., publ. 2020
Eight years after the Dutch IM and trainer's first book, Move First, Think Later, comes his second, a thoroughly and extensively researched look at the development of chess. Hendriks is not the first to try to get to grips with the evolution of the game. Réti and Euwe did so in their time, and more recently Kasparov got on board with his Predecessors series. Big names, but Hendriks has no qualms about calling them out or disagreeing with them when he feels it is warranted.
Writers on the history of the game usually start with Morphy, or perhaps Philidor, but Hendriks goes back to Greco in an interesting first chapter which makes a number of observations which set the style and tone of the book (e.g."If you play over all the games by Greco you cannot but be amazed by the enormous strength of this player and the importance and variety of his ideas.").
Hendriks divides his work into thirty-six chapters, in which he considers topics as diverse as
How good/strong were the top players of yore?
How positionally savvy were players like Morphy and Anderssen?
Doubled c-pawn formations
The early days of chess magazines
The evolution of tournaments
Stereotypes
Was Steinitz the father of positional chess?
and many more besides. Some of his findings will raise an eyebrow. To take the first topic above, he takes "a wild guess" on p.318 that the top players of the earlyish 19th century were around 2000, rising to around 2400 at the end – and were prone to the most incredible blunders, e.g. in the 23rd game of his 1892 World Championship match v Steinitz, Chigorin – under no time pressure – blundered a mate in two which would have embarrassed even your club bottom board.
Based on the 'evidence' of the book, there is little doubt that a professional from 2020 would slaughter most of these guys if he could travel back in time. In fact Carlsen could probably have given a simul to a random dozen masters of the day.
There are lots of interesting insights along the way, e.g. in the late 19th century the noble way to settle a difference of chess opinion was through the pages of a magazine. Compared to a humorous exchange of tweets nowadays between, say, Magnus and Anish, some of the stuff which the likes of Steinitz and Zukertort launched at each other is weapons-grade vitriol. We likewise learn of the fluke which gave the Winawer variation of the French its name (coincidentally answering a question I posed in a review back in 2013!).
Hendriks stops his research somewhere around the end of the 19th/start of the 20th century. I suppose he had to draw conclusions somewhere, but it kind of leaves us wondering how he might have continued. Lasker is a sort of bridge over that period, so I surmise it's because the players who followed suddenly 'got good' (to use Fischer's phrase), with geniuses like Capablanca, Rubinstein and Alekhine synthesising what had gone before. On the other hand, thinkers like Réti, Breyer and Nimzowitsch continued to challenge and refine previous thinking and/or push the boat out further. Chess didn't stop developing!
Perhaps the chapter which will cause most tut-tutting is no. 32, Study Openings. It is exactly that. When Hendriks says "There is no better way to improve in chess than by studying openings" I can imagine other coaches the world over reaching for the smelling salts, but when you read what he has to say, you can see his point. It reminded me of a pre-covid, pre-Hendriks interview I read earlier this year with an IM rated around 2400 (yes, a 2400!) – I forget who, I wish I had taken a note of it – who was asked the standard question "What do you recommend in order to improve?". Quick as a flash he replied "Study openings", and went on to explain that all the usual things we are advised to do – study the classics, work on tactics, endings etc. – had taken him to around 2100, at which point he had stalled. Deciding that drastic action was necessary, he spent a summer working exclusively on openings. Within two seasons he put on 300 points and gained a title. This proves nothing, of course, but having read Hendriks's chapter it struck a chord. There is more to studying openings than, well, studying openings.
The text reads smoothly overall, and, since no translator is credited, we have to assume that Hendriks wrote it in English, which is both impressive and makes the occasional linguistic wrinkle excusable. However a few things slipped through the net, e.g. on p.85 the reference to La Bourdonnais's magazine Le Palamède manages to get the definite article both right and wrong within the space of four lines, and while Hendriks might well have consulted Kmoch's Die Kunst der Bauernführung in the original German, it would have been a good idea to mention its English title, Pawn Power in Chess.
Instances of German word order (and resulting appalling English) also pepper the text, e.g. "Strong would have been 32.Rxb7", "No good either was 14…g6 15.Rad1" and the breathtakingly egregious"Equally attractive looks 19…Nf3+ first".  It's the sort of stuff that could have come from the pen of Yoda. Clumsy it is, and easily remedied can it be, indeed things like this appear 'normally' elsewhere, which makes examples like these grate all the more.
With eight years between books you expect something a bit special, and that is what you get. On the Origin of Good Moves is the antithesis of the conveyor-belt style of chess writing. It is an impressive piece of research (check the bibliography!) covering nearly 300 years of chess history, well structured and thoughtfully argued, an intelligent and ambitious piece of work which is not only full of great and often little-known chess, but introduces us to a number of hitherto walk-on characters on the chess stage such as Gustav Neumann, Elijah Williams and Marmaduke Wyvill. I wouldn't say it deliberately sets out to be polemic, but it casts many new lights on the history of the game, and forces the reader to rethink traditionally accepted views. In essence it is a very human book into which Hendriks has poured a lot of himself.
However, paradoxically and unfortunately, given the sheer amount and depth of research on display, the book's strength turns out to be its weakness: it has the inescapable air of an academic text. 'Gripping' is not a word I would use to describe it, and, I will admit, there were times when I found it hard to get back into it and pick up from where I'd left off. Hendriks's style reminded me of that lecturer you had whose stuff was good, but in whose lectures you sometimes found yourself drifting, so that you finished up doodling instead of taking notes. It is not an easy text to get through; you will need a generous infusion of staying power and a well-filled coffee pot.
On the Origin of Good Moves would probably be of most interest to chess historians, and for readers who already have some knowledge of the great names and their place in the chess firmament. I doubt if you'd get much from it if you'd never heard of, say, Tarrasch or Lasker or where they were coming from. On the other hand, I still remember the buzz I got as a kid when I discovered Réti's Masters of the Chessboard and Modern Ideas in Chess (still two of my favourite chess books), so it would be nice to think that readers might enjoy a similar reaction to Hendriks's opus.
Given the book's subtext that a player's development mirrors that of the game itself, will it help you improve? I'm not convinced. There are other books out there better designed to achieve that.
Before I go, I'd like to mention two things in particular. First, the creative, highly original cover echoing the play on Darwin. I loved it. If it's not in the running for the Chess Book Cover of the Year award, there ain't no justice. Second, NiC's currently-favoured names-only index, which requires more considered comment.
There are books where a names-only index might suffice. On the Origin of Good Moves is not one of them. It gives me no pleasure to say it, but its four-page, names-only index is hopelessly inadequate for a work of this nature and scope. Some specific examples.
Steinitz gets fifty-eight references across twenty columnar lines. There is no indication of what any of them refer to, nor is it necessarily the case with multiple pages (e.g. 181-185) that they refer specifically to Steinitz. (In fact, Steinitz only gets a few mentions on those pages. Neither of the two games references is his, while the photo on p.183 is of…Max Euwe. And, when you check 'Euwe' in the index, there's no mention of him on p.183!) There is no way of telling which page numbers are games references, tournament references, references to positional ideas, debates with other players – nothing.
There is no tournament index (the only overt reference to a tournament is in the contents, chapter seven – London 1851) or crosstables and, incredibly, no openings index. The Evans and King's Gambits, to name but two, are discussed at length and in not inconsiderable depth in various chapters, but there is absolutely no way to find them. On one occasion when I went back to check a Sicilian by Anderssen I had no alternative but to flick back and forth around where I thought I had first seen it. It took me several minutes.
Nor, in a book which discusses the historical handling and development of a wide range of positional and tactical features, e.g. the centre, pawn structures, various sacrificial ideas etc. etc., is there an index of themes.
I'm currently reading a (non-chess) book which deals with the development of various societal issues, so comparable in its own area. It's about half the length, but has an index twice the size, eight pages, listing names, topics, themes, places etc., many complete with sub- and cross-references. It is a model of what would have done justice to On the Origin of Good Moves. NiC really need to address the matter of how they index their publications.
Ian Marks
March 2021
*****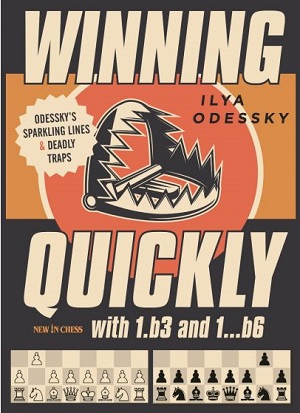 WINNING QUICKLY WITH 1.b3 AND 1…b6 by Ilya Odessky, New in Chess, 463 pp., publ. 2020.
Twelve years after his last work on 1.b3, the Russian IM returns with a bigger offering which looks at his pet set-ups from both sides of the board.
"I left chess in 2012. I did not touch it for several years. Having accidentally learned about chess.com, I decided to test my strength in Internet blitz...My opponents – among them lots of players with big names, strong, solid professionals – played chess better than me. Surprisingly, though, I knew more…I was better equipped…In all games, I opened with the moves 1.b3 and 1…b6."
As his new book shows, he has not been lazy.
It's not specifically about the title's 'winning quickly', or about crushing people, as per the back cover blurb ("Crush your opponents in the opening, with both White and Black"). While it's full of games, diagrams and analysis, it's more than just an opening, or even chess, book. Sometimes it has the air of a confessional, sometimes it reads like a novel about a tempestuous relationship between the author and his beloved openings, and at others it reads like a collection of essays and philosophical musings on chess, the universe and everything.