Khanty-Mansiysk Olympiad
September 19 to October 4

, 2010
by Alan Minnican
Play over Scot games - Play over Scot games (women)
Round by Round match scores Round by Round match scores (women)
October 4: Well it is Monday afternoon and we have a couple of hours to pack up, and head west. Heather has already left the group as she is going home via Prague. The rest are spending a few hours in Munich before getting flights home on Tuesday.

Before I summarise the chess events perhaps I should start with Khanty-Mansysisk. So much was written about the venue before we got here so it is good to make a judgement based on experience rather than conjecture. The town is basic and new and therefore there is not much to see culturally, therefore it could have been a long two weeks if you weren't playing chess. However, Siberia is decent if you like walking, the air quality is excellent and the forest walks splendid. The hotel was good and the food decent if somewhat monotonous. But I would have settled for a lot less given the scare stories beforehand. The people were very friendly and helpful. The Olympiad was very well organised, transportation was good so all in all absolutely no complaints about the venue.

The chess was a mixed bag. The women played well and performed above their seeding. They all contributed to a fine team effort but special praise goes to Joy Durno for a great score of 6/9 to gain her Woman Fide Master (WFM) title. In the last match against the strong Montenegrans Joy played one of her best games and calmly beat her higher rated opponent. It is amazing that she hasn't played for so many years and I hope that she takes this as a platform to work on her chess as she has plenty natural talent along with a very healthy attitude. Talking about good attitudes Elaine and Heather were the cornerstones of the team. Elaine is the strongest player and full of energy - her aggression is excellent and she is tactically astute so she caused problems for most players she came up against in the Woman's Olympiad. In the second half of the tournament Rosie found the going tough and usually went down after tough fights. Siegrun did not play in the final rounds as the focus was to give Joy the best chance to get her title. Siegrun plays at a lower level than the rest but was always willing when asked to play. The final score - a 2-2 draw with Montenegro - was an excellent result if somewhat fortuitous. Heather could have resigned after being completely outplayed for most of the game - her opponent missed an elementary mate and looked peeved that Heather wouldn't resign. But attitude is just as important as ability and after she had walked into a cheap trick and woken up she found herself dead lost. Elaine lost in a tough one on board two and Rosie on three but Joy saved the day on four.

In the Open, the match with Iraq was blighted somewhat with a small incident on board two. Keti's position wasn't great but she didn't look in too much danger. With her opponent to move he reached out and touched a pawn, left it on the square then move his rook to c3. Keti was already in time pressure and immediately looked to me and then questioned her opponent. He said his hand had just brushed the pawn on his way to lifting the rook. I then went to the arbiter who had not seen the incident and the game went on. Keti lost her composure and played the remaining moves below her usual level and lost. A desperate end to a very good Olympiad from Keti. The other games saw Colin sacrifice an exchange, perhaps unneccesarily but his opponent didn't adjust to the task in hand and lost quickly. This squared the match up and it looked good on board four. Steve's opponent - Noah (2397) - played the black side of a French Tarrasch as if he had never seen it before. He was probably lost after 12 moves. Not only that but he had left himself no time and Steve had an hour left to play 25 moves. It looked too easy but Black then landed some tactical shots and Steve's position started to creak, then Steve started to creak and the position suddenly got terribly complicated. Both players missed wins and in the end the game drifted to a draw. John played a very good game on board three and gradually outplayed his opponent in a rook and pawn ending. There were a few moments along the way but eventually John steered us to a 2.5 - 1.5 victory.

Overall the team scored about average given the level of opposition. It was frustrating to see the level of opposition we had to play in the final rounds as much lesser teams were paired against each other on the tables next to us. We could not have got it much tougher than Montenegro, Bosnia, Moldova and Iraq. We won every match where we were the higher seeded team but only scored one draw in the six other matches. Disappointing but in most cases some of our players were significantly outgraded - especially on boards 1 and 4. Colin played well and gained some elo points on board one. Keti also improved her rating on two. John was clearly rusty and struggled early on, but he started playing well and almost recovered the points lost as the beginning of the tournament. Steve and Graham found it tough on 4 - Steve particularly did not play to his usual standard but it is not easy to find your form playing against much higher rated opposition. Graham was always willing both in playing and helping with analysis and preparation.

As you probably know by now - Russia won the Ladies by a country mile and Ukraine won the Open section. I predicted a Ukrainian victory after we played them in round two. They just seemed so much together, highly motivated and very professional. Ivanchuk was the star of the show alongside Sergey Karajakin of Russia.

In two years time the Olympiad will take place in Turkey - I hope Scotland will be represented by two teams that are at least as good as we had here and that the draw is slightly more kind to us in the latter rounds.

October 1: We are finding it tough going in the open section and a very good win against Costa Rica has been followed by the toughest pairing possible on 9 points - Bosnia. They have spent most of the tournament on the top tables having beaten England but Sokolov was the Fide Delegate and has spent the last few days electioneering and they have suffered as a result. No surprise that he is back today. In the match against Costa Rica, Steve at last got a point on the board with a comfortable demolition of the Sveshnikov against their only weakish player - a young 2172. The others had it tougher - John ground down their star player on board 3, he had scored 6/8 up until yesterday. John is beginning to look himself after a quiet year and today has a key match up with Dizdarevic on the white side of a French tarrasch. Keti was disappointed not to win a very good position but she remains the steady influence on the team. Colin played well in the latter stages of his game and won comfortably - so 31/2 - 1/2.

The ladies match was tough against Moldova. Joy needing 2/3 for a WFM title got a good position from the opening and missed a great chance early on with a b6 advance that would have given her a huge advantage. The moment passed and she got steadily ground down. The good news is that with today's pairing against Wales she still has reasonable chances. Elaine again produced a creditable performance and drew on board one with a player whose rating has fallen almost 300 points - she was over 2400 at one point. Siegrun got ground down in an ending when she played too passively and Rosie put up a spirited display but eventually lost. They have a great chance to bounce back today against Wales and let's hope Joy can get the win that would mean so much to the team.

Tomorrow is a rest day and tonight the Irish are staging a party nearby the hotel - I've been told it is a ceildh but I'll believe it when I see it!

September 30: Yesterday was taken up at the General Assembly and I didn't get back to late in the evening so this will be a double report over the last two rounds.

Perhaps I should start with the politics at the General Assembly as the long term consequences far outweigh the moves getting played across town in the tennis centre. As expected Kirsan won comfortably in his match up with Anatoly Karpov. I had been led to believe that if it was a private ballot it was going to be very tight but it did not take long to realise that this was pure fantasy. At almost every stage Kirsan overruled Fide statute and got what he wanted. In the hall it felt like the 3rd world countries against the developed nations with the countries with little chess culture, few chess players, little chess infrastructure deciding the future of chess through their friendly dictator. Alas it has always been so - I cannot recall the days of Max Euwe and joined the party in Campo's day but little has changed and little is likely to change apart from the deterioration of the great game as a serious sport and an attraction to large corporate sponsors. FIDE received nothing from sponsorship last year - not a penny. But rely on the fee income from world championship matches and olympiads to scrape a living. When Karpov gave his speech he created a vision of the future of professionalism in all chess matters ranging from chess in schools, media, chess publishing, olympiads and world championships. He and Kasparov had already lined up corporate sponsorship and he was willing to cut all subscriptions and rating fees immediately. Kirsan stood up and said "I love chess - Gens Una Sumus" and sat down to roaring applause from the African countries - some I had hardly heard of.
There were a few islands off Cape Verde that are not in the Olympiad but their votes have the same entitlements as those from Russia or Germany. It is all very sad and pathetic - little people trying desperately to hold onto big jobs with the future of chess in their hands. I refer not to Kirsan who conducted himself very shrewdly through the whole farce and remained calm throughout, but to his cronies sitting with him on stage. Someone like Kasparov could learn from Kirsan - he should have signed up to the Karpov ticket but remained in Moscow, instead he lost all poise and composure during the debates (see Europe Echecs video of Kasparov sans poise) - the waves of energy and emotion that has swept all before him are simply not suited to politics. He was outplayed by a master in a game where he is still learning the rules.

As far has the chess is concerned it has been a disappointing couple of days in the open section with two 3 1/2 - 1/2 defeats. I have not seen much of the action due to administrative tasks elsewhere. Moldova have given us problems in the past where we have suffered similar maulings with a much stronger Scottish team. They are a class act led by Victor Bologan. Keti again sailed a steady line and drew with her much higher rated opponent but the others struggled. It was a similar story the day before against the underrated Montenegrans. Colin followed a line recommended by Avruk in his much praised opening series - Drasko spent little time and bashed out what looked for all the world a refutation. In the cold light of day, and a strong computer program running alongside, you may make your way to safety but Colin had little chance and went down quickly. Keti always looked worse against Kosic but her position held together to hold the draw. Graham succumbed to a kingside attack when both players got short of time - the weird game was John Shaw's on board three. Both players thought that white (john) was better throughout a Ruy Lopez exchange variation. John refused a draw and "won" a piece and was absolutely gutted when he went on to lose. The truth is that he was only better in the early stages, Rybka highlighted that it was black who stood better for most of the game and that both players had simply misjudged the whole thing. So much for the judgement of two grandmasters - Rybka is the boy and is quickly becoming the main weapon of choice for the world's top players surpassing Fritz and the rest.

The ladies have had a roller coaster couple of days with a great win over the higher seeded Dominican Republic followed by a crushing defeat to Kazakstan. The good news is that Joy Durno needs 2 points from the next three games to secure the WFM title. Yesterday's team selection was based around Joy as it looked likely that we would get easier opposition today. That has turned out badly as the ladies have been paired against the stronger Moldovans and Heather is unable to play. So Joy has a 2100+ on board three my focus will be on that game today.

September 28: Not such a full update here as my duties are taking up more of my time over the next couple of days.

The good news is that we won both matches which has resulted in some tough pairings today. The open match against New Zealand was the most topsy turvy of those played so far. Graham was completely lost in the opening on board four - the whole Nc6 line is known to be bad since a game played at the Thessoloniki Olympiad in 1988 between Wirthenholm and Graham Morrison...hmmm. This game deviated quickly but it was obvious that the all black was well prepared and by the time he had finished his preparation Graham could almost have resigned. However, chess is never so easy and gradually good things started to happen with the position going from lost to lost but with some hope. White then came apart at the seams missed several drawing chances before resigning in disgust. We have all had those - "how could I possibly lose such a position" moments but it is especially hard at an Olympiad in a tight match up. On board three Steve looked to be ticking along nicely but when the hand to hand fight began he seemed a bit rusty and went down quickly. In his defence we had a long chat at the team meeting as Steve was not feeling great but neither was Colin or John and Keti was due a break. I was keen to play Steve as we need him playing well in the latter rounds and white against NZ seemed a great chance to get a point on the board. Unfortunately it was not to be. On board 2 the tupsy turvy nature continued - John was two pawns up and better but he misjudged the transition into a NvB ending and could only draw. So it was all up to Colin - the whole team stayed and watched as a very promising middlegame became a tricky and perhaps drawn ending with Colin an exchange up for a pawn. However, Colin gradually outplayed his opponent and won comfortably in the end. It was the win we so wanted but perhaps a little fortunate - especially given what had happened on board 4.

The ladies won comfortably 3-1 against China Taipei which was a good score without one of the cornerstones of the team - Elaine. Heather let go a very good position and lost but the other three won comfortably - Rosie winning in the opening to get the team off to a great start. Siegrun made it two in a row with a nice game on board 4 - she could have finished slightly quicker but the result was never in doubt. She doesn't appear too happy to miss out on today's game against the Dominican Republic - which is good - but against higher rated opposition it is important that we push on and I felt it was time to play the top four. I will not put the curse on Joy's performance but her score is creeping up nicely with another methodical win.

Today we have a tough match in the open against Montenegro and have rested Steve. If you want to know how tough - look at their round 6 match with China. Let's hope they do not play so well today!!

September 27: Round 5 took place on Saturday and yesterday was a rest day so it is a good time to take stock on our first half performance and the condition of the players. Anyone who has been to an olympiad knows that it is difficult to avoid cold and flu symptoms and that sleeping and resting are key factors to success. So far we have had the usual quota of colds but nothing too serious.

In the open section SRI LANKA put up a spirited performance considering the rating gaps - Keti and Graham won handily to establish a 2-0 lead just before the time control and Steve had built up a nice advantage in his game. However the advantage started to drift slightly and Steve asked me for advice when his opponent surprisingly offered a draw. I was reluctant to accept as I was confident John wouldn't lose on board two and I was also confident that Steve would get the win that would kick start his olympiad. However, Steve is a real team player and decided to make sure of the points - the correct decision - but not necessarily the right one!? In the remaining game John outplayed his opponent from a dodgy position and came close to winning but his opponent managed to give up his knight for John's last two pawns to leave K+N v K and draw. So 3-1 and a solid performance, next up New Zealand and a good chance to push forward.

The ladies won comfortably against Kenya and most of the drama occurred before the match when Siegrun casually announced that she had forgotten her pass. There has been a number of stories about players forfeiting games due to not displaying proper identification but I decided to speak to the Head Arbiter in the ladies section. He told me that he was willing to allow Siegrun to start but that we had half an hour to provide identification. In stepped a member of the Scottish party that is not well known back in Scotland - Natalia Checkova. A young student from Khanty-Mansysisk who is officially the team translator but has basically become the team mother. Any inconvenience to her siblings is taken as a personal affront to our little bundle of Russian energy and off she went looking for a way to get back to the hotel and return with the pass. She firstly hijacked a hotel shuttle, persuaded the driver to break his rota (not easy!) and drive like a maniac in the 4 mile round trip. Then she casually presented the pass to Siegrun who was oblivious to all the fuss. Natalia was delighted she had helped the team to a 4-0 win - all part of the job! She helps with shopping, arranging all sorts and gets her family, boyfriend, friends involved in any matter that will aid the team. It is Chinese Taipei today for the ladies with Elaine taking a timeout.

Yesterday was the rest day and a crowd of us toured the town of Khanty-Mansysisk. Interesting place considering there was very little here about 20 years ago. The discovery of oil and gas in the region has resulted in this being a relatively wealthy area with a "can do" attitude. The fact that the Olympiad is taking place in a little town of around 75,000 people is amazing but that is only part of the story. The biggest sport in the area is biathlon (skiing + shooting) and the world championships are taking place here next year. The Olympiad is taking place in a state of the art tennis centre where the facilities are better than anything I have seen in the UK. There are two olympic swimming pools and the local water polo team is one of the best in Russia. They are building a downhill ski centre and hope to have a world cup event here soon. So sport together with the University plays a big part in the drive within the town but to put this into some kind of perspective - Khanty Mansysisk is one of the main towns in the state of Ugra. Ugra is the size of Germany. There are less than 1.5m residents in Ugra which makes it less than 3 people to every square kilometre. So there is plenty of open areas, the forest walks are tremendous and with no major industry in Khanty Mansysisk the air is clear and crisp. The snow has not arrived yet but the temperature is falling - it is not far away.

September 25: First of all an apology about my round 2 report regarding our match with Ukraine in the open event. John Shaw played EFIMENKO (2693) not ERMENKOV as reported.
Whilst we are on the Ukrainians - they are still my favourites despite dropping a point to Croatia in round three. In that match they dropped Ivanchuk and brought in Ponomariov but yesterday the great man returned in what appeared to be an effortless win in a panov botvinnik caro khan against Belyavsky.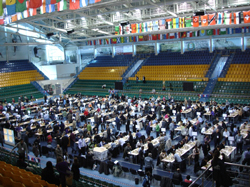 Anyway enough about Ukraine and on to Scotland. The open team went down 3-1 to a young Kazakstan team. From a team perspective a slightly disappointing result against a higher rated team. On the bus to the tournament hall John Shaw was discussing his young opponent and some of his recent impressive scalps. Kuderinov is an IM (2489) but not for too long. John told me prior to the game - "if my position looks too interesting or complicated something has gone wrong"! Kuderinov played the game impressively quickly and got the complications he craves - the result was never in doubt once black got his king side attack going early on. Graham appeared to emerge from the opening (black in a g3 Scheveningen) with a good position. His GM opponent sacrificed an exchange for a good knight on e5 and although black remained better his opponent seemed to have good chances. A couple of slips and the game was quickly over. The other two games saw Colin draw with another 2600+ GM - Kazhgaleyev. This is all the more impressive as he has been suffering from a slight cold - it has worsened and an early morning team talk has resulted in him being rested for today. What can I say about Keti's game - I have been playing chess for well over 30 years and never seen anything quite like it. Keti did not play the opening too well and slipped into a worse position but it was blocked and she managed to stabilise to a levellish position. Then she had to wait and wait and wait whilst her young GM opponent Jumbayev manouvered behind his pawns achieving nothing but a deterioration of his own position. 3 hours we waited for something to happen but nothing. Both players were down to less than a minute with a 30 second increment and on we went. Every game in the Olympiad had finished long before - the cleaners were hoovering in the tournament halls, the last buses had left to the hotels and on we went. Then after 6 hours and a quarter hours Jumbayev was forced to play a knight sacrifice as he was about to lose a key pawn on g5. Suddenly the position exploded into life as Keti took the material offered. The crowd - consisting of a couple of russian soldiers, a couple of arbiters, the Kazak captain and myself were convinced Keti was winning but it petered out to a draw. 140 moves plus but well worth playing through. We had agreed that Keti would have a rest today but when I had to change plans due to Colin's illness the arbiter accepting my team sheet looked at me in disbelief when he saw Keti was playing - she is tough and slept well so she is ready to play.

The ladies lost a bit of momentum against Mexico - 4 promising positions resulted in only one point with elaine bringing home the victory. Her ending should have been drawn but she kept going - pushing her a pawn home. Heather sort of lost the plot and a promising position went south pretty quickly but her style is conducive to such swings and she will be back for more today. Joy lost for the first time and looks a lot more comfortable behind the black pieces than the white. John has been helping her with her openings so we will perhaps see some changes there. Rosie lost again and is looking a little tired. She is being rested today in the match against Kenya.
September 24: The first winter winds have swept in overnight which has made the morning stroll to deliver the team sheets a slightly less enjoyable experience. It will only be a few days before the snow arrives and it will not go away until next April - now that is what we had expected in the first place!

Overall yesterday was a good day for both teams and yet we could and probably should have done a little better. In the open section Colin got the team off to a great start by holding Wesley So to a draw with the black pieces. So displays great confidence at the board but Colin has good experience of the Gurgenidze structures and managed to steer his way through the complications to a level opposite colour bishop ending. Things got even better when Keti drove home a strong king side attack when playing white against a hedgehog. When she placed her knight on f5 - a typical hedgehog type sacrifice - her opponent (GM Laylo 2522) thought for 50 minutes before taking it and lost his air of confidence before going wrong almost immediately.
If Wesley So is the rising star of Philippino chess then Eugenio Torre is the setting star! Steve played the legend of asian chess on board three and got a very comfortable position with black at the same time Graham had a nice position on board 4 so things were looking rosy. However Steve misplayed the position and found himself with a bad bishop v good knight ending with a pair of rooks each. Torre converted in a long game that ended with Q v c-pawn on the 7th with white winning by one tempo. A tough loss for Steve who has battled hard in both his games against some seriously tough opposition. Graham felt slightly frustrated after his draw as he felt he should have made more out of his earlier position. Therefore 2-2 against higher seeded opposition where we were heavily outrated on most boards is a creditable performance but at one stage it looked oh So much better (sorry about that!).

What can I say about our ladies team - each day a new heroine pops up! On paper we have very little chance against Greece but try telling any of them! Heather played Yelena Dembo (2450) on board one and came within a whisker of ripping her head off. Her strong opponent looked visibly relieved to accept a draw in a game where Heather had sacrificed a pawn for some queenside pressure and dark square control and black never really got going....a great performance and unlucky not to win.

Elaine played the black side of a philidor and got a tad too ambitious in the opening playing the slightly loose b5 advance. Her strong opponent got a comfortable position before she dropped an exchange but the resulting ending where the Greek had the two bishops and an extra couple of pawns was easier to play when both players got short of time and Elaine finally capitulated in an empty playing arena after almost five and half hours play.

Rosie and Siegrun both went down to their much higher rated opponents. A 3 1/2 - 1/2 defeat seemed harsh but I'm optimistic for the future rounds if the girls can keep their energy levels high.

Today we have Kazakstan in the Open and Mexico in the ladies. Another tough draw and another 2600+ for Colin on one. John will come back in for Steve who will take a break after his two marathon games. Joy will replace Siegrun in the ladies starting line up.
September 23: As captain it is always slightly awkward reporting on a 4-0 defeat but the team did not play badly they simply ran into a world class team with very high aspirations at this Olympiad. Just before the first moves were played, the Ukrainian captain, tukmakov walked to each of his players and tapped them on the shoulder. Starting with Moiseenko and moving through each board until Ivanchuk on board one - each player responded by looking at their captain and nodding, confirming their readiness for the fight ahead.

The professionalism of their team was encapsulated by Ermenkov who had prepared in great depth against John Shaw's Slav. John had thought 1.d4 was a possibility but had expected 1.e4 . Ermenkov played each move at high tempo and strolled around the hall - this went on well into the middlegame. His preparation in a Ne5 line (where all the top players are playing Nh4) did not go unnoticed and was followed closely by Gata Kamsky playing on the next board. John didn't get any activity and was ground down remorsely.
Black against one of the greats was always going to be a tough shift for Colin on board one and so it proved - Ivanchuk is the leader of this top team and he takes his role seriously. Keti was pleased with her opening but went wrong with a3 - again her world class opponent stayed focussed until he got the job done. Lastly Steve took his game into the 5th hour of play but was always worse after refusing to play h6 (he played hg6), and couldn't create any threats before going down with 2 passive rooks against an active queen and pawn. It is unlikely to get tougher than this for the rest of our stay and with Ponomariov yet to arrive in Khanty Mansysk Ukraine will get stronger and they must be one of the favourites for gold.

The ladies are continuing to inspire their captain with an excellent attitude. Heather and Elaine took advantage of some horrendous opening play by their Tunisian rivals quickly establishing a 2-0 lead. It was up to Rosie and Joy to bring the bacon home with a draw on one of the other boards. Rosie was never in trouble on the black side of an exchange french and wisely kept the draw in sight when she saw the carnage on board 1&2. Joy had "one of those moments" that gives non playing captains palpitations when she meant to move a rook on e5 that was attacked by a knight on f7. She was considering doubling with her queen on the e-file and touched her queen before moving the rook. However, a sign of good form is adapting quickly and confidently to the blunder - she accepted a passed pawn on e5 and played quickly exerting some pressure. Objectively Joy was lost but her opponent accepted a draw when short of time - so 3-1 to the good guys!

There are 2 tournament halls - a smallish one for the top boards and a massive one for the rest. In the large hall it was great to see Magnus Carlsen make an appearance amongst the lesser lights and his board was easy to spot by the crowds - mostly players! After a 4-0 win over Portugal Norway and Magnus will take their place amongst the top boards today.

In the open section we have Philippines - so another tough one for Colin as he is black against a rising star in the young Wesley So. John has asked for a long lie as he has eaten something that hasn't agreed with him so we are going with Colin, Keti, Steve and Graham. The ladies have it tough playing Greece - Siegrun will make her debut at this Olympiad as Joy has asked for a rest after her emotional rollercoaster ride in the first two rounds.


September 22: The team arrived safe and sound to the very mild, almost warm Khanty Mansysk. The locals are waiting for the temperature to plummet in the next week or so but at the moment you could easily get away with shorts and tee shirt.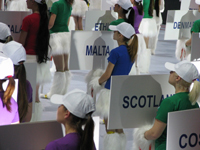 As you are probably aware both teams got off to good starts but with different results. The ladies are a fiesty bunch and put up a good show against a strong Hungarian team. Joy Durno was the pick of the bunch with a solid draw with black in a Sicilian Sozin. She slightly misplayed the opening and allowed her opponent a comfortable edge but as the pieces came off she grew in confidence - her opponent became visibly frustrated and slipped behind on the clock. In the final position Joy is better and she missed a good try with Bg5 but overall a great performance for an unrated player who has hardly played in over 10 years. She was greeted with a round of applause at the team meeting after demonstrating her game. (Most of team pictured below).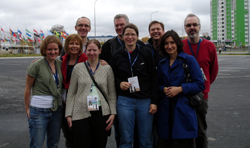 In the open event we had a comfortable 4-0 win over Burundi. Keti was made to work for five hours grinding down a resilient opponent but she was happy with the workout.

We have Ukraine today on top board and have gone with top four so Graham will fall out and steve will come in on board 4. There is coverage of the top boards on russian tv so today is the day to shine! The whole team are energised and we are looking forward to taking on the elite. The ladies play Tunisia and we will play with the same team as yesterday as Siegrun is slightly under the weather.

So far the tournament has been excellent - the hotel is good (about a good 3* rating in UK perhaps a bit higher), the food is very good and the security excellent. No complaints so far from Siberia!
| | | |
| --- | --- | --- |
| Team Hotel | Cathedral steps - hotel in distance | 2000 build in old style |