Scottish Ladies' Champion 1951, 1956 (jointly), 1959 and 1969 (jointly)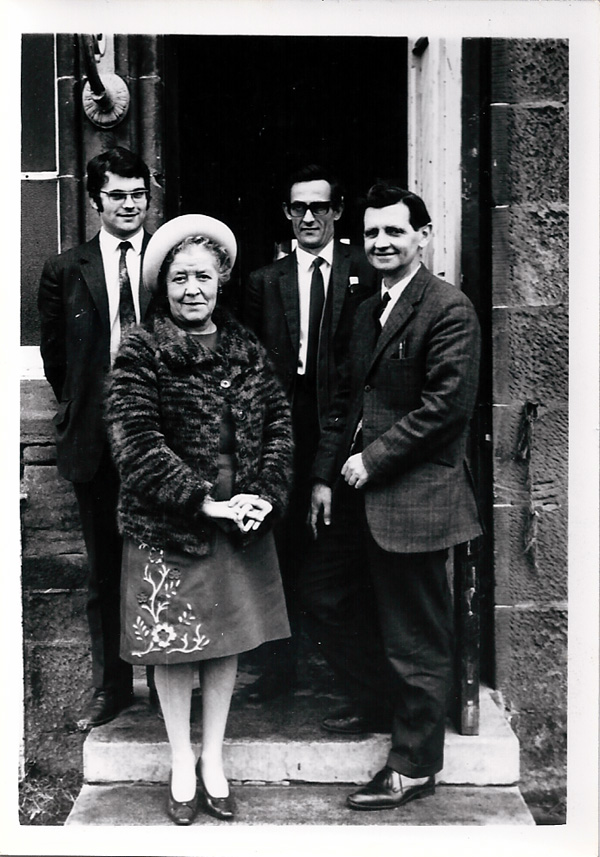 Mrs Steedman at the Lanarkshire Congress 1970. On the left of the picture is Alan Shaw of Cathcart CC. The others are as yet unidentified.
From Scottish Chess No. 40, December 1975.
On Monday October 6th, Mrs S.M. Steedman died very suddenly. Although she had suffered two heart attacks in the past, she had recently been in good health. Her death, therefore, came as a terrible shock to us all.
Peg Steedman first entered the Scottish Chess scene in 1948 - a year after I, myself, did. She quickly endeared herself to us all, with her genial presence and her inimitable sense of fun. She continued to compete in the Scottish Ladies' Championships until her first heart attack a few years ago, winning the title outright on two occasions in 1951 and 1959. Twice also she was joint holder of the title. It is true to say that Peg, along with Peggy Hogarth and myself kept the Scottish Ladies' Championship alive in the late 50's and early 60's. Peg steedman twice represented Scotland in Women's Olympiad chess.
In the 1950's Peg Steedman joined the British Ladies' Chess Association and took part in the Championship each year until 1969. She quickly made a wide circle of friends and was a popular figure at the British Congress each year. It was she who first persuaded me to venture into British Chess in 1962. Peg Steedman was for many years Honorary Secretary of the B.L.C.A. At the time of her death she was vice-president of this organisation.
Her generosity to Chess extended over a wide range of activities. She ran the local club in her own spacious house [St Andrews, Hamilton Drive, Bothwell, Lanarkshire - AMcG]. She was a founder member and President of the Lanarkshire League. The first Lanarkshire Congresses were held in her home. For many years she served on the Council of the Scottish Chess Association. In this connection, she discovered that Scotland was due to house the Glorney Cup in 1961. Knowing that funds were low she generously threw her house open for this event. In addition to providing refreshments for the participants, she gave hospitality to some of the visitors. She was a true friend to, and well beloved of all the young players.
She was synonymous with chess at all levels. We have missed her sorely since she first became ill and will honour her memory through the years to come.
Mrs N.C. Elder

From: The Bulletin, Sept 10, 1952, p2 .
The article refers to Mrs Steedman as ' The only woman member of the Griffen Y.M.C.A. Chess Club of Glasgow, she has been elected their president...The all-male Griffen club was formed seven years ago…Mrs Steedman was invited to join four years ago.
In 1950 the Griffen merged with Glasgow Y.M.C.A. (all men) club on condition "that our only woman member is allowed to remain in the joint club." The Y.M.C.A. agreed.'