Erwin Knopfler [Ernö Knöpfler]
02 December 1908, Miskolc, Hungary - Death registered May 1993, Bristol, England
member of Glasgow Chess Club, and the Glasgow Jewish Institute CC.
played in the Scottish Championships of 1952, 1953 and 1954, the last being his best result when he scored 7½/11, finishing one point behind the winner P.B, Anderson.
Competed in the Glasgow International Tournament 1953
member of the Jewish CC that won the 1st Division of the Glasgow Chess League in season 1952/53.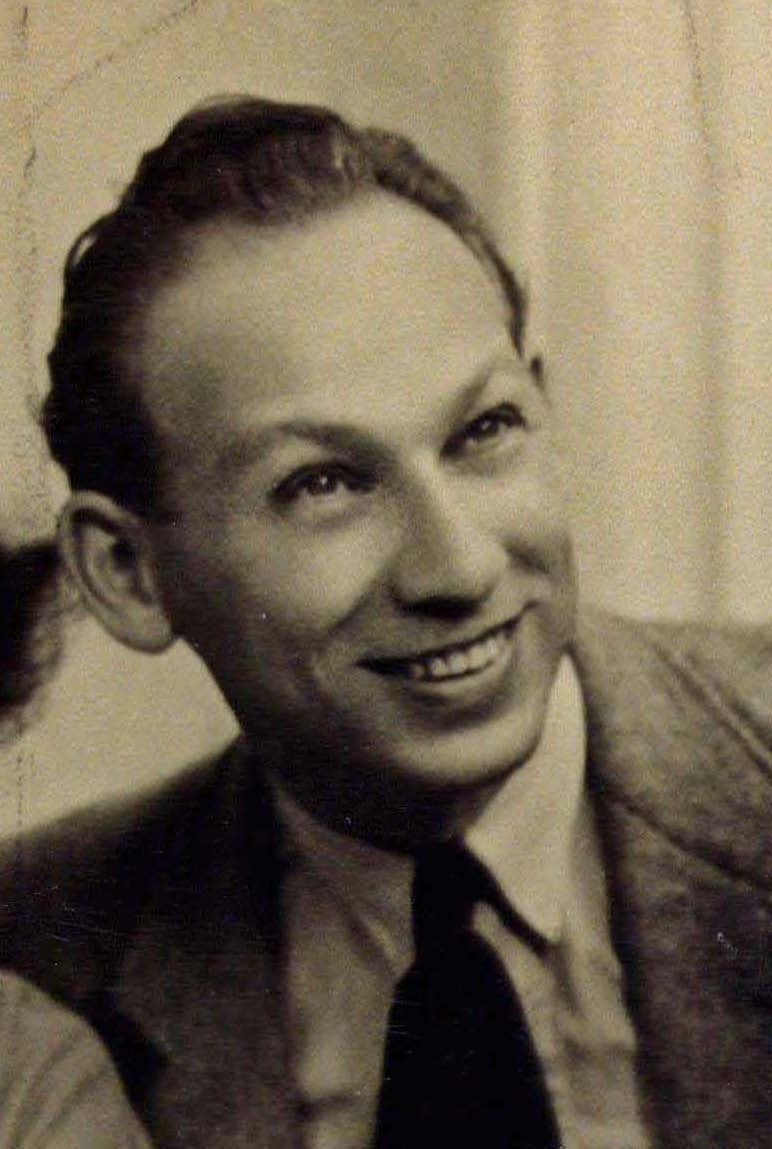 It is believed that Mr Knopfler participated in chess events in Miskolc, Hungary, as shown by the report of the city's 1932 championship: 1-2. K. Bán, and E. Nagy 6½; 3. Fischer 6; 4. Lehótzky 5; 5-6. Czeisler and Knöpfler 4...(Magyar Sakkvilág 1932, pp 231-2).

However, it is known that Knopfler's brothers Alfred and Marcus also played chess, so it has not been confirmed if this result refers to Erwin.

Some of Knopfler's education was at the Diósgyőr Gymnasium in Miskolc, after which he attended university in Brünn (Brno, Czech Republic) where he studied architecture.

In 1930, while still a stuident, Knopfler - whose name was shown in the official papers as Ernö Knöpfler - was prosecuted because of his involvement with a communist organisation, and for bringing communist press material into Hungary. In a communication from the Budapest city archives, an archivist stated that the court case resulted in an acquittal.


David Knopfler advises that his father was in Austria in 1938 when the Germans marched in. This suggests that he would have been involved in chess activities in that country. For example, the 1936 Wiener Schachzeitung (page 92) announced a forthcoming invitational tournament in the Cafe Jägerhof in Vienna, organised by the Wiener Schach-Verein. A 'Knöpfler' was shown not only as one of the club members, but the club champion.

Later, on page 130 of the same publication, the crosstable of results was shown:


After the outbreak of war in Europe, Knopfler made his way to Britain. A 1939 document shows his residence as Mayfield, Gateshead, which was then in County Durham, England. He resumed his architecture studies at Durham University.

Mr Knopfler married Louisa Mary Laidler in Newcastle in 1944 and their first child, Ruth, was born there in 1947. The family later moved to the Glasgow area, where Mark and David were born in 1949 and 1952 respectively.

\

Erwin Kopfler and Ruth in Glasgow

The Scottish Chess Association Yearbook for 1953-54 gives Knopfler's address as 30 Wheatfield Road, Westerton, Bearsden. Louisa Knopfler, who had studied for her B.A. at Durham University, involved herself in amateur dramatic performances in the Westerton area. Later, the family resided at 137 Norse Road, Scotstoun, Glasgow, before moving to Gosforth, an urban area that later became part of Newcastle upon Tyne.

Erwin's sons Mark and David Knopfler would later form the band 'Dire Straits'. See Douglas Bryson's article on Mr Knopfler for further information.

As mentioned above, Knopfler was very active in several areas of Scottish chess during the 1950s. He played in several Scottish championships, competed in the 1953 Glasgow International Tournament, and was on the winning Glasgow CC team for the Richardson Cup in 1954 and 1955. He also helped the Jewish Institute CC win the first diviusion of the Glasgow League in season 1952-52.

Erwin Knopfler (right) and Frank Slotopolsky with the Glasgow League Division 1 Championship Trophy, won by the Jewish Institute Chess Club in season 1952-53.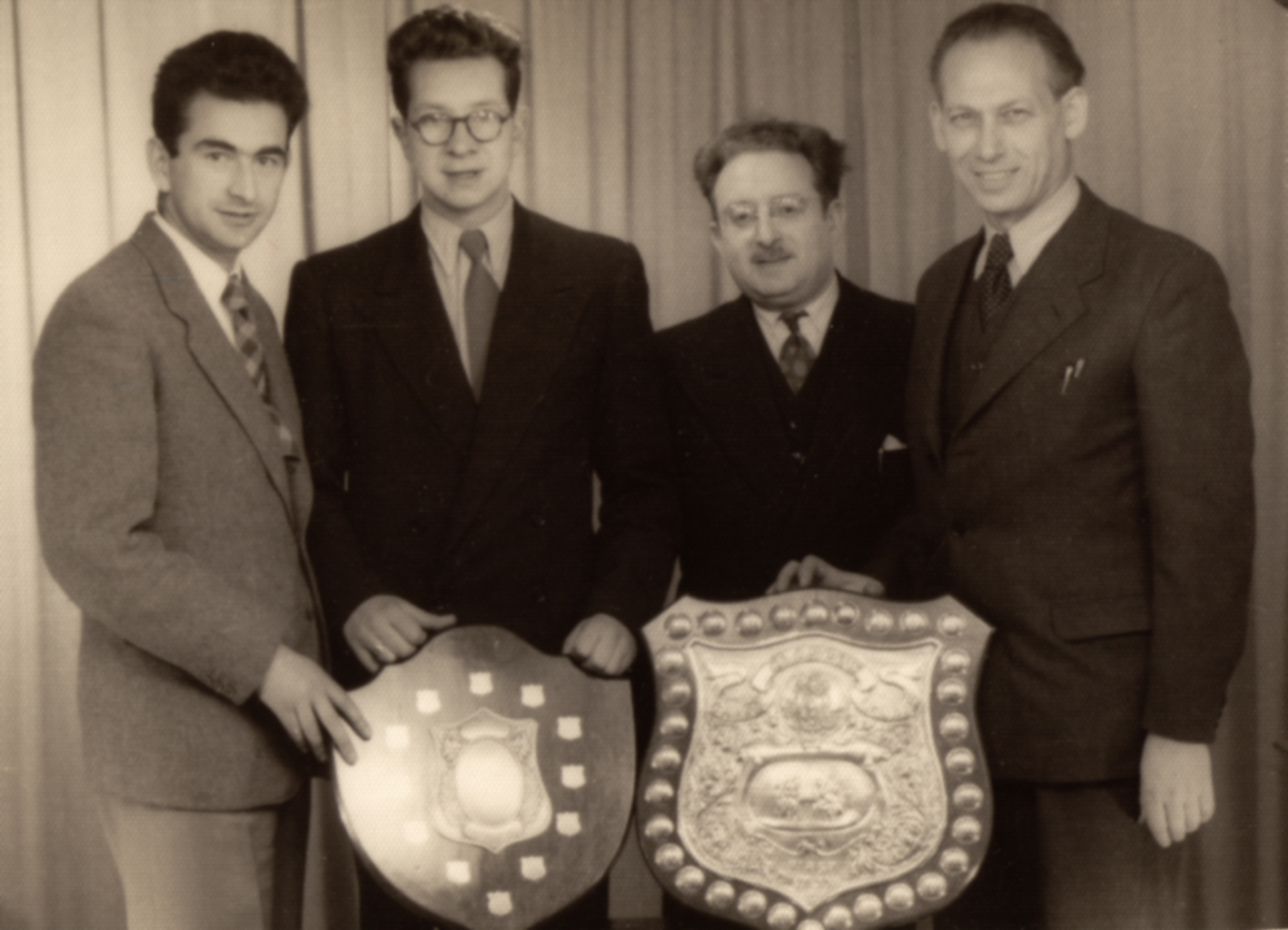 Members of the Glasgow Jewish Institute CC. From right to left: Knopfler, Frank Slotopolsky, Stanley Mann. The figure on the left has yet to be identified.

E. Knopfler - T. Harvey [A05]
Scottish Championship 1953, Edinburgh
1.Nf3 Nf6 2.g3 d6 3.Bg2 e5 4.d3 Nc6 5.Nbd2 g6 6.c3 Bg7 7.Qc2 Be6 8.0–0 Qd7 9.Ng5 Bg4 10.f3 h6 11.Nxf7 Qxf7 12.fxg4 Qd7 13.Qb3 0–0–0 14.Ne4 Rdf8 15.Nxf6 Bxf6 16.Be3 a6 17.Bd5 Nd8 18.Qc4 c6 19.Bb6 Kb8 20.Qa4 Rh7 21.Be4 Rg7 22.Be3 d5 23.Bg2 g5 24.Rf5 d4 25.cxd4 exd4 26.Bd2 Rgf7 27.Raf1 Qe7 28.Be4 Ne6 29.Bb4 c5 30.Ba3 Qd6 31.b4 b5 32.bxc5 Qxc5 33.Qxa6 1–0

E. Knopfler - I.C. Kirkwood[B24]
Scottish Championship 1953, Edinburgh
1.e4 c5 2.Nc3 Nc6 3.g3 g6 4.Bg2 Bg7 5.Nge2 e6 6.d3 Nge7 7.0–0 0–0 8.Nf4 d6 9.Nce2 b5 10.c3 Rb8 11.Qc2 Bb7 12.Be3 e5 13.Nh3 Qd7 14.Ng5 Kh8 15.Rad1 f6 16.Nf3 Qc7 17.Qd2 Rfd8 18.Ne1 a5 19.f4 f5 20.Qc2 Bc8 21.Nf3 b4 22.Ng5 Rf8 23.fxe5 Nxe5 24.Nf4 Rf6 25.cxb4 axb4 26.Bc1 h6 27.d4 hxg5 28.Nd5 Nxd5 29.dxe5 dxe5 30.Rxd5 Rc6 31.exf5 Bxf5 32.Qd1 Re6 33.Bxg5 Qa7 34.Be3 Qxa2 35.Rd8+ Rxd8 36.Qxd8+ Kh7 37.Bd5 Qxb2 38.Qh4+ Kg8 39.Rxf5 Qa1+ 40.Rf1 Qa6 41.Qe7 1–0

E. Knopfler - W.A. Fairhurst [A08]
Glasgow International Tournament (1), 1953
1.Nf3 d5 2.g3 c5 3.Bg2 Nf6 4.d3 Nc6 5.Nbd2 g6 6.c3 Bg7 7.Qc2 0–0 8.0–0 e5 9.e4 b6 10.Re1 Bb7 11.Nh4 Re8 12.a3 Qd7 13.Bf1 a6 14.Ndf3 Rac8 15.Ng5 Rcd8 16.b4 cxb4 17.axb4 d4 18.Bh3 Qc7 19.f4 Nxb4 20.Qb1 Qxc3 21.Bd2 Qxd2 22.Ngf3 Qxd3 23.Qxb4 exf4 24.Bf1 Qc3 25.Qxb6 Bxe4 26.Rac1 Qa3 27.Ne5 fxg3 28.Qc7 gxh2+ 29.Kxh2 Qe7 30.Nxf7 Qxf7 31.Bc4 Bd5 32.Rxe8+ Rxe8 0–1

NOTE:
The fate of Erwin Knopfler's brothers, Alfred and Marcus, were very different. Alfred died at the hands of the Hungarian authorities during WWII, but Marcus hid out in France, survived the war, and died 18 April 1969. Research uncovered a 1929 reference to a Knöpfler who was the club champion of the 'Fou du Roi' club in Paris (Denken und Raten, 13 October 1929, p. 1307). Further research by Dominique Thimognier found several references to Marc Knopfler, who was also a chess problem composer.

Sources:
David Knopfler
Budapest Főváros Levéltára, Mr Bálint Varga, Archivist.
Newcastle Journal 21 June 1940 (p. 2); 14 July 1945 (p. 5)
Milngavie and Bearsden Herald 23 February 1957 (p. 2); 17 December 1955 (p. 4); 31 March 1956 (p. 3)
http://victoriana.reblog.hu/deptford-es-greenwich
Electoral registers for Scotstoun, Glasgow, for 1957 and 1958.

Thanks to:
Steve Mannion (snr) for confirming the identity of Frank Slotopolsky.

Harvey Kaplan of the Scottish Jewish Archives Centre in Glasgow and Sharon Mail, Scottish Correspondent, Jewish Telegraph Group of Newspapers. Sharon wrote an article for the Jewish Telegraph (Friday October 19, 2012) which featured this photograph, requesting assistance with identification from readers. Mrs Helen Mann responded, identifying her late husband Stanley Mann.

Dominique Thimognier / heritageechecsfra@free.fr for additional, detailed research and excerpts from:
Excelsior, 29 and 31 May 1929.

Alan McGowan
Historian, Chess Scotland