Hugh D. Gemmell
21 April 1919 - 06 January 2006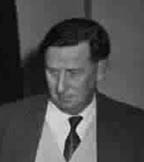 Member of Polytechnic CC in Glasgow.
participated in minor events at Scottish Chess Association Congresses, including 1937 (photo).
lost a play-off match against Aird Thomson for the 1939 Polytechnic club championship.
invited to be a member of the Scottish team for the Buenos Aires Olympiad 1939 (Scotland later decided not to participate).
Bachelor of Medicine and Bachelor of Surgery 1945, Glasgow.
went to Shropshire just after WWII to take over his uncle's medical practice at Westbury;
became a leading member of the Shropshire County Team and had long spells as team captain and president of the Shropshire Chess Association.
he won the Shropshire Championship in 1958, 1966 and 1967.
Sources: Chess, 1945, December, p 71; David Everington of Shropshire.


Compiled by Alan McGowan