David Forsyth
16 May 1854, Alness, Scotland - c. 30 December 1909, Dunedin, New Zealand
Inventor of a method of recording positions that became known as Forsyth Notation, details of which were first published in the Glasgow Weekly Herald of 10 February, 1883 (p 7).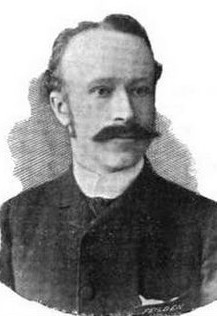 Mr Forsyth, a solicitor, was one of the founding members of the Scottish Chess Association in 1884, being elected to the positions of Secretary and Treasurer. He was also secretary of Glasgow Chess Club. By 1887 Forsyth had moved to Edinburgh, becoming the secretary of Edinburgh CC. He continued in his role(s) of secretary/treasurer for the SCA.

He played in a number of Scottish Championships, including 1884, 1886, 1892, 1895, 1896. In early 1899 he took up residence in New Zealand, winning the championship of that country in 1901.

Otago Witness (New Zealand), Issue 2458, 24 April 1901, Page 56: Mr David Forsyth, who won the championship [of New Zealand, 1901], 'was born at Ballachraggan Farmhouse, Alness, Ross-shire, Scotland, and is a son of the late Mr David Forsyth, farmer and Justice of the Peace, and a solicitor in the Supreme Court of Scotland, and practised in Edinburgh. He came out to Dunedin in January, 1899, and joined the Otago Chess Club, of which he has lately been appointed secretary. It was only in his twenty-sixth year that he learned to play chess, but he made rapid strides in the game, and shortly made his appearance in the Major Tournament of the first congress of the Scottish Chess Association, at Glasgow, where he won a majority of games against the strongest and most experienced players in Scotland, and for a time seemed first favourite for the championship. He is the author Of the "Forsyth" notation, and possesses the power in a marked degree of playing blindfold. Shortly after joining the Glasgow Chess Club in 1883, he was appointed secretary, and afterwards treasurer, both of which offices he resigned on removing to Edinburgh in 1887. He had been secretary and treasurer of the Scottish Chess Association from the time of its inauguration until he left for this colony. For several years previous to his removal from Glasgow he assisted in editing the chess columns of the Glasgow Weekly Herald, and also conducted the chess column in the Weekly Scotsman. After joining the Edinburgh Chess Club he won the championship, and for some time acted as secretary to the club. He has arranged many chess matches between the Glasgow and Edinburgh Clubs, and between other Scottish and English clubs. Though not a problem composer, he has good knowledge and appreciation of the problem art and is a first-rate solver. He is editor of a chess column which appears at irregular intervals in the Southland Weekly Times.

In the Star (Christchurch), an evening newspaper, of 30 December 1909, page 3, it was reported that Mr Forsyth 'was found dead in his office this morning'. In the same newspaper, on 31 December 1909, it was stated that at the inquest a verdict of death due to heart failure was recorded.
Forsyth Notation
From: The Oxford Companion to Chess, by David Hooper and Kenneth Whyld, Oxford University Press, 1984, p 121.

A method of recording positions invented by David Forsyth (1854-1909), a Scotsman who emigrated to New Zealand, and first published in the Glasgow Weekly Herald, 1883. The board is scanned rank by rank from a8 to h8, from a7 to h7, and so on; each man is shown by its initial letter, lower case for Black, capitals for White; blank squares are recorded by giving the total number of them between men; slanting lines (Forsyth originally suggested vertical lines) separate the ranks. For example 8/8/1KP5/3r4/8/8/8/k7 shows the Saavedra study. Sometimes the numbers for adjoining unoccupied ranks are added togather, e.g. 16/1KP5/3r4/24/k7. The British Chess magazine advocated the abolition of dividing lines, e.g. 17KP8r28k7, but these were eventually reinstated because they reduced the likelihood of error or minimized its effects.

Notes: [1] The notation is nowadays referred to to as Forsyth-Edwards Notation [FEN], as a result of work done by Stephen J. Edwards, which allowed its use by computers. FEN is an integral part of Portable Game Notation for chess games. [2] He was also one of the compilers of what was possibly the first regular Go column in any newspaper (in the Otago Witness, from February 1902 until March 1903), according to the New Zealand Go Society. [Wikipedia]

Sources: Otago Witness, 24 April 1901, p 56: Star (Christchurch), 30 and 31 December 1909; The Oxford Companion to Chess, p 121; Chess Notes (photo), from page 123 of The Chess Bouquet by F.R. Gittins (London, 1897).


Compiled by Alan McGowan

Updated - 23/01/2019