James Birch (snr and jnr)
James Birch (snr) was born 30 October 1841 in the Rusholme district of Manchester to John Birch and Sarah Shawcross. By 1864, when he married Priscilla Greaves in Manchester, he was a resident of Glasgow.
He was associated with several Glasgow clubs; Burns, Central and Queen's Park.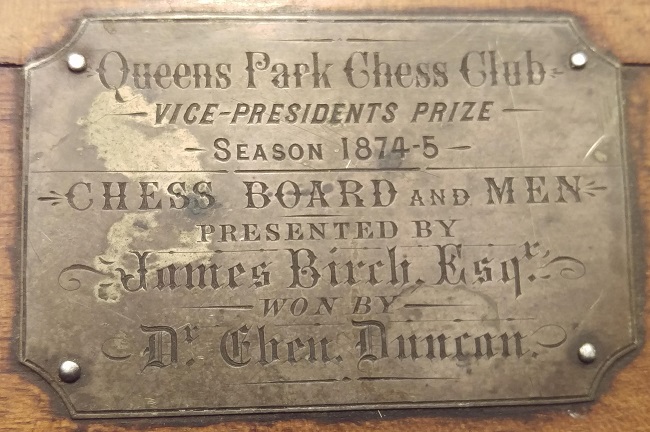 Presentation board and pieces donated by James Birth, snr, to
Queen's Park Chess Club. Won by Dr Ebenezer Duncan.
Image courtesy of Jenő Ábrahám
Mr Birch - manager at a glass merchant - died 29 June 1911 at 29 Queen Margaret Drive, Glasgow. The death notice in the Glasgow Herald of 30 June 1911 noted that he had worked over 25 years for Messrs. Forrest & Son, Bishop Street.
James Birch (jnr) was born 22 January 1872 at Bailleston, Lanarkshire. In 1907 he married Jane Jamieson Melrose in Glasgow.
He was associated with the Burns, Glasgow and Hillhead Chess Clubs. He played for Burns CC in the Richardson Cup finals of 1906 and 1907, but later represented Glasgow CC in that competition in the years 1911-1915.
In 1907 he won the 18-player tournament for the Glasgow CC championship, defeating William Gibson 2-1 in the play-off match. (Gibson won the Scottish championship that year.)
In 1919 he scored a draw in Capablanca's simultaneous display in Glasgow.
He died 16 June 1943 at his home at 11 Herschell Street in the Partick district of Glasgow.
Alan McGowan
Historian/Archivist, Chess Scotland

updated 5/03/2021