European Team Championships
Crete, Greece
October 27-November 6, 2007
report by Jonathan Grant
Scotland's most successful Euro Teams ever!

Scotland finished its Euro Teams 2007 campaign with a convincing 3.5-0.5 victory over Cyprus (39th seeds). Back to back wins mean that Scotland finish in 32nd place compared with a seeding of 36th with 7 match points out of 18. It is the first time that Scotland has scored three match wins since Haifa 1989. However this event was in the old format of 6 boards plus two reserves and before the break up of the Soviet Union and the Balkans.
Round 9 - November 6
| Scotland | 3½-½ | Cyprus |
| --- | --- | --- |
| A. Muir (2367) w | 1-0 | A. Antoniou (2163) |
| K. Ruxton (2314) | 1-0 | V. Aristotelous (1960) |
| J. Grant (2261) | ½-½ | P. Klerides (2183) |
| G. Morrison (2322) | 1-0 | D. Kassinopoullos (2121) |

Cyprus had suffered heavily in most of their matches and this was perhaps because, at outset, they had shuffled their board order to give their strongest player, FM Klerides, a chance to earn them some points. However it meant that their top boards were on a hiding to nothing with a couple of their players going throughout the tournament without scoring. Very quickly Andy, Graham and Keith all crashed through to leave team captain Jonathan grinding away in an attempt to secure the 4-0.

Board 1 Andy quickly played into a popular line of the Nimzo-Indian (Karpov variation) but his opponent seemed unfamiliar with the theory, retreating his bishop from b4 to e7 for no good reason. A flurry of tactics saw Andy exchange off black's good light squared bishop and pin a knight on c6 against the black queen. The pressure was mounting when the Cypriot found a howler, moving his rook to d8, which allowed Andy to win an exchange and a pawn with the blow Nxa7! Finishing with a miniature meant Andy had plenty of time to spectate the fascinating Adams-Ivanchuk encounter which ended successfully for the Englishman.

Board 2 "Why does White play this Closed Sicilian nonsense?", asked Keith "It is known to be just bad!" White had optimistically advanced g4, f4 and e4 but the normal block with ...f5 stopped him in his tracks. Aristotelous shuffled aimlessly whilst Keith massed forces in the centre, destroyed a defender of e4 and won the e-pawn. The mopping up operation was mercifully brief.

Board 3 The database had revealed that FM Klerides could be quite a dangerous player if the position was allowed to become random. In yet another Symmetrical English Jonathan wisely headed for a technical position and could have won a piece for two pawns. However a miscalculation, ...missing Re8!, allowed Klerides to head into an unclear single rook ending. Almost any result could have occurred in this ending as neither player fully made the most of their chances with time trouble playing a part. The end saw Klerides testing Jonathan's knowledge of Philidor's position.

Board 4 At last, Graham's first win of the tournament! Yet another overly optimistic attack from Cyprus as Kassinopoullos launched g4 without properly considering the consequences. Graham's knight caused havoc by taking the g-pawn on offer and then doubling the e-pawns by capturing the bishop on e3. It was then time to hunt the king so Graham sacrificed an exchange for a knight on c3. It was short and sweet as the white king walked from c1 to f3 in an unsuccesful search of a hiding place.
*****

Round 8 - November 5
| Scotland | 2½-1½ | Monaco |
| --- | --- | --- |
| A. Muir (2367) b | 0-1 | I. Efimov (GM 2446) |
| K. Ruxton (2314) | 1-0 | P. Van Hoolandt (FM 2245) |
| J. Grant (2261) | 1-0 | W. Iclicki (2147) |
| G. Morrison (2322) | ½-½ | J. Rapaire (1966) |

Board 1 There are no easy matches in international chess as Andy found out when a GM (formerly of the Soviet Union, Georgia and then Italy) turned up on board 1 for the second bottom seeds. Efimov played one of the positional lines with Qc2, Be2 and Bb2 against Andy's Semi-Slav. After opening the f-file for his rook he sacrificed it for a knight on f6 to destroy Andy's kingside. It may not have been sound but one mistake by black and Efimov's remaining pieces swarmed over Andy's position. Andy summed up the strength of the field with "I'm on 1 out of 6 and I get someone who has drawn with Kasparov!"

Board 2 Keith's first win for Scotland was a convincing affair as his Anti-Nimzo steamrollered his opponent. "These 2200-type players don't put up half as much resistance as the 2550s" announced Keith afterwards, "they play the moves you are expecting and then fall into your traps. It's great!" It looked like Keith's shrewd opening choice had lured Van Hoolandt into an unfamiliar structure. Keith broke open the position with f4 and chased black's king to g5 where it perished, trapped by two rooks and the dark squared bishop

Board 3 Jonathan had reached the position after 13.b3 in a Qc2 Nimzo-Indian earlier in the year at the Euro Individual in Dresden against GM Maxim Sorokin who tragically died young, a few months later, following a car crash on the road from Elista. Jonathan improved over his previous game with 13...a6 which has been played by GM Paul Motwani amongst others. After missing the chance to break with ...b5 the position looked fairly level until Iclicki missed an opportunity to temporarily sacrifice a piece on e4. Jonathan won a pawn but, with the match standing at 1.5 each, it still didn't look as if it would be enough in the double bishop ending until Iclicki allowed both bishops to be exchanged. Happily the resulting pawn ending was easily winning.

Board 4 Round about move 20 Graham's opponent had a look of desperation about him. Perhaps it was that his score of 0/6 looked to be getting worse, perhaps it was because he had played ...f6 on move 4 in a Philidor's Defence or perhaps it was just that his position appeared beyond salvation. Graham had played very finely, won a pawn, put all of his pieces on fine squares and advanced his strong passed pawn. The problem when you have several hundred ways to win is that you have to make a choice between them and that can be time consuming. In his efforts to find a very convincing sequence, Graham ran short of time and ghosts started to appear. Twice Rapaire desperately suggested a cessation of hostilities and was refused. However as the position liquidated Graham worried that, despite his extra pawn, the position had turned and decided to offer a draw.

At last a second match win for Scotland over the 38th seeds by 2.5-1.5!

Round 9 starts at 9:00 (UK time) on Tuesday morning and Scotland (36th seeds) v Cyprus (39th seeds) is the big final round clash. Scotland has won two and drawn one of the previous clashes at the Euro Teams. Can this year's Scotland team be the first to secure three match victories since the change in format, to teams of four, back in 1992?
*****
Round 7 - November 4
| Scotland | 1-3 | Finland |
| --- | --- | --- |
| A. Muir (2367) b | 0-1 | T. Nyback (GM 2565) |
| K. Ruxton (2314) | ½-½ | M. Agopov (IM 2440) |
| J. Grant (2261) | 0-1 | M. Karttunen (IM 2427) |
| G. Morrison (2322) | ½-½ | S. Keskinen (FM 2298) |
Finland had a convincing record, in previous Euro Teams, over Scotland of 3 wins, 1 draw and no losses. Despite its lowly position in the rankings, all four of the Finnish players that faced Scotland were playing to well above their rating and Nyback has good chances of winning a medal on board 1. Finland (34th seeds) are ranked only slightly higher than Scotland (36th seeds) but with an average rating of 2432 they started strong favourites.

Board 1 Andy faced yet another strong GM and his position looked difficult from early on with the opening of the g-file against his castled king. The g7 square looked especially sensitive and Andy's queen ran into trouble as it vainly tried to hold the kingside. A creative attempt to unbalance the position by sacrificing queen and bishop for two rooks ultimately provided insufficient counterplay.

Board 2 Keith's Anti-Grunfeld looked more "Grunfeld" than "Anti" but it seemed to have guaranteed him a small plus. With the queens off the main question was whether Black would "deal with Delroy", i.e. the advanced d-pawn, as Jonathan Rowson memorably describes it in his book "Understanding the Grunfeld". Keith pressed hard but as time trouble approached his opponent covered the key squares on the d-file and started to advance his a- and b-pawns. However the presence of opposite coloured bishops in the minor piece ending meant that neither side was going anywhere fast.

Board 3 Jonathan's opponent played an early e5 hoping to generate sharp lines in the Trompovsky but missed ...f5. He then had to head for an ending with queens off where his advantage in development compensated for his poor structure. A complex middlegame arose and Karttunen found an excellent plan to activate his king. Jonathan unnecessarily lashed out with ...g5 and this just gave his opponent the tempo he needed to attack the weak b5 pawn. Once the b-pawn fell, the passed a-pawn proved unstoppable.

Board 4 Graham's opponent seemed to be an interesting character...saying some things to Graham after the game had started, rustling and munching on an enormous sandwich, offering a draw...all when it was Graham to move. Despite the obvious distractions Graham patiently built up his central position using a double fianchetto system against the Dutch. An e4 break seemed to put severe pressure on the light squares but Keskinen kept hanging on and eventually Graham offered the draw back.

Round 8 preview Monaco v Scotland
As far as I can tell this is the first match between Scotland and Monaco at international level. Scotland play black on board 1 for the third match in a row against the Euro Team newcomers and bottom seeds. Like Scotland, Monaco is only fielding 4 players at this event but their top board Efimov is a GM.

*****
Round 6 - November 3
Scotland had bye
*****
Round 5 - November 1:
| Scotland | 0-4 | Lithuania |
| --- | --- | --- |
| A. Muir (2367) b | 0-1 | S. Sulksis (GM 2527) |
| K. Ruxton (2314) | 0-1 | E. Rozentalis (GM 2581) |
| J. Grant (2261) | 0-1 | A. Kveinys (GM 2517) |
| G. Morrison (2322) | 0-1 | V. Malisauskas (GM 2495) |
Scotland lost to a strong and highly motivated Lithuania who needed to bounce back after a shock derby defeat to Estonia in round 4. All four of Lithuania's GMs are vastly experienced, the youngest of them is 35, and all four players trained and competed from an early age through the Soviet chess system.

Board 1 After playing world numbers 4 and 23 in earlier rounds, Topalov and Bacrot, Sulskis could be forgiven for hoping that Andy Muir would turn out to be target practice. However this was far from the truth with the Scottish Champion hoping to record a victory on his 100th cap. The game turned out to be an entertaining mess, arising from a Sicilain Rossolimo and Andy was optimistic that his strong passed a-pawn would be the key factor. Sulskis gambled everything on a risky attack and it paid off as Andy failed to find a clear path through the tactics. This board was arguably the best dressed of the round with both players sharply dressed in suits and ties.

Board 2 Eduardas Rozentalis is a genuinely world class player who has mixed it with the best. An expert on the c3 Sicilian, he has a very clear positional style that is especially effective in positions with reduced material. Over the years he has defeated many of the world's elite players in impressive fashion. Check out his victory with black over Ivanchuk at the Manila Olympiad 1992 to see what I mean. Before the game I warned Keith "Don't let him take your knights" as Rozentalis likes to to twirl the captured piece in his hand when he is on move. It seems to put him at ease and I can reveal that this is the real reason that the Exchange Ruy Lopez has featured in Rozentalis' repertoire for so many years. Keith had to deal with an Owen's Defence and what did he do? He played Nc3 allowing it to be pinned by Bb4. I knew then it was going to be a long afternoon. Eduardas soon hacked it off to double Keith's pawns Despite his worse structure Keith kept in the game for a long time. He had one chance to make it unclear when Rozentalis played ...Re2 and when that was missed the loss followed quickly.

Board 3 It is not often you get a chance to play someone who has an opening variation named after them but Kveinys was responsible for developing a variation in the Sicilian with an early ...Qb6. However he seemed less familiar with move orders in the Hedgehog and lost a tempo over the main line by playing f3 and then f4. Black played very thematically and when the b5 pawn break arrived it seemed that Black was taking over the initiative. Taking the e4 pawn with bishop rather than knight would have accentuated white's light square weaknesses and left black slightly better. The game then entered a tense phase as White tried to push his connected pawns on the queenside whilst Black liquidated the kingside. Jonathan's 40 minute think over ...g6 came back to haunt him as he blundered on move 40, the time control, with less than a minute on his clock. White could then queen unhindered and duly won.

Board 4 "Sorry I'm late for the game" apologised Graham's opponent who decided to to make up for lost time by blitzing out his moves. Whilst Graham at move 33 was down to his last minute, Malisauskas had an hour and seventeen minutes in reserve. His quick decision making left the impression that he is a theoretician but even after Graham found the new and probably dubious plan of Bd2-a5, in a Na6 variation of the Classical King's Indian, the moves still kept coming thick and fast. Graham hastened the end by marching his king from g1 into a mating net on the d-file but his position was tough to hold in any case.

Friday is a rest day whilst Scotland have the bye in round 6 on Saturday.

Rounds 7-9
Who will Scotland get in round 7? Will it be an all-Celtic clash between Scotland and Wales once again? Before the tournament Wales (along with Austria) were Scotland's most frequent opponents in the Euro Teams and the score stands at 3 wins (1997, 2001 and 2003) to Scotland and 2 losses (1992 and 2005).
Can Scotland finish better than previous Euro Team squads? Even when our GMs/IMs have played in the past the team was seeded and positioned towards the foot of the table.
2005 - Position 36/40, Won 2 Drawn 1 Lost 6, 13.5/36 game points, 5/18 match points. (GM McNab, IMs Shaw and Muir)
2003 - Position 29/37 Won 2 Drawn 2 Lost 5, 14/32 game points, 5/16 match points+ BYE. (IMs Shaw, Mannion and Muir)
2001 - Position 30/35 Won 1 Drawn 3 Lost 5, 15/36 game points, 5/18 match points. (IMs Shaw, Bryson and Muir)
1999 - Position 34/36 Won 1 Drawn 0 Lost 8, 6.5/36 game points, 2/18 match points. (IM Muir)
1997 - Position 32/34 Won 1 Drawn 0 Lost 8 8.5/36 game points, 2/18 match points. (IM Muir)
1992 - Position 35/41 Won 1 Drawn 2 Lost 6 14.5/36 game points, 4/18 match points. (IMs Muir and McNab)

Scotland also played in 1989 but this was over a larger number of boards and before the break-up of the Soviet Union and the Balkans. Hence it is not directly comparable.

*****
Round 4 - October 31:
| Scotland | 2½-1½ | Luxembourg |
| --- | --- | --- |
| A. Muir (2367) w | 1-0 | F. Berend (IM 2344) |
| K. Ruxton (2314) | 0-1 | M. Bakalarz (IM 2342) |
| J. Grant (2261) | 1-0 | S. Brittner (FM 2274) |
| G. Morrison (2322) | ½-½ | P. Gengler (2195) |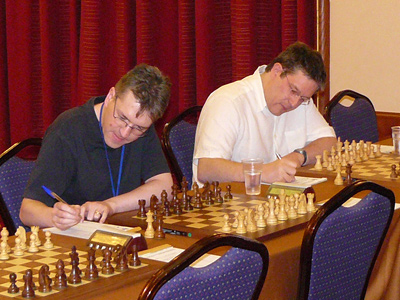 It was shaping up for a Halloween horror show but the Scottish team held its nerve to win its first match at the 2007 Euro Team Championships against its closest opponents. It was also Scotland's first victory over Luxembourg in 4 matches at the Euro teams. (Drawn 2, Lost 1 previously)

Board 1 Andy's IM opponent decided to test him out in the main line of the 4.e3 Nimzo Indian and he obtained a fully satisfactory position. However he overestimated his position, played a knight move he thought was winning and allowed Andy to both win a pawn and activate his bishop pair. The advanced c-pawn eventually told and Andy chalked his first point of the tournament.



Board 2 White tried an early Bf4 against Keith's King's Indian. Bakalarz is an IM who goes his own way in the opening. "Unorthodox" mused Graham. "Downright bad" replied Keith. Somewhere in the middlegame Keith went for an exchange of minor pieces to weaken his opponent's structure but missed the return of the bishop to f4. After a long struggle he had to resign in a rook ending. Later as the team celebrated by chomping their way through the vast array of delicious desserts at the buffet, Keith consoled himself with the fact that he might lose 60 Elo but at least he would gain 50 pounds. Looks like FM Ruxton might return to Scotland a more "solid" player than he was previously.

Board 3 "Did your opponent have to allow you that pawn centre (c4/e4/d4/f4)?" Andy asked. Well no he didn't. Brittner seemed to be taking Hedgehog principles of restraint just a little too far. Jonathan launched a king side attack making use of Black's offside knight and crashed through with f and e pawns. The unusual 30. Qa3! would have finished the game nicely with the threat of a queen sacrifice. Instead, in time trouble, Jonathan blundered on each of moves 30-32 to leave him staring defeat in the face. Not for long though as Brittner, also in time trouble, decided to exchange into a strange ending where although a piece up he seems to be losing because of the strong g5-f6-e7 pawn chain which boxes in the black king. It simply remained for Jonathan to avoid a devious stalemate trap in order to secure the first match win.

Board 4 Gengler blitzed out his first few moves against Graham's Sicilian Scheveningen but ground to a halt when Graham produced ...h5. After endless maneouvers where both sides had positions that were tough to crack Graham's opponent blundered the exchange for a pawn. He was very lucky that the resulting position was still OK for him and a draw followed shortly.

Round 5 tomorrow Lithuania (25th seeds) v Scotland (36th seeds)
Lithuania are strong rating favourites with 4 GMs and 1 IM (average rating over 2500). The one previous encounter in the Euro teams was a 4-0 loss at Batumi 1999. Can this Scotland team do better? It will almost certainly have to win the match to avoid the bye with all four teams seeded below Scotland already having sat out a round. Tomorrow is a landmark day for Scottish champion Andy Muir who wins his 100th cap having scored 20/58 at Euro Teams, 20.5/37 at Olympiads and 2/4 at the Clare Benedict Cup making a grand total of 42.5/99

Previous head to heads at Euro teams (not including 2007 match)
England - Never played.
Austria - 5 matches (W1, D2, L2)
Poland - Never played.
*****
Round 3 - October 30:
| Scotland | ½-3½ | Poland |
| --- | --- | --- |
| A. Muir (2367) b | 0-1 | K. Miton (GM 2628) |
| K. Ruxton (2314) | 0-1 | G. Gajewski (GM 2573) |
| J. Grant (2261) | 0-1 | R. Wojtaszek (GM 2635) |
| G. Morrison (2322) | ½-½ | M. Bartel (GM 2608) |

A tough day for Scotland against the tenth seeds.

Board 1 Andy's Semi-Slav opening seemed to be going well but he slipped deeper and deeper into thought. A careless choice at move 19, when already short of time, left him clearly worse and you don't need to give 2600 players much to aim at.

Board 2 When Keith's Anti-Nimzo, holding back d4, came under pressure on the kingside he lashed out with c5 which looks premature. His opponent continued to point his heavy pieces at white's king and Keith had to give his queen for two rooks. Some nice finesses by the Pole avoided all Keith's attempts to activate his queen.

Board 3 Jonathan's opponent blitzed out moves in a sharp Hedgehog variation and the theoretical assessments on this line in many of the main manuals (ECO etc) are unreliable. His opponent, the highest rated in the Polish team, made an inaccuracy by taking the e-pawn instead of playing his knight to f5 immediately. However Jonathan blundered by retreating his bishop rather than bringing a rook to the d-line. Wojtaszek then produced the strong novelty b4 which wins by force and played quickly and strongly to crash through. So all the action in this game effectively happened over just a couple of moves in theory...

Board 4 Graham was very happy to see a Leningrad Dutch appear on the board having recently prepared for and beaten GM Neil McDonald. He noticed a recommendation by Roiz to play Qc2 at some point, did so, and liked the position he got. As in round one Graham improved gradually but let Bartel back into the game as time became short. At the end he sacrificed his last piece to secure a drawn endgame.

Round 4 Scotland (seeded 36) v Luxembourg (seeded 37). Clearly a key match for the team with ratings being so close but it will be tough with GM Jansa preparing our opponents.

*****
Round 2 - October 29:
Round 3 Poland v Scotland Wait a minute...we've just lost two matches and we get the number 10 seeds with an average rating of 2629? Hmm.
Round 2, Scotland v Austria Scotland are white on board one again.