Richardson Cup 1957-1958
Main Tournament

The SCA continue their bizarre seeding policy with the result that a repeat of the previous season's semi-finals takes place in the bottom half of the tournament - but at the quarter final stage. Bon Accord once again get through the semi-final with a walkover.

Bohemians CC of Glasgow, founded in 1906, who played their last match in the Glasgow League in 1954, play their last ever match in losing to Bon Accord in round 2, although they enter the ill-fated competition the following season.

Edinburgh CC make it their turn to defeat Bon Accord in the final. The promoted teams are mangled again in round 1 but are fortunate to play each other in the relegation contest. Dundee although relegated, re-enter two years later without playing in the Spens Cup following Bohemians withdrawal in 1959.
Round 1
Round 2
Semi Final
Final
Dundee
2
Central
lost
Civil Service
1
Edinburgh
4
Central
5
Shettleston (P)
1½
Civil Service
won
Civil Service
5½
Wardie Residents
2½
Ayr
½
Edinburgh
6
Ayr
4½
Yarrow (P)
1
Edinburgh
6½
Edinburgh
6
Glasgow (S)
5½
Glasgow (S)
scr
Bon Accord (S)
3
Polytechnic (H)
1½
Bohemians (S)
3
Bon Accord (S)
w/o
Bon Accord (S)
4
(P) - Promoted from the previous season's Spens Cup.
(H) - Holders
(S) - Other Seeeded teams
* - After a 3½:3½ draw
The final was played at Dundee. At the close of play the score was 2½-1½ for Edinburgh, with the three top board games unfinished and requiring adjudication. This resulted in 1½ points to each club, Edinburgh coming out the winners. (Source: Glasgow Herald chess columns of 28 February and 14 March, 1958.)
Edinburgh

Bon Accord

1. R.W.M. Baxter
2. D.S. Clunie

Dr N. Uri

3. W.A. Nowosielski

Lt.-Col. W.G. Irvine-Fortescue

4. D. Simpson

G.D. Campbell

5. Ian C. Kirkwood

J.E. Bothwell

6. J.A. Smith

D. Donald

7. A.G. Laing

A. Nicol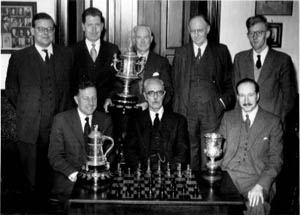 Edinburgh CC - the winning team.
Standing l-r: W.S. Smerdon, I.C. Kirkwood (now Lord Kirkwood),
D.S. Clunie, A.G. Laing, R.W. Baxter.
Sitting l-r: J.A. Smith, D. Simpson, I. McRobbie

Thanks to Geoff Chandler for the photo.
Relegation Tournament
Round 1
Relegated
Dundee
2½
Dundee
Wardie Residents
4½
Shettleston (P)
5
Yarrow (P)
Yarrow (P)
2